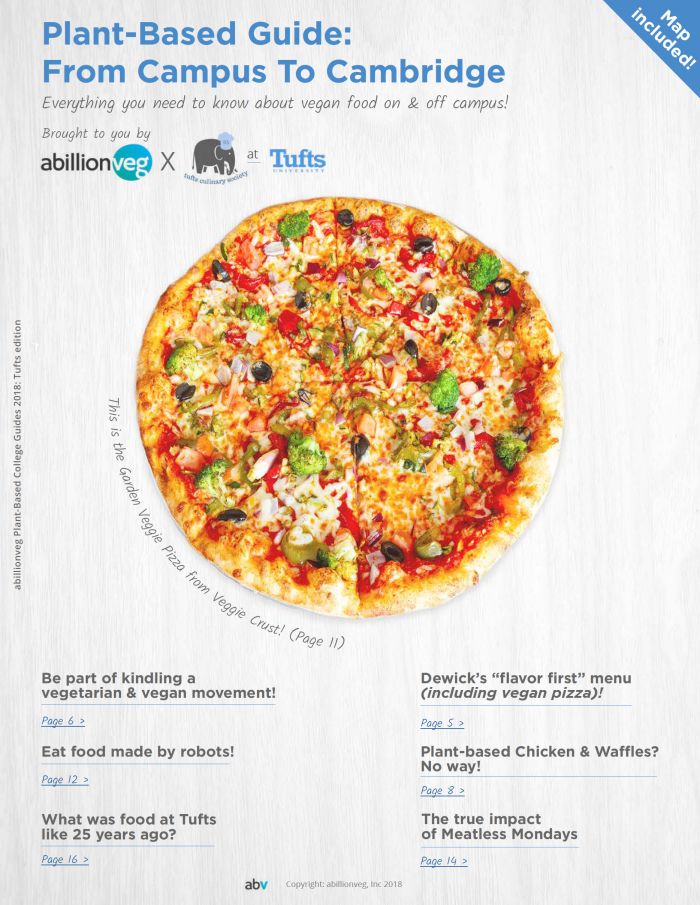 Download the guide here!
Summary
Tufts is a leader in American higher education, distinctive for its success as a moderately sized university that excels at research and providing students with a personal experience. Our unique combination of research and liberal arts attracts students, faculty and staff who thrive in our environment of curiosity, creativity and engagement.
Tufts is a student-centered research university dedicated to the creation and application of knowledge. We are committed to providing transformative experiences for students and faculty in an inclusive and collaborative environment where creative scholars generate bold ideas, innovate in the face of complex challenges and distinguish themselves as active citizens of the world.
We are thrilled to be working with abillionveg, a revolutionary foodie startup that is facilitating vegetarian and vegan growth across the country. TCS's goal has always been to bring happiness to everyone on campus through food, whether making it or eating it, and since a large, growing percentage of Jumbos are vegetarian or vegan, this partnership was a perfect opportunity to try and represent students of all eating preferences.
The Tufts Veggie Food Guide has been a work in progress since summer 2018, and we're excited to soon be one of the first schools to publish our abillionveg guide! Your go-to manual for vegetarian and vegan eats around campus, our guide (written entirely by Jumbos!) provides tasty options for everyone, whether you're pescatarian, vegetarian, vegan, or have no food preferences at all. Our mission with abillionveg is to spread the sustainable, delicious, and nutritious benefits that sprout from vegetarianism and veganism, and by using our guide, you have already been a big help! Please enjoy, and EAT!