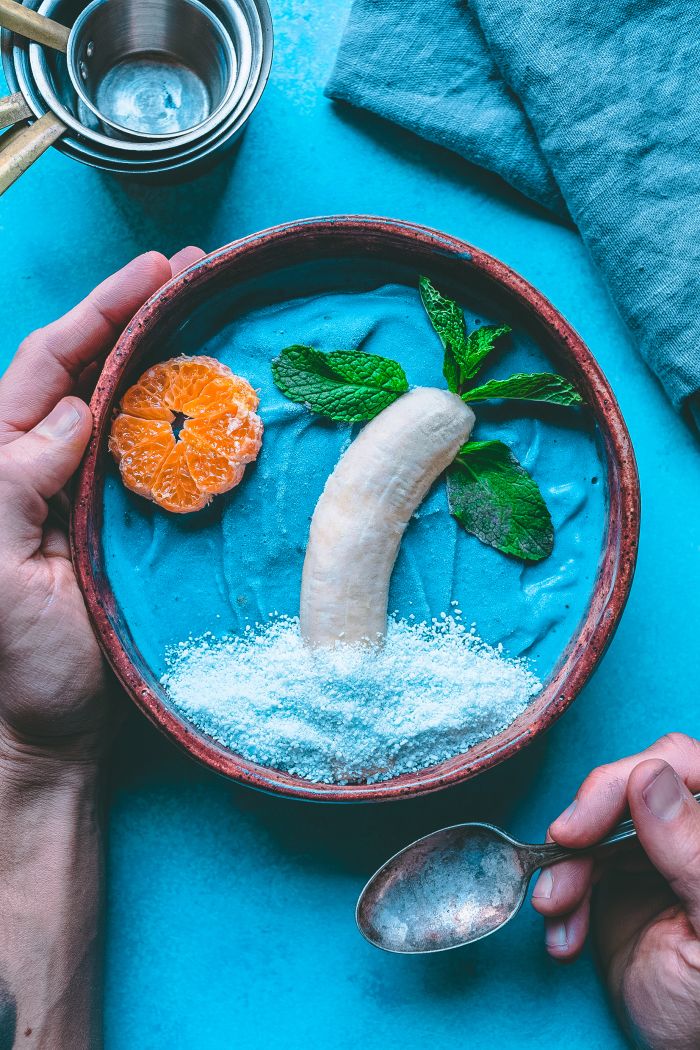 Are you ready for summer?! Let's just say it's my favorite time of year! Yes, it's true, California tends to have summer-like weather almost all year around, but this year hasn't felt that way and I'm eagerly awaiting summer's arrival. And since everybody loves a warm sunny day with clear blue skies, I've created this beach bowl to inspire you and kick off warmer days ahead.
This beach bowl is a quick and easy breakfast or anytime snack with only a handful of ingredients. Don't worry, the blue color is all natural and vegan too. All you're going to need today is just a few simple ingredients that you probably already have. I rarely create smoothie bowls because everybody tends to make endless amounts of them, and it's just not my style to do what everybody else is doing, but today I've made a slight exception!
So grab your swimsuit and flip flops as we prepare this beach bowl! If you don't want to partake in the creative process you can always skip the show and serve this blue beauty as a smoothie instead. There's no shame in a few shortcuts if you're in a rush or not feeling festive that day. My feelings won't be hurt!
Banana Beach Bowl
Serves: 1
Active Time: 10 minutes
Ingredients
4 frozen bananas
1/3 cup or less plant milk
2 medjool dates
1 tsp vanilla extract
1 room temperature banana (for the palm tree)
Some mint leaves (for the palm tree)
1 tangerine (for the sun as decoration)
Coconut shreds ground into powder (for the sand)
1/2 tsp Rawnice Blue Spirulina*
**Use coupon code rusticvegan15 for 15% off
Method
Throw your frozen bananas, plant milk, vanilla, and spirulina into a blender. Only start with half the milk first, you do not want this like a smoothie, you want it super thick, so the less liquid the better.

Once you get the right consistency pour it into a bowl and set it in the freezer. The longer you let your smoothie sit in the freezer the better so your banana doesn't sink to the bottom later.

Cut your banana down the middle so it's half as thick and cut the tip off the bottom.

Once your smoothie is solid enough, set your banana in the middle-ish of the bowl so you have room for all your mint leaves.

Now create your sand at the bottom with the coconut.

Place your mint leaves however you like and finish it off by slicing your sun with the tangerine.