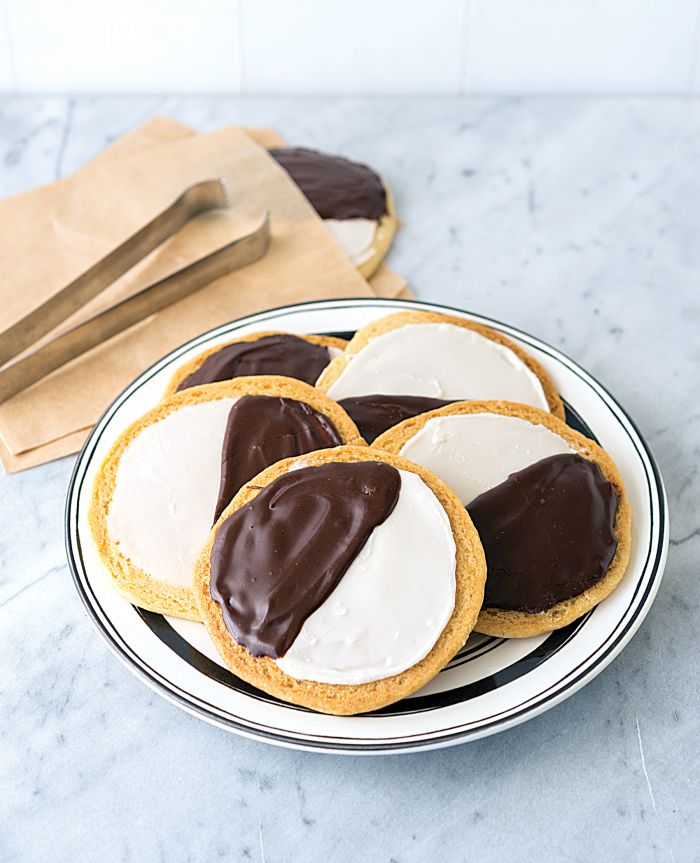 Thanks to a famous episode of Seinfeld, the black and white cookie, once only known to New Yorkers, garnered national attention. In that episode, Jerry used the black and white as a metaphor for racial harmony. Although called a cookie, these treats are actually made from a stiff cake batter and baked free-form on a cookie sheet. Once found only in bakeries, today the black and white can be found in almost every grocery store and bodega in New York. (From NYC Vegan, copyright © 2017 by Michael Suchman and Ethan Ciment. Used by permission. Photo by Jackie Sobon.)
To check out more recipes from VeganMos, pick up a copy of their recipe book NYC Vegan.
Black and White Cookies
Makes: 18 cookies
Active time: 30 minutes
Ingredients
For the cookies:
2 & 1/2 cups unbleached all-purpose flour
1 & 1/4 teaspoons baking powder
1/2 teaspoon baking soda
1/2 teaspoon salt
1 cup sugar
1 cup nondairy butter
1/4 cup nondairy milk, at room temperature
2 teaspoons vanilla extract
For the icing:
3 & 1/2 cups confectioners' sugar
1/4 cup boiling water, plus more if needed
1/4 teaspoon vanilla extract
2/3 cup nondairy semisweet chocolate chips
Directions
Preheat the oven to 350°F. Line 2 (18 x 12-inch) baking sheets with parchment paper. In a large bowl, whisk together the flour, baking powder, baking soda, and salt. Set aside.
In another large bowl, combine the sugar and butter and beat until creamy, about 5 minutes. Add the milk and vanilla and beat until incorporated. Add the flour mixture to the butter mixture in batches, beating after each addition, until combined.
Scoop the dough, 1/4 cup at a time, onto the prepared baking sheets, spacing the scoops 3 inches apart. Flatten them slightly with your hands (keep your hands wet to prevent the dough from sticking). Allow room between the scoops as the cookies will spread as they bake.
Bake the cookies for 15 minutes or until a toothpick inserted in the center comes out clean. Allow the cookies to cool 2 minutes on the baking sheets and then carefully flip the cookies over and transfer them, upside down, to a wire rack to cool completely.
While the cookies are cooling, make the icing. In a large mixing bowl, combine the confectioners' sugar, boiling water, and vanilla. Mix well to get a spreadable icing. Add a little more water, if needed. Using an offset spatula, spread a thin layer of icing onto the flat side, the former bottom, of each cookie. Return the cookies to the wire rack to dry. You should have about 1/2 cup of icing left.