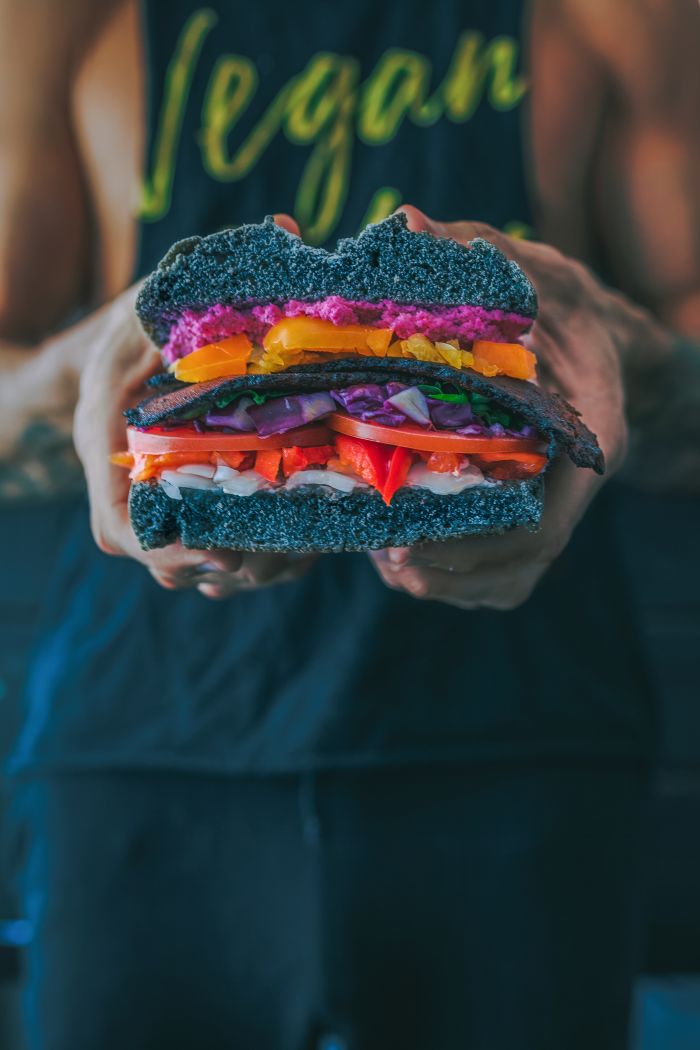 Every bit of this BLT sandwich is made from scratch, like macadamia cheese and freshly baked bread! Add a bit of dramatic color to make it a Black LT with activated charcoal powder.
Black LT Sandwich
Serves: 2
Active time: 30 min prep 1 hr 15 min bake
Ingredients
For the Macadamia Cheese
1 cup soaked raw macadamia nuts
1.5 tbsp nutritional yeast
1 tbsp garlic
2 tsp miso paste
2 tsp apple cider vinegar
2 tsp juice of a lemon
Around 8 tbsp water
1-2 tbsp frozen pitaya melted (optional)
Pinch of pink salt
For the Bread
3 cups gluten-free all-purpose flour
1 cup warm water (105°F-115°F/40.5°C-46°C)
1 tbsp vegan butter
1 tbsp maple syrup
1 tsp coconut oil
1 tsp pink salt
1 tsp activated dry yeast
1 tbsp activated charcoal powder from coconuts for color
Method
To make the Cheese
Rinse the soaked nuts and add them to a food processor.

Add everything else into your food processor and slowly add the water 1 tbsp at a time.

Once it reaches a consistency to your liking, remove, and serve!
To make the Bread
Mix salt, maple syrup, and 1 cup warm water until dissolved.

Add yeast and let sit 10 minutes.

Mix flour & charcoal in a separate bowl.

Add butter to your wet ingredients, then 1/2 cup increments of flour. Mix.

Once the dough is formed, knead for 15 minutes, sprinkling flour each time it sticks.

Set oven to lowest temp, grease up a bowl, add dough, cover with a cloth and let rise for 45 mins.

Take out the bread, knead a few times, sprinkle a sheet with flour, and shape dough into a long cigar.

Slash the top with a knife down the middle then bake at 350°F/180°C for 30 minutes.

After 30 minutes, brush some coconut oil on the sides and let cool until ready. Finish off with vegan bacon, mayo, all the veggies you can find and enjoy!