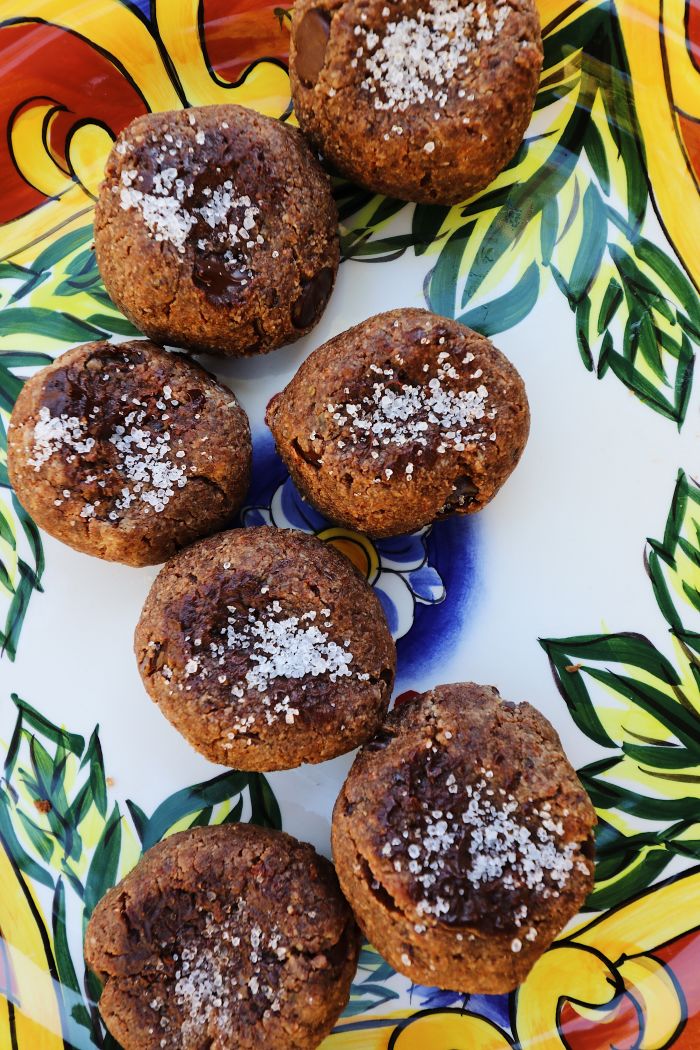 Hi everyone! It's Marina, the Eco Goddess and I am so excited to share with you an exclusive recipe for abV. I'll be honest with you, there really isn't a day that I don't crave chocolate. You might even call me a "chocoholic." I will eat chocolate in just about any form at any time of the day. In waffles. On pancakes. Blended in smoothies. On strawberries (okay, now I am getting hungry). Even in its raw form, all dark and bitter. Chocolate is an absolute staple in my minimalist kitchen.
Today I bring you a chocolate chip brownie cookie recipe that has the "wow" factor. I've tried so many ways of perfecting vegan and gluten-free cookies. It was quite challenging for me at first to pull off the perfect texture (not too hard, not too crumbly, not too chewy) and taste, but I've got to tell you these cookies are FIRE. Read on for the recipe.
I am still going strong with the candida diet, meaning no added sugars and minimal fruits. For this reason, you'll see in the recipe that I use monk sugar rather than say maple syrup, raw cane sugar or agave. I encourage you to use the sweetener you prefer, and taste test the dough prior to popping your cookies in the oven!
These cookies are great as a dessert on the couch snuggled up with your favorite book, a snack on-the-go, or as a treat to bring to a social gathering. I made this recipe again the other day and cracked open a can of full fat coconut milk. I added some vanilla and monk sugar to the coconut cream and whipped it up to serve as a frosting. The result: YUMazing. Feel free to do same. Are you ready to get started? Let's get to cooking!
Chocolate Chip Brownie Cookies
Serves: 18-24 cookies
Active Time: 15 minutes
Ingredients
¼ cup unsalted roasted almond butter
⅔ tsp monk sugar
¼ cup melted coconut oil
1 tsp pure vanilla extract
¼ tsp salt
¾ cup unsweetened cocoa powder
2 flax eggs (2 tbsp ground flax + 6 tbsp water, whisk together, set for 15 mins)
¾ cup + 2 tbsp gluten free oat flour
½ tsp baking powder
½ cup vegan chocolate chips
Topping ideas:
Coconut whipped cream
Peanut butter
Strawberries
Directions
Preheat oven to 350°F. Line a baking sheet with coconut oil or compostable parchment paper.
In a medium bowl, whisk together almond butter, monk sugar, coconut oil, vanilla and salt.
Add cocoa powder in ¼ cup increments, whisking until smooth. Next, add in your flax eggs.
Lastly, add in your oat flour and baking powder. Whisk well until no flour patches remain. Your dough will be sticky. Fold in your chocolate chips. Be generous ;)
Using your hands or a 2-tablespoon cookie scoop, scoop and drop your cookie dough onto the prepared baking sheet, spaced evenly apart. Make them as big or as small as you wish. Shape your cookies into round discs with your fingers. Once your cookies are on the pan, gently tap the pan a few times to flatten the cookies.
Bake for 8-12 mins.
Place the baking sheet of cookies on a cooling rack; allow to cool for 10-15 minutes. Now the best part: grab a cookie (or two) and enjoy! If you don't eat them all in one sitting, store in an airtight container at room temperature for 1-2 weeks. If you'd like to freeze them, store in an airtight container in the freezer for up to 1 month.