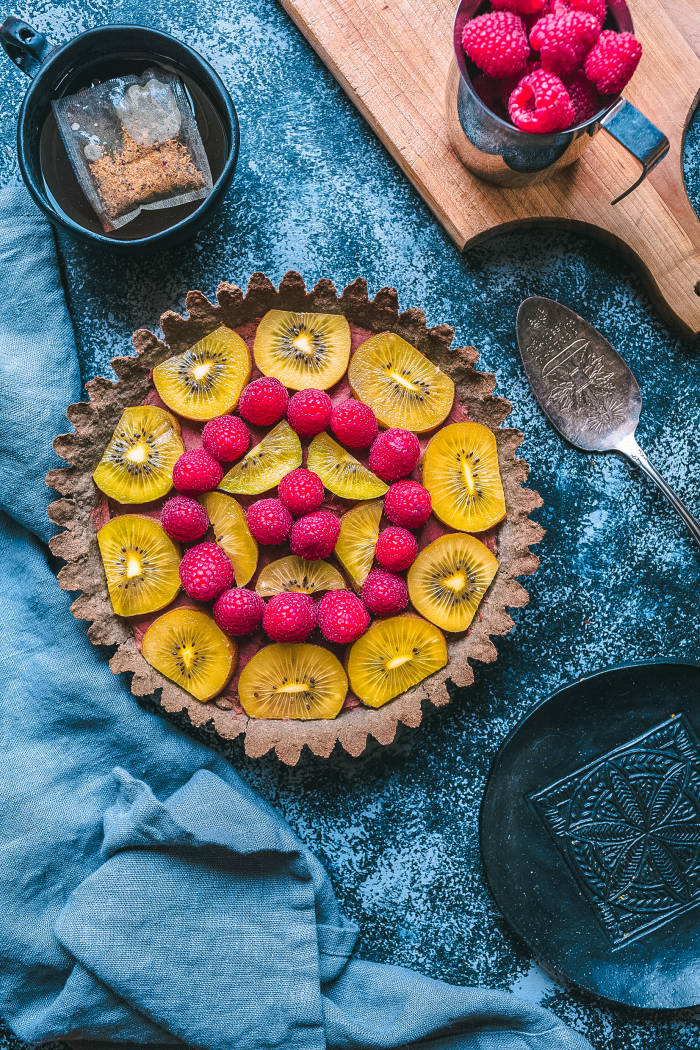 Fruit Tart
What is going on my friends, thanks so much for joining me, the rustic vegan, once again for another exclusive recipe for ABV. Let me just get this off my chest: I have very little experience baking tarts, but today is the day for more growth. My initial idea here was to create some black crust using my special ingredient, charcoal powder*, and then fill it with a red filling. I had some yellow kiwi laying around and some raspberries. I thought yellow and red would make a nice contrast and that's really how this entire idea started. They came out looking somewhat like regular green kiwis, but I'm still very happy with the way this turned out!
The last time I attempted a tart I was hell-bent on everything being gluten-free and, let me just tell you, baking gluten-free is no joke. It's guaranteed failure for me every time! So this time I ditched the gluten-free flours and tried something new, and was much happier with the outcome. Hopefully you'll enjoy this creation and feel free to adapt and modify according to what you have in the kitchen, which is always one of my favorite things to do while creating recipes. So let's get into this and not waste any more time!
Drop me a line in the responses at the end of this recipe if you're interested in the charcoal powder.
Fruit Tart
Serves: 2
Active Time: 30 minutes
Ingredients
For the Crust
For the Filling
For the Topping
Choose whatever fruit you want to top this with - there is no wrong or right way to finish the tart - but I recommend not adding the fruit until after baking.
Directions
Mix your vegan egg and set it aside, then combine all dry ingredients into a bowl and mix
Slowly add the butter and make sure it's not melted; you want the crust to be more of a crumble with no chunks
Now add maple syrup
It should press together between your fingers by now as this is the consistency you need to form a crust
Grease your tart pan and now press firmly on the bottom first and then up the sides. You can also use parchment paper for the bottom just to be safe
Poke a few holes with a fork on the bottom, freeze for 10 minutes and then bake at 350F/175C for 10 more minutes
Mix all your filling ingredients into a blender and, to get the right consistency, add some plant-based milk until it's thick and smooth
Remove the tin from the oven and don't burn your hands, pour the filling and smooth it out and return to bake for 30 more minutes. Give it a look around 20 minutes just to be safe. Enjoy!