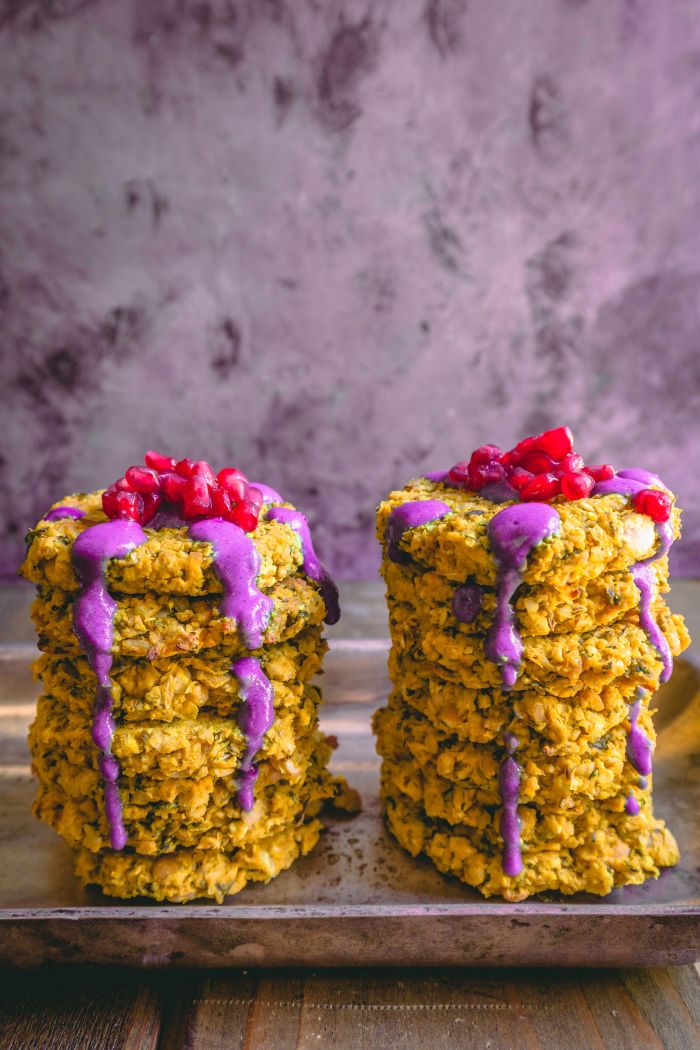 Golden Milk Baked Oil-Free Falafels. Who doesn't like falafel? If you know somebody who does not tell them you can't be friends with them anymore, or better yet make them try this recipe. It is oil-free and baked so in my opinion, it can't get any cleaner than that. I have tried this recipe in many different ways, but this way has finally been perfected to my liking. I have thrown you all a twist as well. I was sent some goodies from Sunfood and finally got around to using them in a recipe. I had been using their golden milk powder for my daily smoothies but had an idea to make falafels out of them. So, I present to you my golden milk baked falafels. Enjoy!
Golden Milk Baked Oil Free Falafels
Serves: 2
Active time: 1hr
Ingredients
2 canned chickpeas (drained and dried)
3 tbsp flour of choice, or 1/2 cup rolled oats (I prefer the oats)
Juice of 1/2 lemon + the zest of 1/2 lemon
1 clove of garlic, or 1 tbsp minced
1/2 white or sweet onion (red is fine also)
50g raw unsalted cashews (not soaked)
A handful of parsley
A handful of cilantro
1 tbsp golden milk super blend (I used @sunfood golden milk blend
2 tbsp cumin seeds (must be seeds)
1 tsp smoked paprika
2 tsp pink salt
Pepper to taste
Directions
Preheat oven to 400F/200C.
Finely chop your parsley and cilantro by hand.
Now add everything to your food processor except the chickpeas.
Give everything a nice chop but not too fine, do not over chop this step.
Now add your chickpeas and give them a quick coarse chop, only a few spins, you do not want to over chop your mix here. you want some chunks of chickpeas left and it will be easy to shape them.
Use an ice cream scoop and form shapes, and set them over a baking tray lined with parchment paper. you can leave them in the shape of balls or smash them down like I did for patties.
Bake for 10-12 minutes per side, flip after first 10-12 and bake for another round until golden.