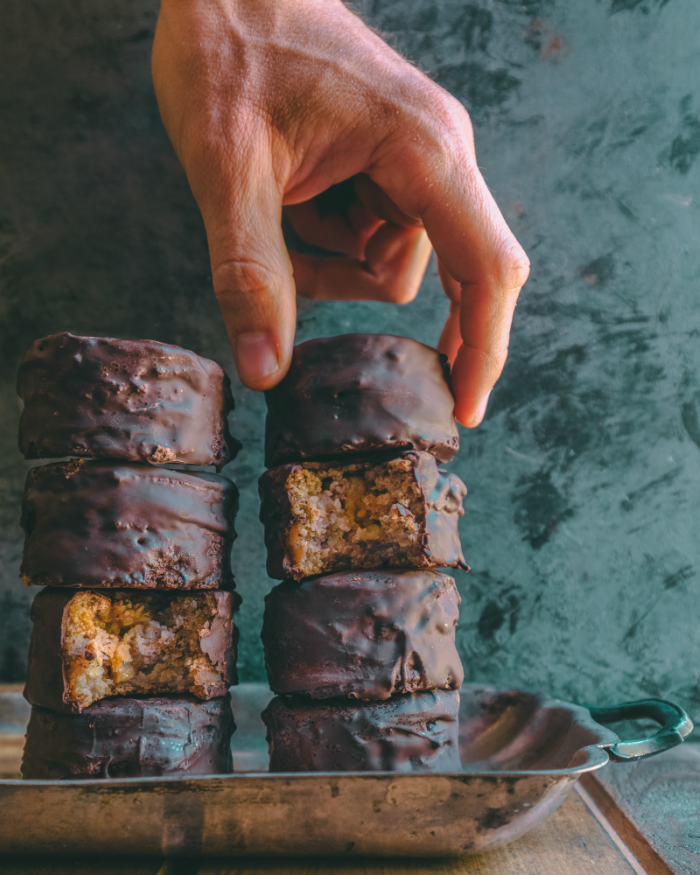 Here's a throwback to my childhood of horrible junk food and sweets! These are some cupcake ding dong clones with my own personal twist on it. I created some banana cake peanut butter filled chocolate ding dongs. I am a huge fan of anything baked with banana so this idea popped in my head the other day. I tried to make these as clean as possible since I've been sugar-free for a month and don't consume oil or butter anymore.
I made the cakes not too sweet because the filling itself was very sweet, and the chocolate will have some sugar in it since it's hard to find vegan chocolate without any added. So feel free to add more sweetener to the cakes part of the recipe! If I wasn't using chocolate and a peanut butter filling and just made regular banana cake or bread I would personally have stepped up the sweetener and added more. Now let's get into the recipe for these treats below!
Banana Hostess Ding Dongs
Serves: 4
Active Time: 30 minutes
Ingredients
For the cakes:
3 cup spelt flour (or whichever you prefer)
1 tsp baking powder
1 tsp baking soda
1/2 cup maple syrup (I used the maple guild vermont maple syrup)
3/4 cup vegan butter or coconut oil (I subbed this for 1 cup applesauce)
1 tsp vanilla
3 vegan eggs (I used Bob's Red Mill vegan egg replacer)
4 ripe bananas
1.5 cup plant milk
1.5 tbsp apple cider vinegar
For the peanut butter filling:
Coconut sugar to taste (or date sugar, cane sugar)
1/3 cup coconut cream (I used lets do organic creamed coconut)
2 tbsp PB2 (any powdered peanut butter will do)
1 tbsp plant milk
Directions
For the cakes:
Preheat your oven to 350F/180C
Mix the plant milk & apple cider vinegar in a bowl and let sit. Also mix the vegan egg and let sit in a separate bowl
Now mix all the dry ingredients in another bowl
In another separate bowl, smash the bananas, mix in the maple syrup, vanilla & vegan egg
Now mix the wet & dry ingredients together and mix including the milk/apple cider vinegar
Line a spring form pan with parchment paper and pour your batter
Bake for 30 minutes or until a toothpick comes out dry in the middle
I used a cookie cutter thats circular to cut out my shapes, you should probably do the same!
For the filling:
Mix everything together in a bowl and use a hand mixer until it all comes together
Fill up a piping bag with your filling and use this to fill in the cakes
After they have cooled a bit you can either test your luck and try filling them without drilling out the center with some sort of circular tool. I pulled out the centers with an apple core tool and filled them and then put the tops back on
Once you have filled your cakes, put the tops back on and prepare your chocolate
For the chocolate coating:
Melt any vegan chocolate and cover your cakes as you like. I got dirty with my hands and went to town. There really is no wrong way of doing this.
Make sure to have a cooling rack with parchment paper underneath while the chocolate drips and sets
Let them sit until the chocolate hardens and after that you can leave the cakes at room temperature and they should last a few days if they can even make it that long without being eaten!