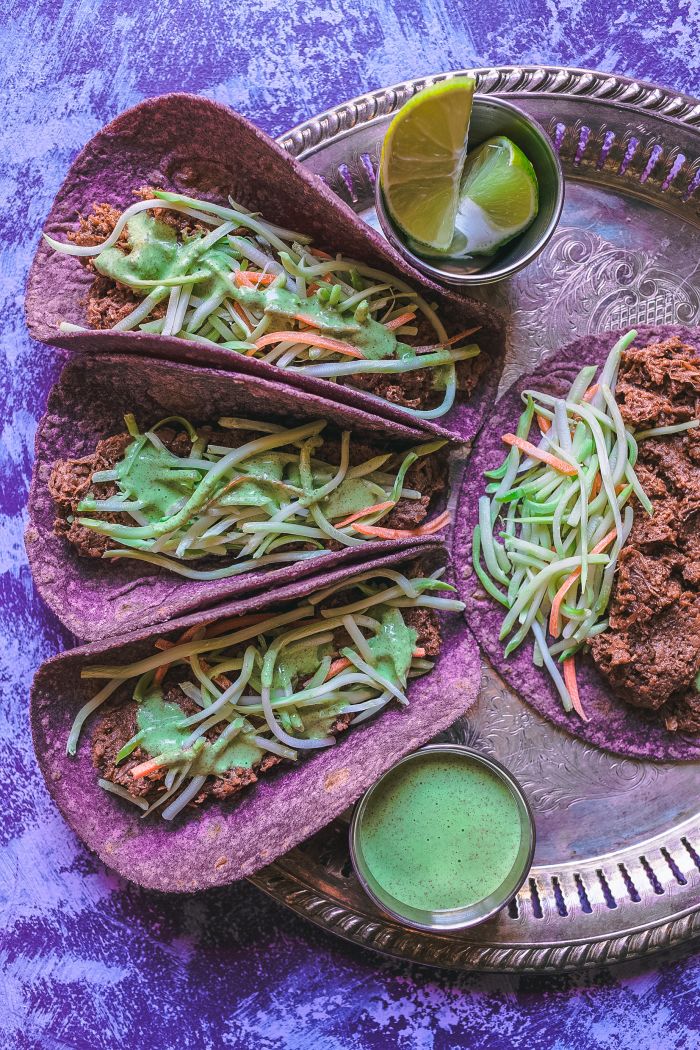 Welcome back my friends! Today I'm bringing you some more jackfruit love. If you didn't already know, jackfruit is one of my favorite meat replacements to work with, and I have to say jackfruit & BBQ sauce has been my favorite combination yet. I've even seen videos online where people got tricked into thinking they were eating meat, only to find out it was jackfruit. I'm feeling inspired to do one of these videos myself! So far the closest thing I've done is cook for non-vegan friends, so they knew ahead of time what they were getting into but the end result was still just as awesome.
So jackfruit is a very easily found fruit that you can turn into a meat replacer, as long as you get young jackfruit. Although I have seen that people use the ripened sweet jackfruit in recipes, it just depends on what you're cooking. The ripened jackfruit is the massive prickly fruit that tastes like a sweet bubble gum. I personally have only worked with young jackfruit, which has no sweetness at all. It's very cheap to purchase and easily found in Indian or Asian markets. Luckily for me it's becoming more readily available in traditional supermarkets in the U.S.
Congratulations if this is your first time working with jackfruit! If you're in the mood to trick some meat eaters, by all means go that route, or if you're already plant-based like me but have yet to try this awesome fruit, lets dive in! Luckily you should have most of the ingredients for this recipe in your cupboards already. There are really only a few items you need to purchase to make this all come together. I can smell the sweet BBQ sauce already!
Jackfruit Tacos
Serves: 4
Active Time: 30 minutes
Ingredients
2 cans of jackfruit in brine (or two boxes pre-shredded jackfruit)
1 yellow onion
4 white bulbs from green onion stalks
2 tbsp garlic minced
1 thumb of ginger
1 lime juiced
1 tbsp apple cider vinegar 5 tbsp liquid aminos
1 tbsp maple syrup
1 tsp nutmeg
1 tsp all-spice
1/2 tbsp black pepper
1 cup of vegetable broth
1 bottle of vegan BBQ sauce of choice
For the Cilantro Lime Crema:
4 tbsp vegan mayonnaise
Juice of 1/2 lime
Handful of cilantro
2 tbsp apple cider vinegar
1 tbsp garlic
1 tsp onion powder
Salt to taste Use water if it's too thick or add chia seeds if it's too thin in order to thicken
Directions
Add everything except the jackfruit to a blender and mix.
Pour sauce over jackfruit in a bowl. If you used canned jackfruit mash it with a fork till it resembles shredded meat.
Mix well and put into a container and let refrigerate for a few hours or overnight if you have the patience.
Lay out on parchment paper and baking tray, combine your meat and pour 1/2 bottle of BBQ sauce into a mixing bowl. Once combined well, transfer to a baking tray.
Cook for 20 minutes at 400F / 205C.
While cooking, mix the sauce ingredients and blend. Adjust the consistency accordingly and refrigerate until ready to serve.
I topped mine with a broccoli slaw but feel free to get creative and use what you have.