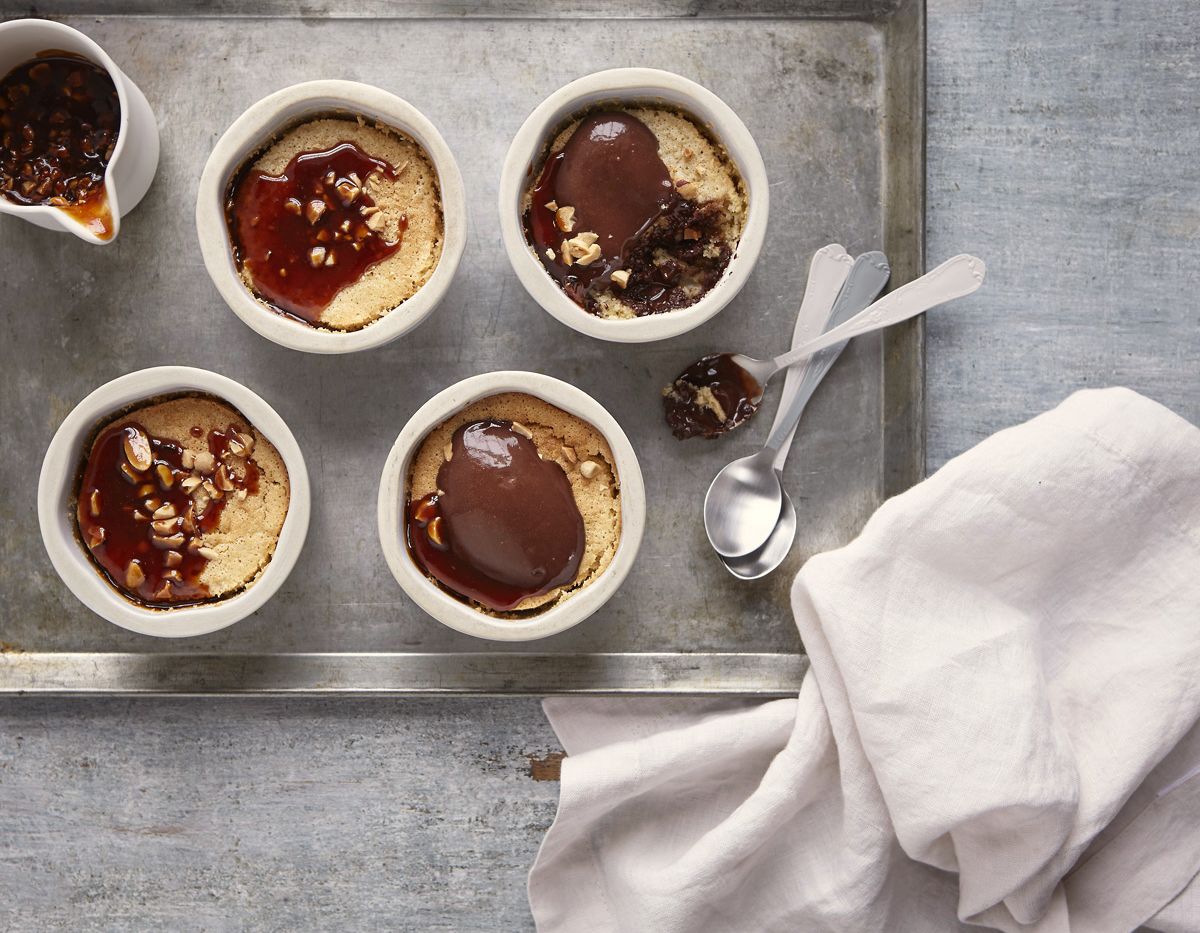 This is one of those desserts that ticks all the boxes for a luscious treat - peanut butter, caramel and chocolate. You can make the puddings in advance and freeze them until needed. The sorbet is also delicious on its own and makes a little more than you need for 4 people. (Photograph by Nassima Rothaker)
Peanut Butter Pudding
Topped with peanut caramel and dark chocolate sorbet
Serves: 4
Active Time: 1hr
Ingredients For the dark chocolate sorbet:
125g caster sugar
100g ice
90g cocoa powder
90g dark chocolate
For the peanut butter pudding:
80g aquafaba
80g caster sugar
65g ground almonds
65g plain flour
20g peanut butter
20g olive oil
20g non-dairy butter, melted
20g non-dairy milk
1/2 tsp baking powder
Pinch salt
For the peanut butter caramel:
60ml non-dairy milk
60g caster sugar
30g non-dairy butter
1 tbsp peanut butter
1/4 tsp table salt
Directions
Preheat the oven to 180°C. Grease 4 ramekins.
For the sorbet, place the sugar and cocoa powder in a pan with 200ml water. Whisk well then place over a moderate heat and bring to the boil. Continue whisking and cooking the mixture until it thickens, approximately 5 minutes.
Place dark chocolate in a mixing bowl and pour the thickened cocoa mix through a fine sieve onto the chocolate. Allow to sit for 5 minutes then whisk together. Add the ice and whisk until the ice has melted and the mixture has cooled. Churn according to the ice cream maker manufacturer's instructions.
For the puddings, whisk the aquafaba in a stand mixer until stiff peaks form. Gradually add the caster sugar and whisk until glossy and all sugar grains have dissolved.
In a separate bowl, mix the ground almonds, flour, baking powder and salt together.
In a third bowl, mix the peanut butter, olive oil, melted butter and plant milk together. Mix the peanut butter mixture with the dry ingredients, then gently fold in the meringue. Divide the cake mix between the ramekins and bake for 10 minutes.
When ready to serve, make the caramel. Place the sugar into a small heavy-based saucepan or frying pan. Place over medium heat and leave the sugar to melt, swirling the pan occasionally to get even caramelisation. Once the sugar has dissolved and reached a deep golden colour, add the non-dairy butter and whisk to combine well.
In another saucepan, bring the milk to the boil, then add to the caramel and whisk well. Lastly, whisk in the peanut butter and salt.
Drizzle the warm caramel sauce over the peanut puddings and serve with a big scoop of dark chocolate sorbet.