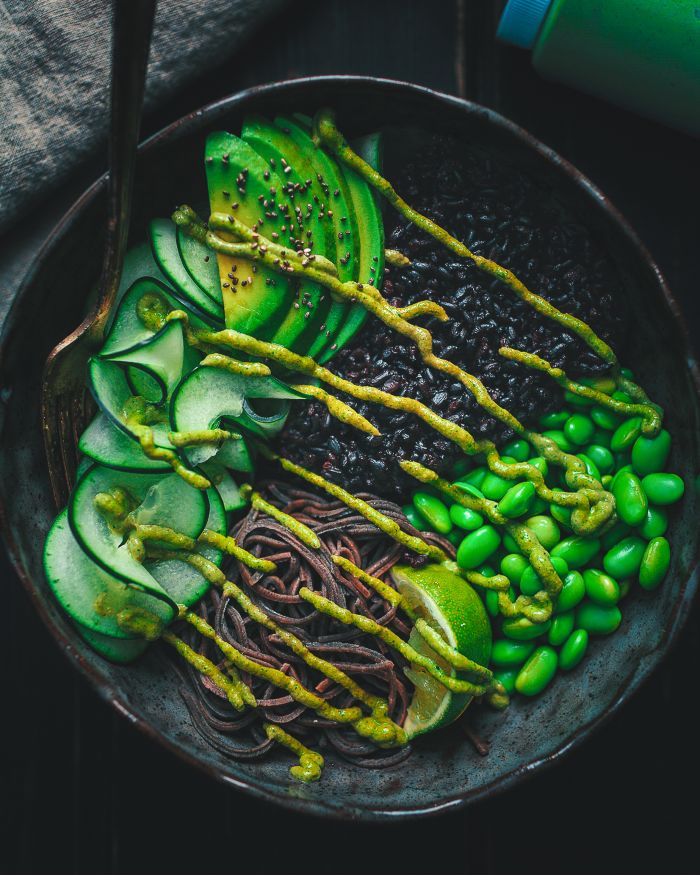 Life Bowls anybody? I say that because greens give us life. I created these black avocado walnut pesto bowls to be as natural as possible – I didn't season anything. I just let the veggies and rice do their thing and added a cheesy avocado walnut pesto sauce for some extra flavor.
Grab a bowl of rice & veggies of your choice and cover it in this sauce. It's as quick and simple as it sounds! My personal bowl was black rice, black bean pasta, cucumbers, avocado, and edamame. Get creative with it and use whatever you have in your fridge. This is a great recipe for using up any leftover ingredients. You can even keep any extra sauce for other recipes. Let's drizzle away!
Pesto Greens Bowl
Serves: 2
Active time: 10 minutes
Ingredients
For the sauce
Handful of cilantro
1/2 avocado
1/4 cup walnuts
1/4 cup sunflower seeds
1 fresh squeezed lemon
1 tbsp liquid aminos (soy or tamari sauce)
1 tbsp garlic
1 tbsp miso paste
3 tbsp nutritional yeast
Pinch of salt & pepper
Method
Throw all the ingredients into a blender and mix together.

Add water till you achieve a consistency of your preference.

Drizzle 'em onto your veggies and rice! Super simple.