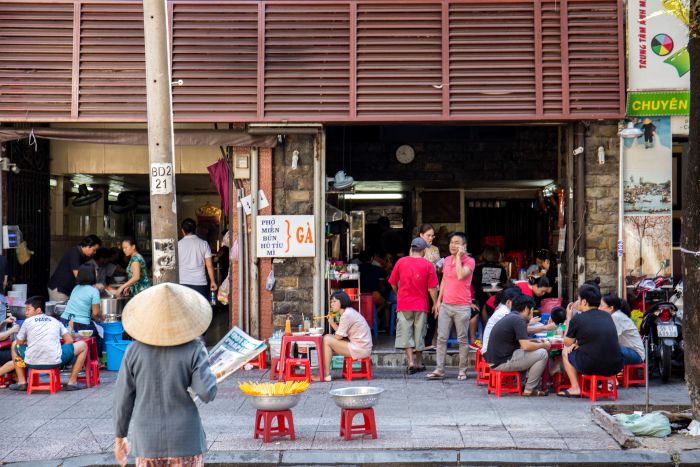 Ho Chi Minh City, lovingly still called Saigon by most locals, is Vietnam's largest city and often the first choice for travellers to this country. The city welcomes you with scooters swarming the streets and footpaths, roadside food vendors with customers sitting on little red stools slurping from their bowls of Pho, coffee shops at every corner and some beautiful French architecture history lost in the city's rapid modernisation.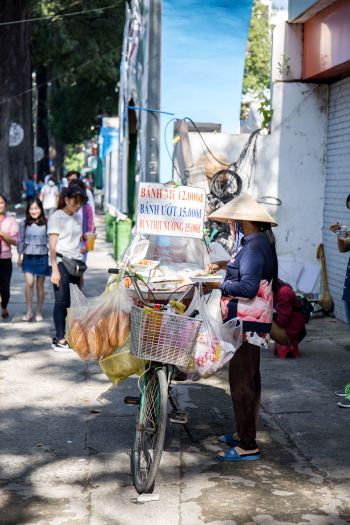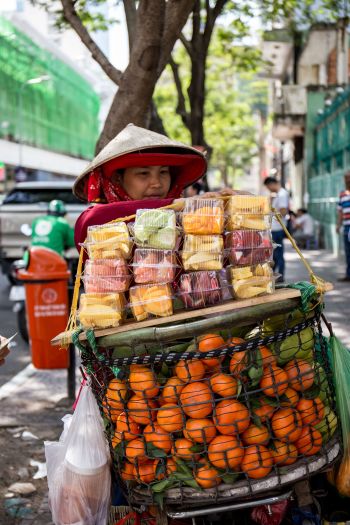 Street scenes in Saigon
At the heart of this city is abundant great food, an integral part of Vietnamese culture. You will see food everywhere in Saigon – street vendors selling everything from Bánh mì to fresh fruits adorned with leaves, cafés with locals waiting to get the best outdoor table and watch the world go by, a growing fine dining culture and high-rise cocktail bars giving you some fantastic views of the city's evolving skyline.
With all the fantastic food on offer, Saigon's vegetarian food scene was a welcome surprise! A majority of the Vietnamese are Buddhist who traditionally go meat-free on the 1st and 15th day of the Lunar calendar every month. This only means positive news for plant-based travellers as there are enough full-fledged plant-based restaurants and eateries with a small plant-based menu.
Before I write about the amazing dishes including the best bowl of Pho I ever stuck my face in, here are some survival tips for a plant-based traveller in Saigon:
"Chay" means Buddhist vegetarian (mostly vegan) in Vietnam - look for the word on street signboards or reference it in places you aren't sure serve vegetarian. You can also hit a Google search on the word "Chay" and find a good list of restaurants nearby.
It is a good practice to confirm with the staff if there is fish sauce in any of the dishes even if they are listed on a vegetarian menu. We had a few instances where the menu listed a dish as vegetarian but it contained fish sauce.
If you are vegan, avoid traditional Vietnamese coffee - even just the black version without dairy. Given the average quality of beans, they are often roasted in a touch of butter to give the coffee a creamy and nuttier taste. Opt for cafes that roast their own beans.
While multiple restaurants have plant-based options on their meat-dominated menu, we recommend an all-vegetarian dining spot for a well-rounded experience. We found the dishes in all vegetarian eateries far more innovative and flavoursome.
. . .
#1 Pho Chay at Pi Vegetarian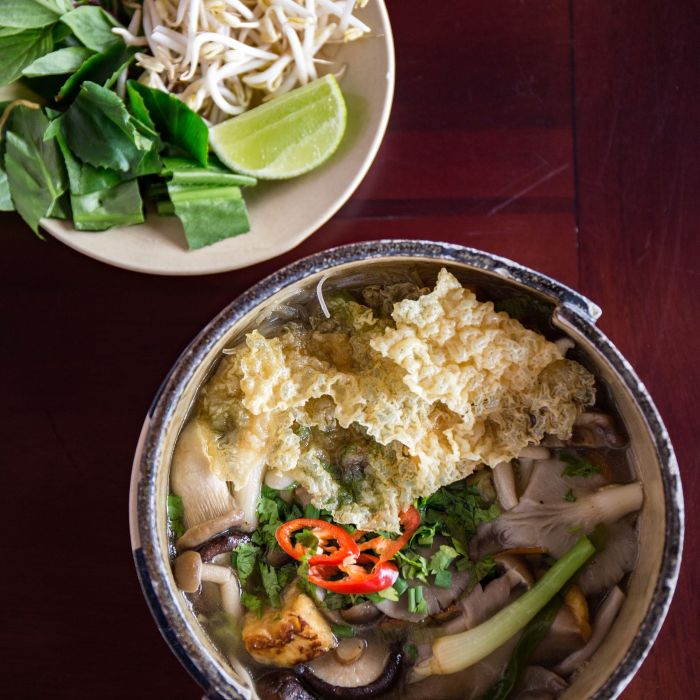 Pho Chay
Pi Vegetarian is a short walk from Vietnam's most visited site, the Wars Remnants Museum and a fantastic choice for organic, local and Asian-inspired food. Their Pho, my best meal in Saigon was full of flavour and generous with ingredients. The broth was a burst of flavours with the appropriate amount of sweet, salt and chili with the freshness of herbs and squeeze of lime completing the balance of flavour. I loved it so much that we returned for another bowl just before flying out of Saigon.
Check out other dishes and reviews of Pi Vegetarian.
Pi Vegetarian, 19 Đường Võ Văn Tần, phường 6, Quận 3, Hồ Chí Minh, Vietnam
#2 Bánh Xèo - Vietnamese at Pi Vegetarian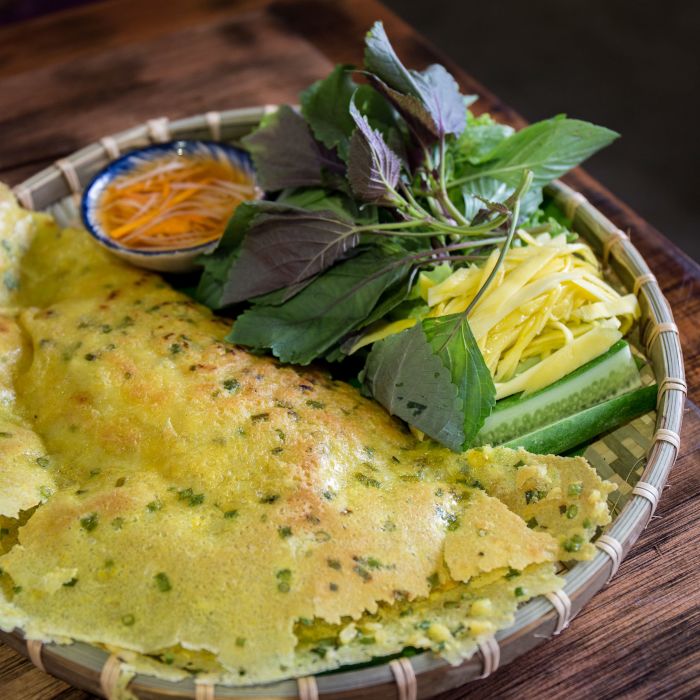 Bánh Xèo
One dish review does no justice to a place with so many good dishes on their menu. We loved this Vietnamese crepe stuffed with bean sprouts and split yellow lentils with a generous portion of greens, herbs, young mango, and cucumber. Small portions of ingredients are all wrapped in a lettuce leaf, rolled, dipped in the sauce and enjoyed - rather messy to eat but so delicious! Like many Vietnamese dishes, the crepe was a play of textures and flavours - crunchy, sweet, salty, tangy, fresh all in one bite!
Check out other dishes and reviews of Pi Vegetarian.
Pi Vegetarian, 19 Đường Võ Văn Tần, phường 6, Quận 3, Hồ Chí Minh, Vietnam
#3 Deep Fried Spring Rolls at Hum Vegetarian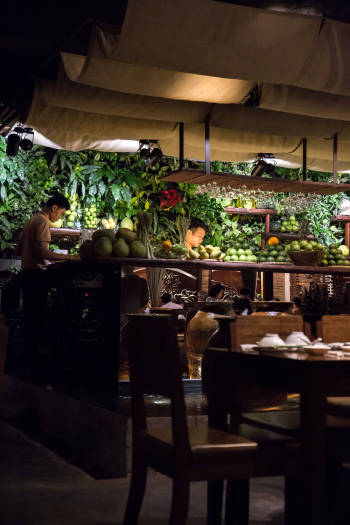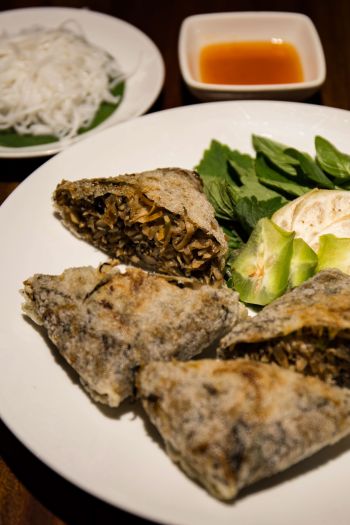 Deep Fried Spring Rolls
Hum vegetarian is the mecca for plant-based food in Saigon – everyone you speak to will recommend this as the must-go place for vegans. This green oasis welcomes you with fresh aromas of Thai basil and a menu so long that it feels like an encyclopaedia of Vietnamese dishes! Of all the dishes I tried, the deep-fried spring rolls stood out. Different from the traditional spring rolls, these were stuffed with intense umami flavoured mushrooms and a paper-thin rice wrap, making them a worthwhile indulgence!
Check out other dishes and reviews of Hum Vegetarian.
Hum Vegetarian, 2 Thi Sách, Bến Nghé, Quận 1, Hồ Chí Minh, Vietnam
#4 Banana Blossom Salad at Hum Vegetarian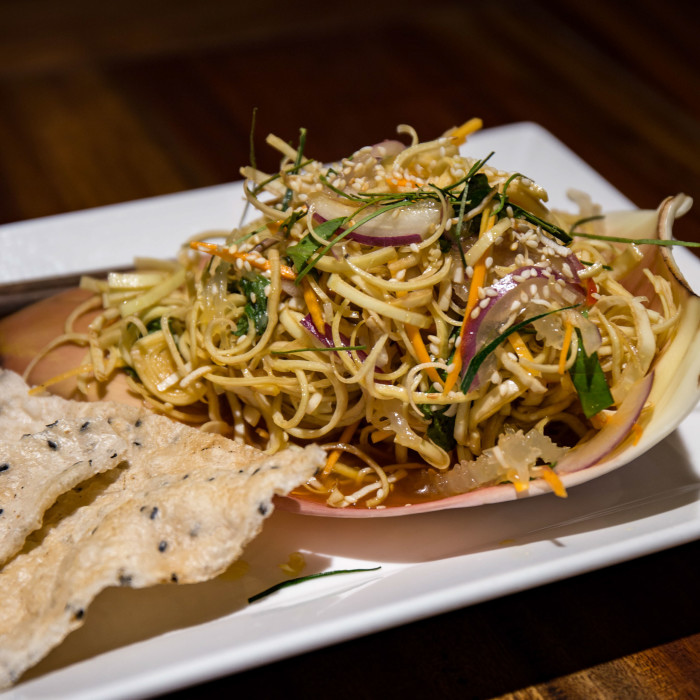 Banana Blossom Salad
Flowers are a common addition to Vietnamese cuisine – usually used in salads or as stir-fried, we recommend trying at least a few versions while you are there. This crunchy and refreshing Banana Blossom Salad was served with an array of other vegetables and herbs giving more texture and flavour to the dish. The traditional sesame rice crackers were a perfect accompaniment to scoop and enjoy the salad.
Check out other dishes and reviews of Hum Vegetarian.
Hum Vegetarian, 2 Thi Sách, Bến Nghé, Quận 1, Hồ Chí Minh, Vietnam
#5 Stewed Melon with Lemongrass at the Chopsticks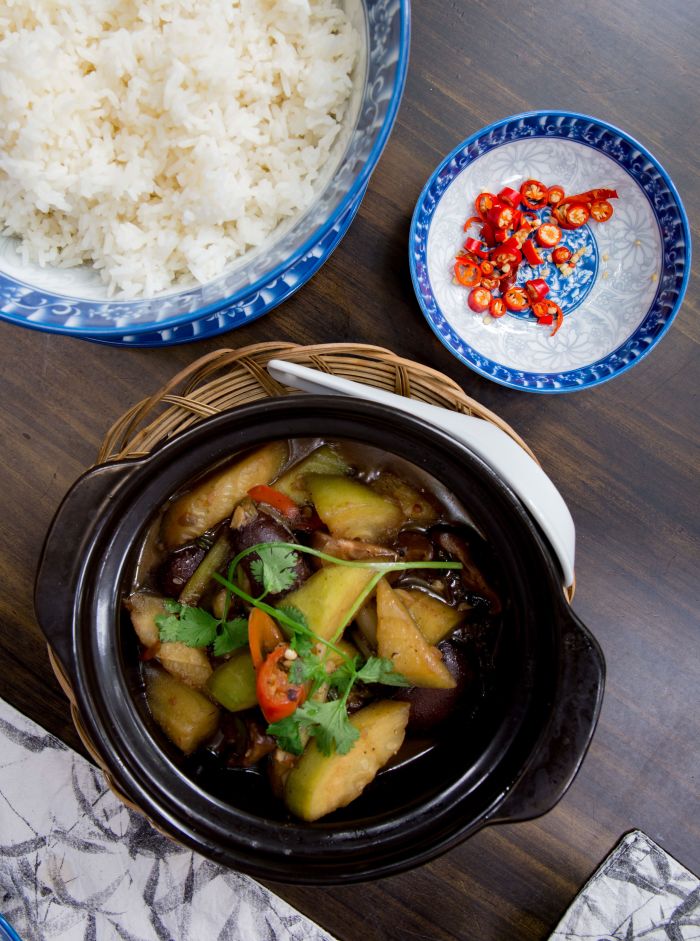 Stewed Melon With Lemongrass
This colonial French villa turned restaurant is tucked at the end of a quaint lane and was formerly home to the Vice President of South Vietnam. While the plant-based options are limited, they are clearly marked on the menu and well prepared. The stewed melon gravy was light with fresh lemongrass flavours and went perfectly with our steamed rice and herbal tofu with chili rock salt. Chat with the restaurant manager Teddy while you wait for your food, he shared great details about the history of the restaurant and also spoke about his recent conversion to vegetarianism and the slow but growing trend in Vietnam primarily for improved health.
Check out other dishes and reviews of The Chopsticks Saigon.
The Chopsticks Saigon, 216/4 Điện Biên Phủ, Ward 7, Quận 3, Hồ Chí Minh, Vietnam
#6 Lemongrass Fried Rice at Phuong Mai Vegetarian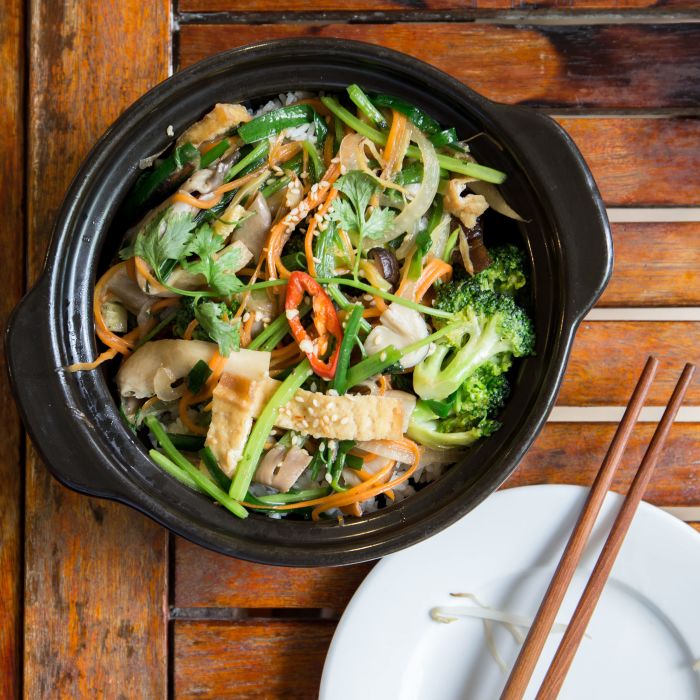 Lemongrass Fried Rice
It is always a pleasant sight to see a clay pot of fried rice topped with a generous portion of colourful vegetables making it a far more nutritious meal than you expected and this lemongrass fried rice was just that! Loaded with fresh flavours of lemongrass, this perfectly cooked sticky rice dish needed no sides as the vegetables and tofu skin added abundant texture and flavour.
Check out other dishes and reviews of Phuong Mai Vegetarian Restaurant.
Phuong Mai Vegetarian Restaurant, 86F Võ Thị Sáu,, P. Tân Định, Q.1, Tân Định, Thành Phố Hồ Chí Minh, Hồ Chí Minh 700000, Vietnam
#7 Beancurd Dessert at the Vietnam House
If you are a TV travel show buff like me, chances are you have watched Australia-born Vietnamese celebrity chef Luke Nguyen concoct some mouth-watering dishes on the backstreets of some vibrant Asian cities. And to my surprise, we found this recently opened fine-dining spot by Chef Luke strolling through District 1 in Saigon.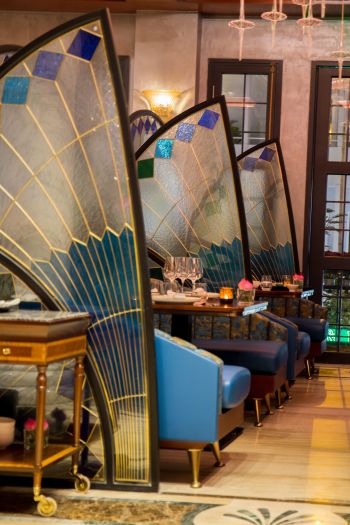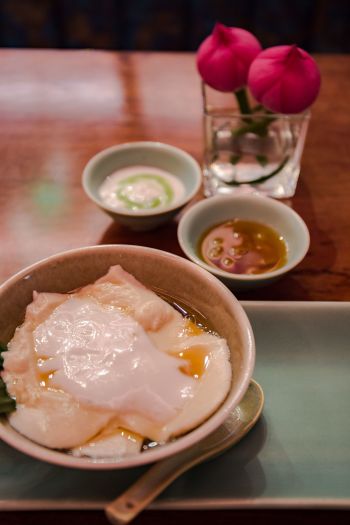 Beancurd Dessert
The ambiance of the restaurant is regally adorned with beautiful peacock coloured stained glass panels with service and food to match. They have a separate vegetarian menu with all the essential Vietnamese dishes for a fulfilling meal but it was their bean curd dessert that stole the night for us! A generous bowl of house-made silken tofu is served with warm ginger syrup, sago pearls & coconut milk. The dessert was light and in perfect balance – melt in mouth soft tofu with an intense ginger syrup flavour and soft, creamy coconut milk to top it all making it a guilt-free indulgence!
Check out other dishes and reviews of Vietnam House Restaurant.
Vietnam House Restaurant, 93-95-97 Dong Khoi Street, Ben Nghe Ward, Ho Chi Minh City, Vietnam
#8 Bun Chay Gao Luc - Vietnamese Noodle Salad at Propaganda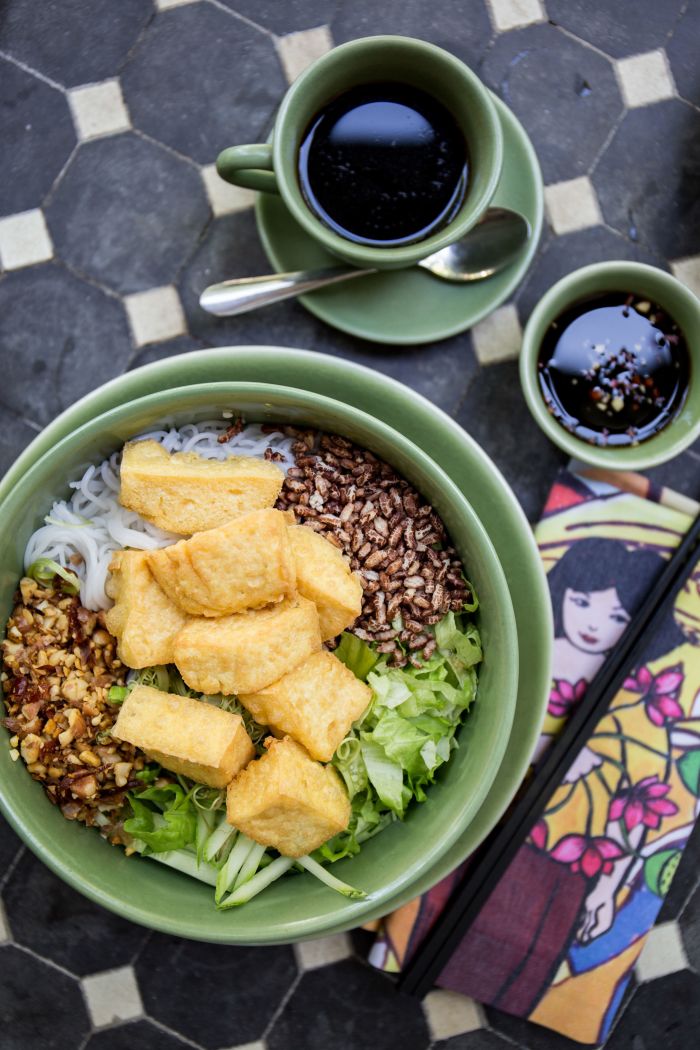 Bùn Chay Gạo Lức
Propaganda, a short walk from Saigon's famous Notre-Dame Cathedral makes a great breakfast choice. Find a table outside, order some food and watch the world go by like the locals do! I enjoyed this vegan version of a Vietnamese rice noodle salad topped with fried tofu, greens, puffed brown rice, crushed nuts and a soy chilli based dressing. The dish was a balanced mix of ingredients and textures with abundant freshness from the greens.
Check out other dishes and reviews of Propaganda.
Propaganda, 21 Hàn Thuyên, Bến Nghé, 1, Hồ Chí Minh, Vietnam
#9 Coffee at L'usine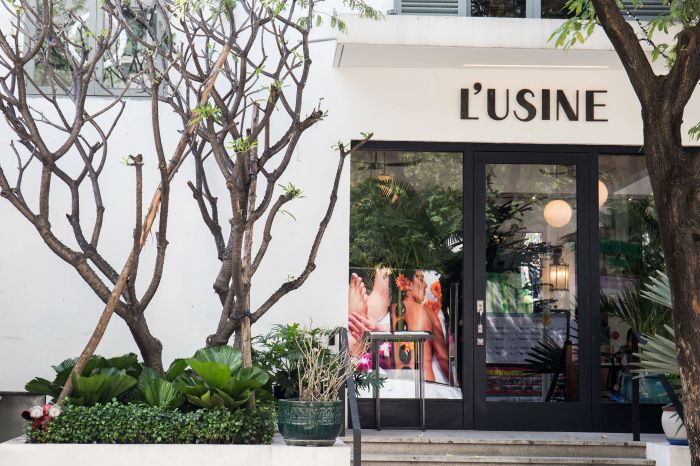 L'usine
For a mid-day coffee fix break or to get some free Wi-Fi to scroll through your Instagram feeds head to this beautiful boutique cum European style café. With multiple outlets in Saigon, you'll find yourself one nearby as you are strolling through the city. Order a traditional Vietnamese coffee with condensed milk topped with ice or as a vegan choose from one of their amazing fresh fruit juices.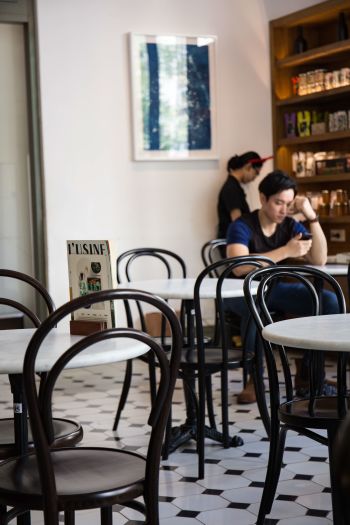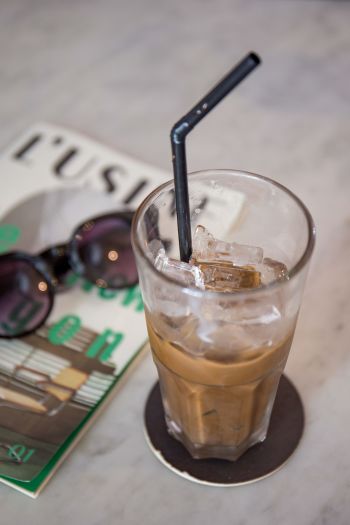 Refreshing iced coffee
Check out other dishes and reviews of L'usine.
L'usine, 151 Đồng Khởi, Bến Nghé, Quận 1, Hồ Chí Minh, Vietnam