Wholesome organic food at Pearth Organic Kitchen
It may be the most isolated capital city in the world, but with its sweeping turquoise coastlines and buzzing independent foodie scene, Perth is one destination not to miss for your next escape. The active, outdoors lifestyle of Perth intuitively invites a health-conscious diet and with the growing popularity of plant based nutrition, not only is there an ever-increasing number of dedicated plant-based restaurants, but so many more restaurants are adding veg*n options to their menus!
From beachside brunches, to artisanal ice-cream and delicious lunch options, this is Plant-Based & the City: Perth.
Fit Food
#1 Health Freak Café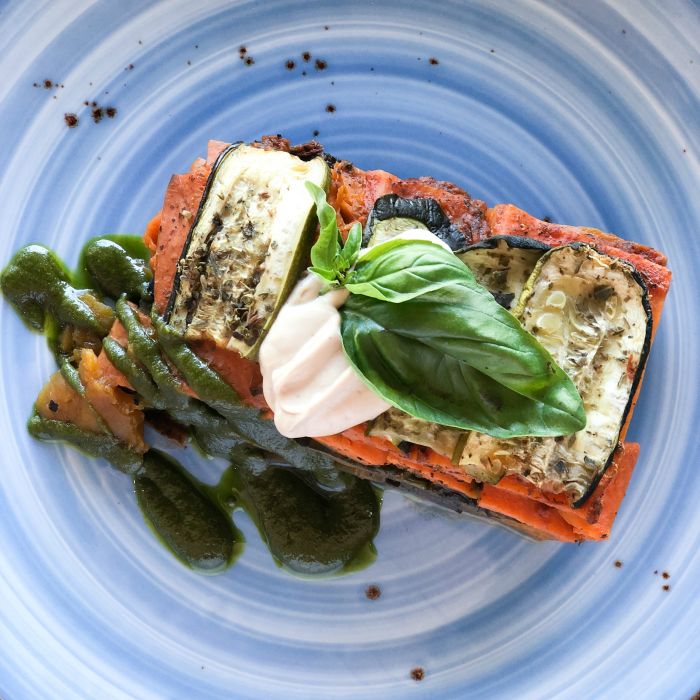 Vegan lasagna
A plant based diet and a healthy, fit lifestyle often go hand in hand, but to make things all that much easier when navigating the world of dining out, enter Health Freak Café. Here, not only is the menu 100% gluten and refined sugar free, but the café specifically caters for all fitness, health and special dietary requirements, including an extensive veg*n section!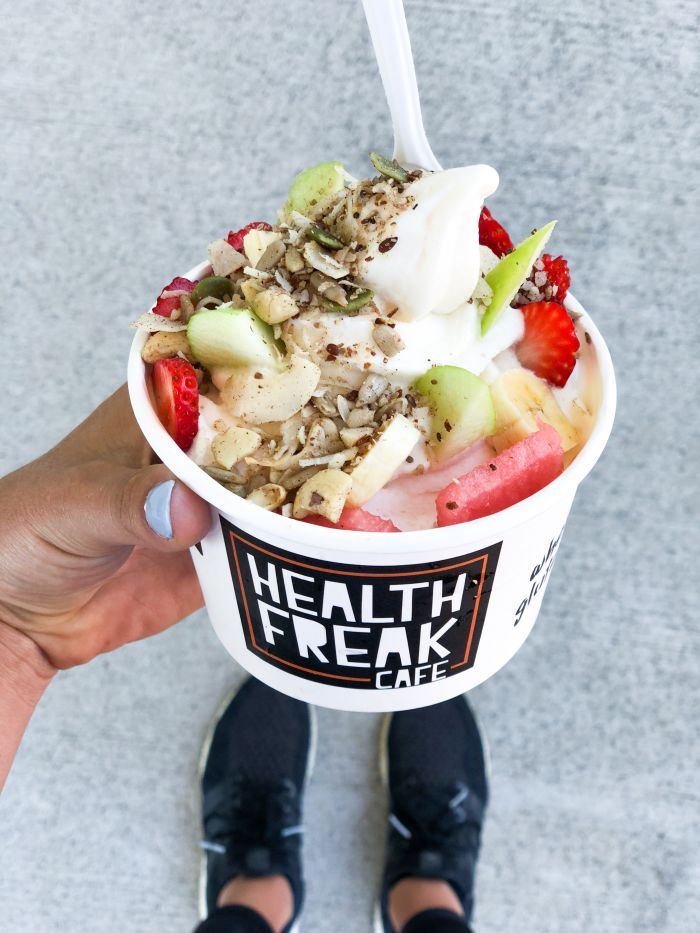 Vegan coconut frozen yogurt
Through breakfast, lunch, dinner or snacks on the run in the 'grab and go' fridge, the menu additionally informs you of the macro count of the meal, helping you to ensure you hit the necessary balance of essential intake from your meals! The plant based twist on classics including vegan bruschetta, vegetable lasagnes, raw pad thai and even vegan burgers will satisfy any cravings. The delicious food menu is complemented by the array of vegan protein smoothies, nutritional lattes and freshly squeezed juices coming from the barista! For a cool treat, try out the CocoFreak, their own organic, sugar free dessert made from coconut milk for a guilt-free but totally delicious dessert.
Check out other dishes and reviews of Health Freak Café.
Health Freak Café, 787 Canning Hwy, Applecross WA 6153, Australia
The OG Vegan Mecca
#2 The Raw Kitchen
If you ask any Perthian where to find plant based meals, chances are they will suggest the Raw Kitchen. This OG spot, which has been rated as one of Australia's leading plant based restaurants, is a mecca for plant based, vegan and raw food. Here, under the exposed high beams and immersed in loft style restaurant, you will find like-minded friends and chatty staff sharing the ethos of health and sustainability. The inventive and seasonally changing menu presents both raw and cooked plant based meals, though will generally highlight a few crowd favourites, including the live pizza slice, raw nachos and spaghetti bolognaise. From smoothies and raw treats, to sharing platter lunches, cheese boards and dinner delights, settle in for a while at the plant based eatery and then explore the rest of the premise, which features a zero-waste store, onsite kombucha microbrewery and yoga studio. Plus, if you want to brush up on your own culinary skills check out their current calendar of workshops!
Check out other dishes and reviews of The Raw Kitchen.
The Raw Kitchen, 181A High St, Fremantle WA 6160, Australia
Organic Heaven
#3 Pearth Organic Kitchen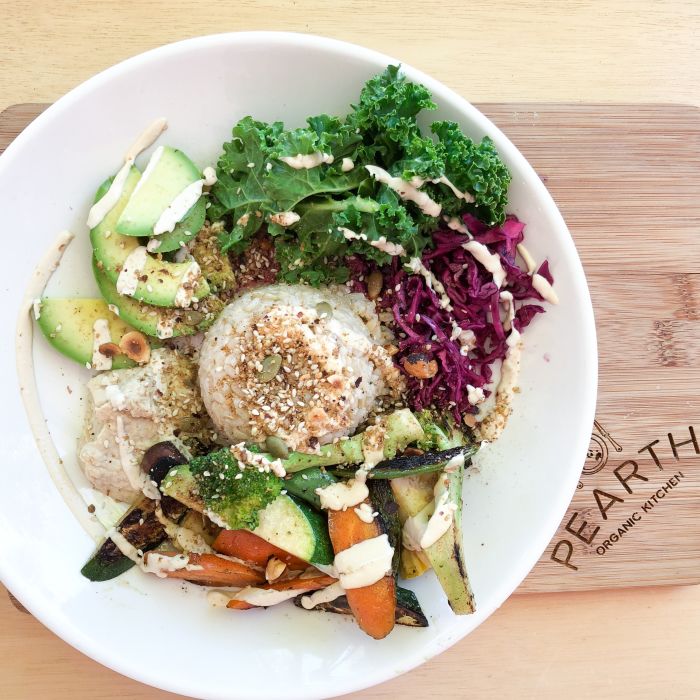 Vegan Macro Bowl
The Pearth Organic Kitchen is refreshingly welcoming and though they don't prescribe to any particular diet (meat eaters are also very welcome) the menu showcases the best of veg*n nutrition through their wholesome breakfast and lunch servings. Discarding any processed foods or refined sugars, Pearth delights in whole foods, conscious cooking methods and fresh, locally sourced, organic ingredients. The result? Simply stunning meals in a gorgeous, light filled location. With a menu that will have you rushing to come back to try each item, there's the Aussie classic breakfast fritters, or Pearth plant-based breaky, smoothie bowls with all the superfoods you could ever desire and lunches that will power you through the day. The staff's recommendation for lunch is the popular Macro Bowl (we will also highly vouch for it!), but you can also satisfy those burger cravings complete with a lentil and walnut patty.
Check out other dishes and reviews of Pearth Organic Kitchen.
Pearth Organic Kitchen, 106C Cambridge St, West Leederville WA 6007, Australia
Freo Community Vibes
#4 Manna
Embedded into the holistic health centric South Fremantle community you'll find Manna Wholefoods, a delightful hybrid grocery store and café which specialises in organic, raw, gluten-free and 'hard to source' items to complement your plant based lifestyle. As you peruse the drool-worthy display cabinet of the café, you will be hard pressed to decide from the seemingly endless choice of nourishing meals. From an incredible breakfast and lunch menu to freshly made, wholesome salads, vegan bakes, curries, burgers, patties, pies, pizzas and quiches – anything you desire, is here in vegan, GF and vegetarian form! Once finished with your meal, take some time to stroll the independent grocery aisles, packed with wholefood produce, dedicated veg*n freezers, environmentally friendlier cleaning products, natural beauty ranges and a curated array of health and wellness books. There are even on-site Naturopaths available for consultations if you are looking for more support with your lifestyle or interested in expanding your alternative health practices.
Check out other dishes and reviews of Manna.
Manna, 274 South Terrace, South Fremantle WA 6162, Australia
Local Neighbourhood Cafe
#5 George Street Quarters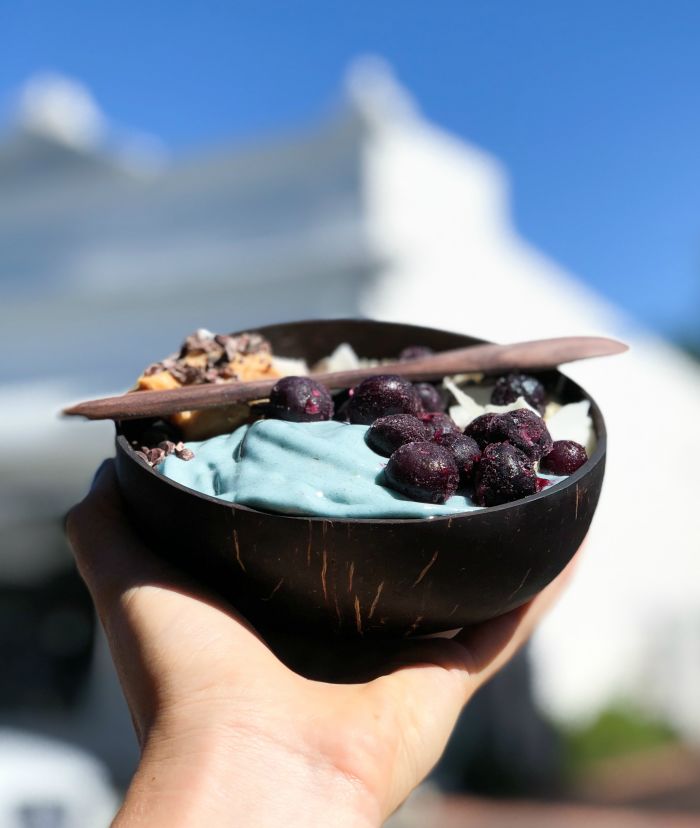 Ocean Bowl
This is an example of a café that's doing everything right! Their dishes contain local organic produce, their coffee is fair-trade, and all their food is vegan. You can choose between almond, soy, and cashew milk for your coffee or tea, which are all homemade in the cafe. They serve a variety of savory dishes, snacks, and desserts. We recommend the Ocean Bowl and the Brown Sugar Ginger Latte with cashew milk. This place is tucked away in a trendy area of the hipster neighborhood of Sai Yin Pun, so it's worth going for a wander afterwards.
Check out other dishes and reviews of George Street Quarters.
George Street Quarters, 71/71/75 George St, East Fremantle WA 6158, Australia
Beachside Brunch
#6 Bib & Tucker
The long stretches of white, sandy beaches are undisputedly Perth's crowning feature. Making the most of the ocean side lifestyle and perched high above Leighton Beach sits one of the most popular eatery's in the capital, Bib & Tucker. This coastal restaurant showcases the best seasonal, local produce in their buzzing location, all prepared with inventive, fresh methods to highlight the flavours of our region. Throughout the all-day dining menu, you can find veg*n options, which are either designed to share or keep all to yourself – however with food this good, we suspect you won't want to share it with anyone else!
Check out other dishes and reviews of Bib & Tucker.
Bib & Tucker, 18 Leighton Beach Blvd, North Fremantle WA 6159, Australia
Artistic Charm
#7 Moore & Moore Café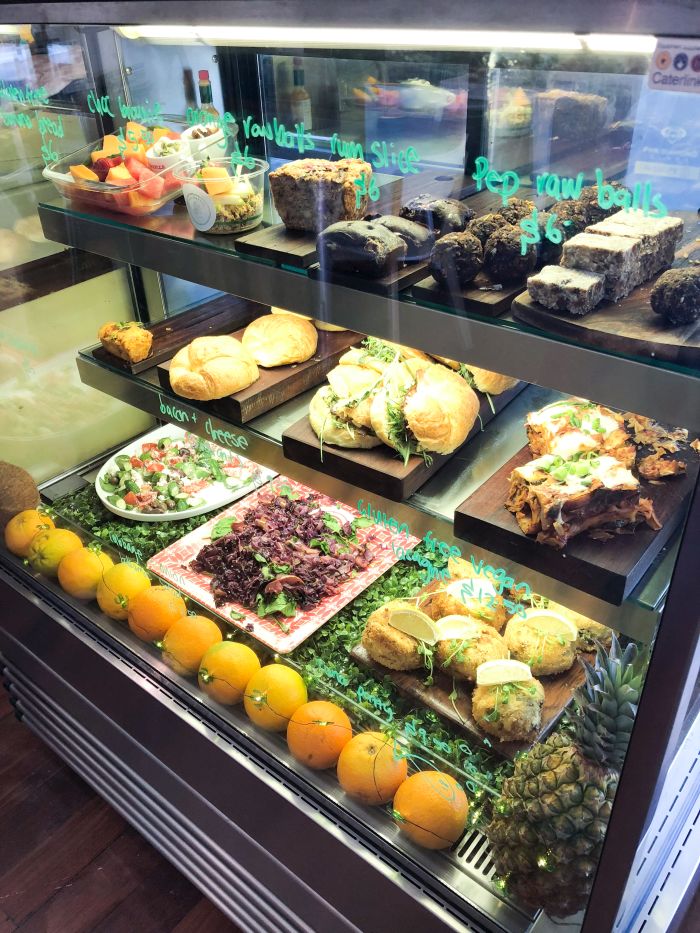 Assortment of vegan goodies on display
Nestled into the historic and artistic quarter of Fremantle lies the charming Moore & Moore café. On the ground floor of this heritage listed building, which shares its eves with an art gallery and installation space, you will find an eclectic mix of locals, students and new friends amongst the cosy corners and sundrenched courtyard, that invites you to stay a while. The organic menu, designed to offer the foods that "make you feel good" highlights delicious vegan and plant based options, though if there is a trickier dietary requirement, the friendly chefs are always on hand to help. We recommend dropping by for a piled high brunch – check out the vegan paleo bowl or turmeric, ginger, burnt orange bircher – or swinging past for a turmeric latte and sweet treat, if that is you can manage to select from the mouth-watering display!
Check out other dishes and reviews of Moore & Moore Café.
Moore & Moore Café, W D Moore & Co Warehouse, Building 46/42 Henry St, Fremantle WA 6160, Australia
On the Go
#8 Wok & Roll
During busy days cruising around the city, sometimes you just need to pick up lunch on the go. Wok & Roll is your Japanese cuisine answer for a grumbling hungry tummy. The popular takeaway joint offers an array of plant based sushi and Vietnamese rolls made fresh on premise, as well as many cooked vegetable dishes such as wok fried vegetables or a green tofu and vegetable curry. With no extra frills and reasonable places, this is a great spot to have tucked into your back pocket.
Check out other dishes and reviews of Wok & Roll.
Wok & Roll, 17 Lochee St, Mosman Park WA 6012, Australia
The Sundowner Spot
#9 Island Market Trigg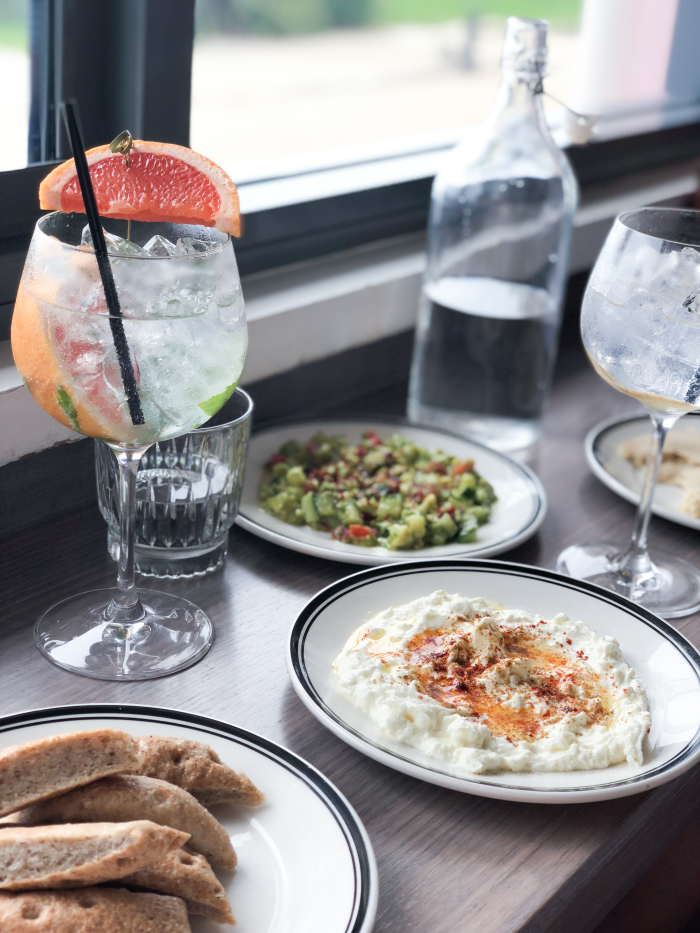 Island pita with sides
One of the newest additions to the Perth restaurant scene, Island Market Trigg has stolen the northern beaches seaside with a restaurant that is pure interior design goals – we have a sneaking suspicion it has been curated specifically for those Instagram shot! The airy, modern space sits above the popular surf beach of Trigg and is the perfect place to drop by for an afternoon sundowner with friends. The menu is strongly middle eastern influenced and designed to share. For sunset nibbles we suggest the island pita, which arrives freshly toasted and lightly salted (with a GF option available!) with an array of condiments including Aussie favourite Dukkah, Israeli smashed avocado, hummus or baba ghanoush. It's the perfect complement for your favourite cocktail (or homemade sparkling soda) to enjoy as the sun dips low over the horizon!
Check out other dishes and reviews of Island Market Trigg.
Island Market Trigg, 364 W Coast Dr, Trigg WA 6029, Australia
Sweet Treats
#10 Kuld Creamery
As the Perth summers typically reach scorching levels, there is often one thing required to aid cooling down – a delicious ice cream. Reminiscent of good old summer holidays, the classic ice-cream has had a vegan upgrade at Kuld Creamery – this newest addition to the Freo scene. The charming, artisanal and handcrafted ice-creamery churns out Italian style gelato utilising only organic and local produce in their onsite kitchen and promises to always have at least one vegan flavour amongst their select and inventive listings. Often whipped up with cashew cream, cocoa butter and coconut, one taste of this will prove just how good vegan treats can be!
Check out other dishes and reviews of Kuld Creamery.
Kuld Creamery, Laneway @ 460 Beaufort Street, Highgate WA 6003, Australia