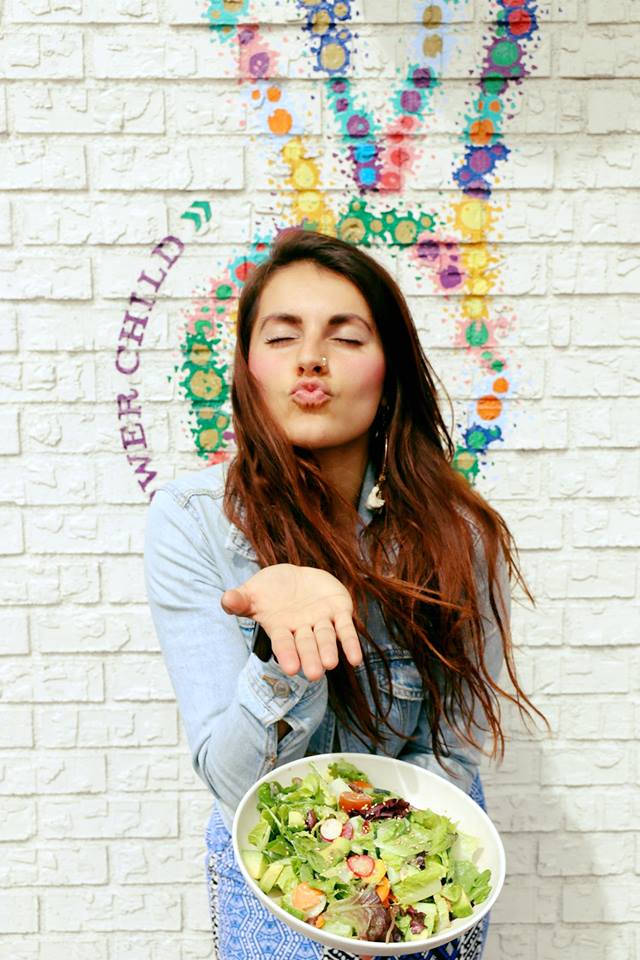 Enjoying a salad from Flower Child
San Diego, the eighth largest city in America, is often referred to as "America's Finest City" and for good reason! Known for its chill vibes, beautiful weather, perfect beaches, friendly people and a plethora of entertainment, San Diego is a traveler's dream destination. San Diego locals can enjoy all the city has to offer on a daily basis, and it shows on their faces. Whether it's catching a sunset surf at one of the many surf-friendly beaches in the area, getting your zen on at the meditation gardens in Encinitas, or taking a ride on the famous roller coaster, The Giant Dipper, in Belmont Park, San Diego is the kind of city residents and visitors are thrilled to be a part of.
The active, outdoors lifestyle of San Diego intuitively invites a health-conscious diet, and with the growing demand for plant-based food options, eateries in every corner are responding enthusiastically with vegan options, vegan-friendly menus and more!
From hole in the wall organic cafes, to raw juiceries and divine dinner options, this is Plant-Based & the City: San Diego.
Total Body Nourishment
#1 Eve Encinitas
Eve is a place where you can find rest, growth, and nourishment for your soul and body. You'll find tasty, creative vegan cuisine, superfood smoothies, cold-pressed juices, local kombucha and a relaxed community gathering space. Fancy plants? They have a whole plant wall abundant in greenery, making the atmosphere even more inviting.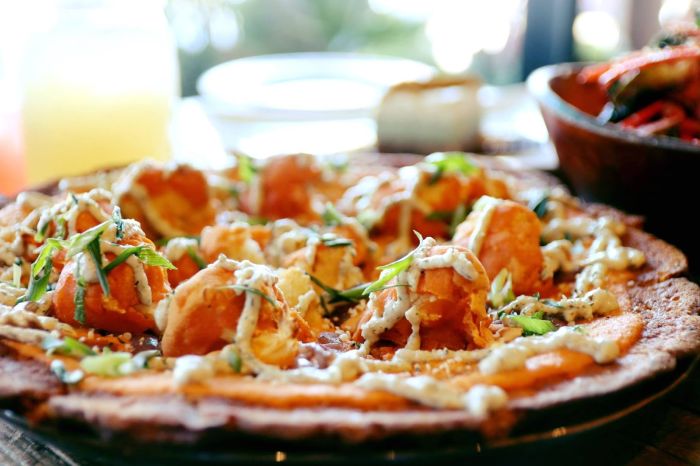 Buffalo Ranch Cauliflower Flatbread
The crowd-pleasing buffalo ranch cauliflower flatbread is just one of example of a dish on their menu that is tasty enough to convert any non-vegan to the plant-based diet. Okay… maybe not completely, but DEFINITELY for the day!
Chefs at Eve get creative in the kitchen, and are not afraid to experiment with new flavors to appeal to everyone's taste buds and cravings.
Check out other dishes and reviews of EVE Encinitas.
EVE Encinitas, 575 S Coast Hwy 101, Encinitas, CA 92024, USA
Thoughtfully Delish
#2 Healthy Creations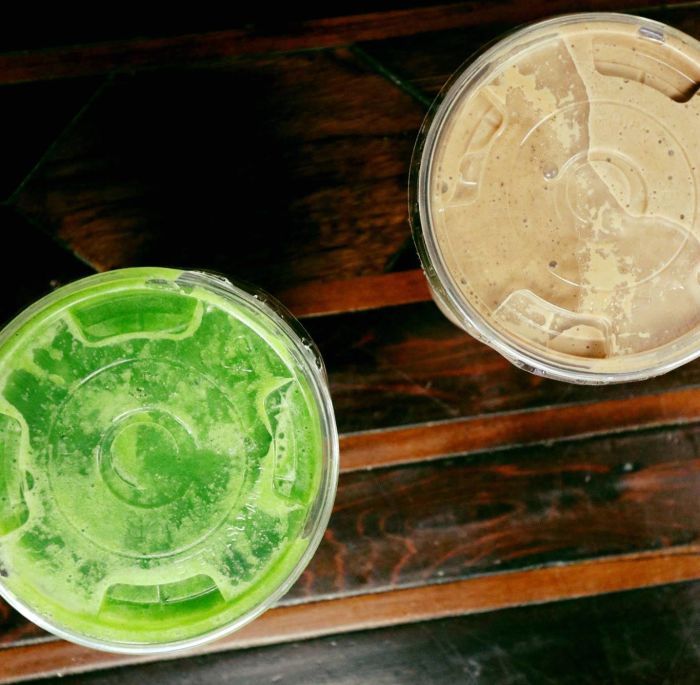 Glorious Greens(left), Mammoth Mocha Smoothie(right)
Food created with intent, love, and your health in mind! Healthy Creations is just that: healthy (scrumptious) creations. An organic and gluten-free cafe specializing in wholesome meals, this restaurant offers foods, beverages, desserts that are made with passion and integrity. This cafe features everything from salads, sweets, bowls and sandwiches to smoothies, juices and specialty drinks, making it the perfect stop at any hour of the day.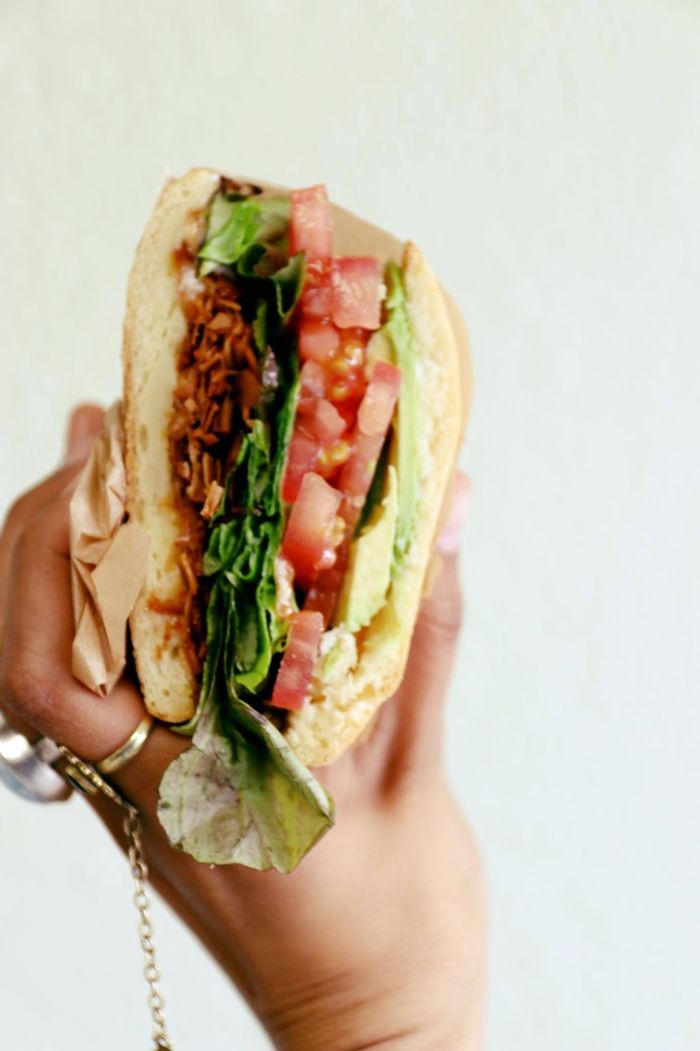 Veggie BLT
For those who are vegan and miss comfort foods such as BLTs, Healthy Creations meets your cravings with their own unique spin. Their vegan and gluten-free BLT for example presents homemade smoked coconut bacon, lettuce, tomato, avocado and veganaise. This sandwich means serious business!
Check out other dishes and reviews of Healthy Creations Cafe.
Healthy Creations Cafe, 376 N El Camino Real, Encinitas, CA 92024, USA
Eat Good, Live Good
#3 Nectarine Grove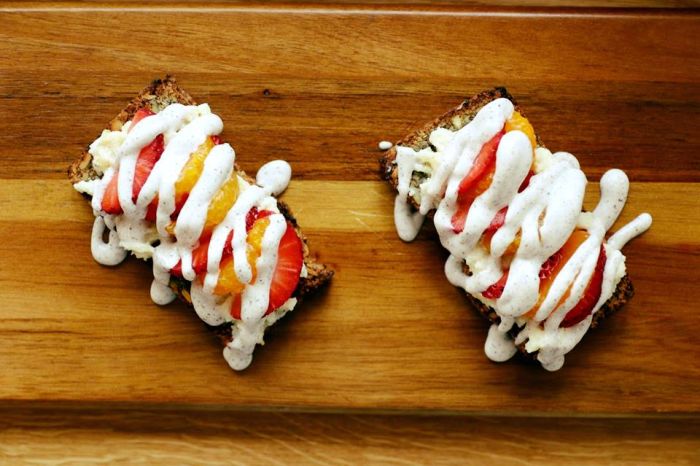 Berry Ricotta Toast
All your favorites for breakfast, lunch and dinner made better, with organic and locally-sourced ingredients. Nectarine Grove is passionate about feeling good from the inside out. They create food with love, and are paleo, gluten-free and vegan friendly.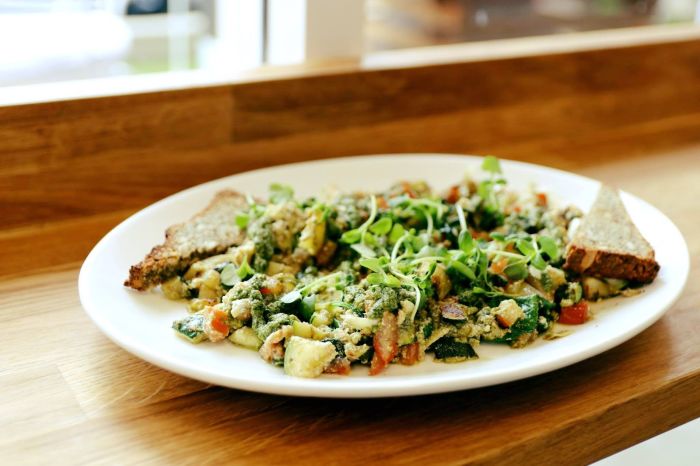 Veggie Pesto Scramble
As Nectarine Grove is right on the coast, customers may feel inspired to grab their food to-go in their reusable containers and head to the beach for some vitamin sea.
Check out other dishes and reviews of Nectarine Grove.
Nectarine Grove, 948 N Coast Hwy 101, Encinitas, CA 92024, USA
#4 Green Door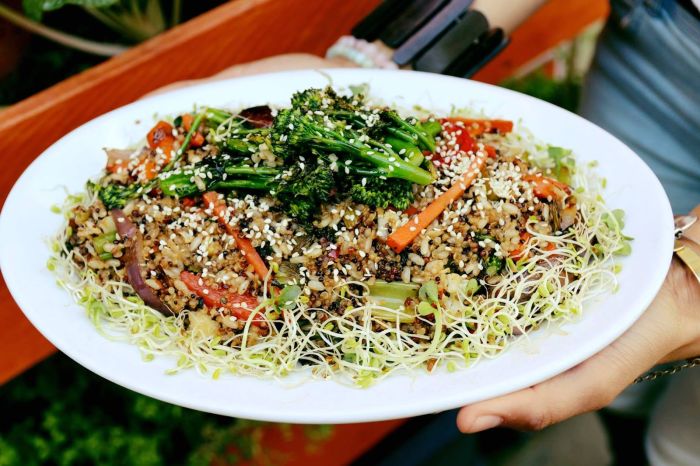 Sesame Ginger Vegetables with Brown Rice
Green Door Cafe is the cutest hole in the wall cafe in La Jolla, a hilly seaside and affluent community within San Diego. Green Door features local organic produce and offers it in a gourmet veganized fashion. A dream come true for any plant-based eater!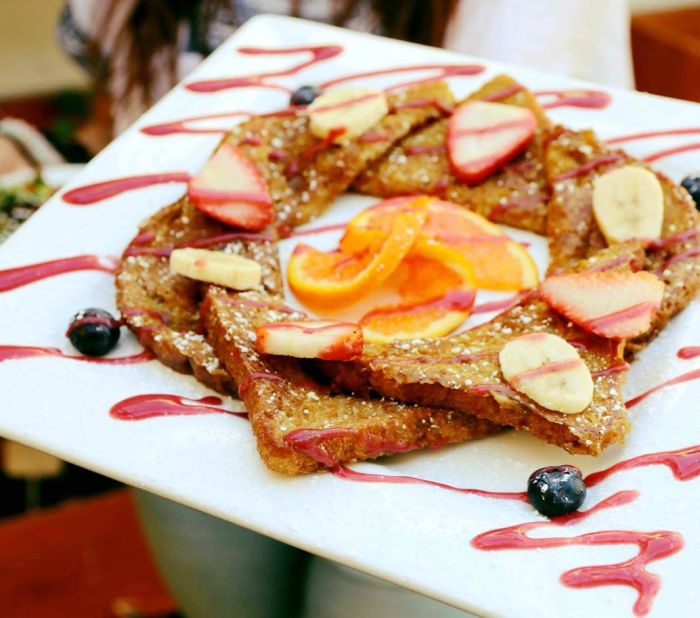 Vegan French Toast
Another perk about this cafe is that they are gluten-free friendly. The dish pictured above is their popular french toast, made with a gluten-free toast and topped with fresh bananas and a strawberry drizzle. Yum!
Check out other dishes and reviews of Green Door Cafe.
Green Door Cafe, 4479, 7644 Girard Ave, La Jolla, CA 92037, USA
Smoothie & Raw Food Heaven
#5 Beaming Organic Superfood Cafe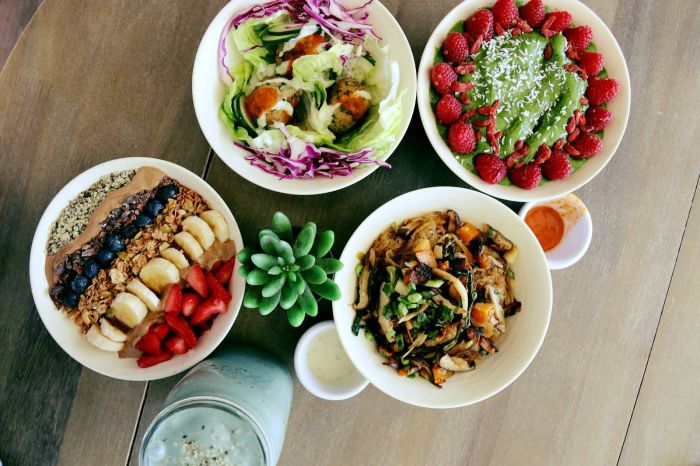 Beaming Cafe is not your average vegan-friendly eatery. Beaming Cafe is a destination for organic cold-pressed juice, superfood smoothies and delicious healthy take out. They open the door to extraordinary health and raise the experience of the traditional "juice bar" – it is the ultimate "Organic Superfood Cafe". They offer plant-based food, unique cleansing programs and a glowing menu of other delectable delights, from coconut ceviche to raw vegetable lasagna, tasty salads, nutrient dense snacks, gluten and dairy free baked goods and more!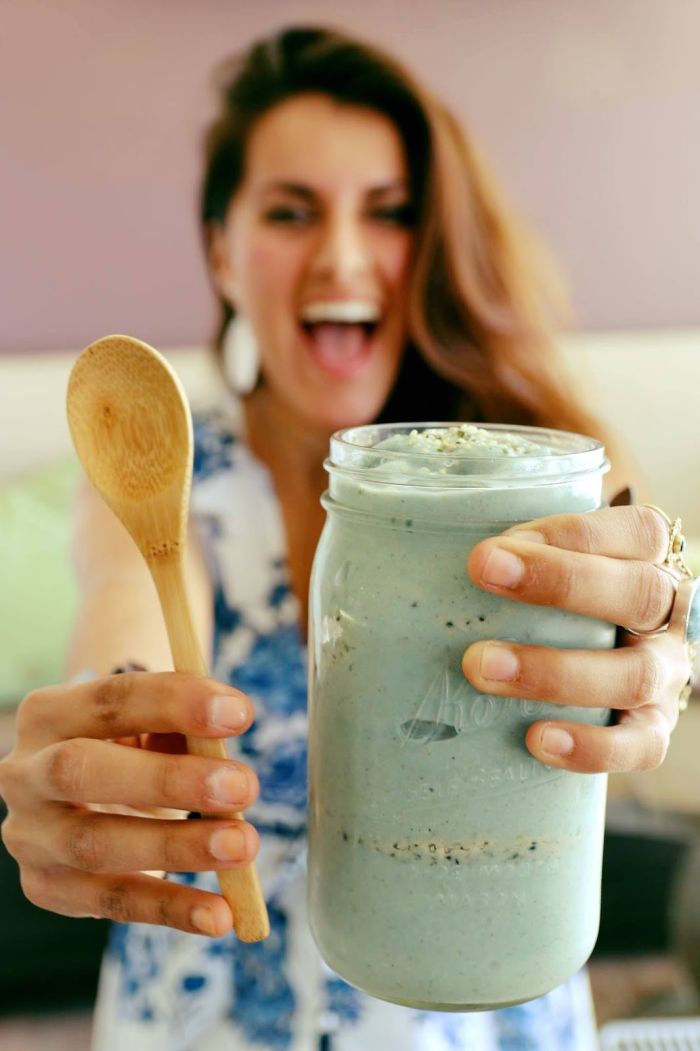 Rockstar Smoothie
The Rockstar smoothie is one of the many unique superfood smoothies they offer that will leave you feeling light, energized and radiant.
Check out other dishes and reviews of Beaming Organic Superfood Cafe.
Beaming Organic Superfood Cafe, 2683 Via De La Valle, Del Mar, CA 92014, USA
Fast Food Meets Vegan
#6 Plant Power Fast Food
Plant Power Fast Food caters to the American palate in a veganized way. They believe (and we do too!) adopting a plant-based diet is the single most powerful action an individual can take to stop climate change, end world hunger, and save our planet.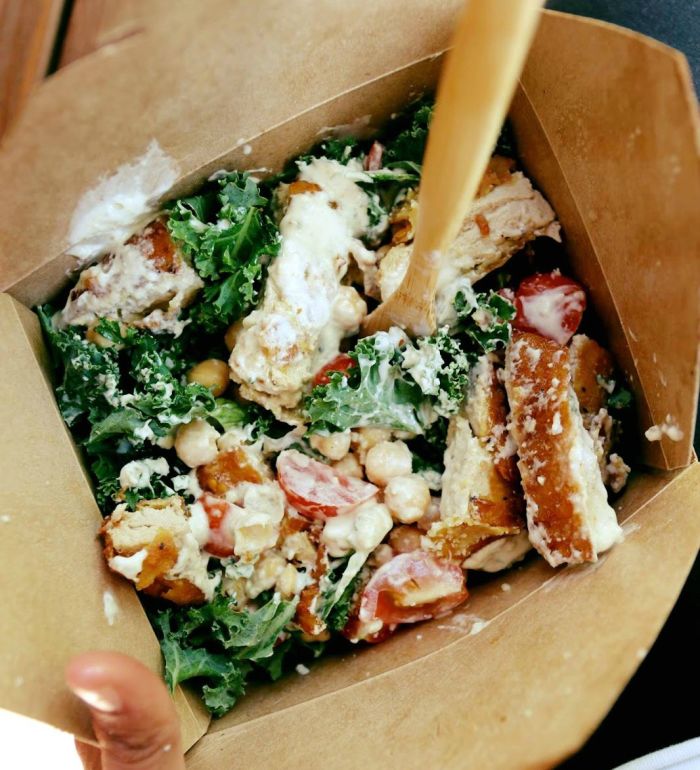 Kale 'Chicken' Caesar
Casual counter for plant-based vegetarian & vegan fast-food fare, Plant Power features items on their menu such as tempeh burgers, 'fish' fillet sandwiches, root beer floats, voodoo fries and buffalo wings. Photographed above is their creamy chickn' caesar salad, with cashew parmesan, tomatoes, and garbanzo beans over a bed of kale. All together this salad has about 30 grams of protein. And who said vegans don't get enough protein?
Check out other dishes and reviews of Plant Power Fast Food.
Plant Power Fast Food, 2204 Sunset Cliffs Blvd, San Diego, CA 92107, USA
Raw Food Galore
#7 Peace Pies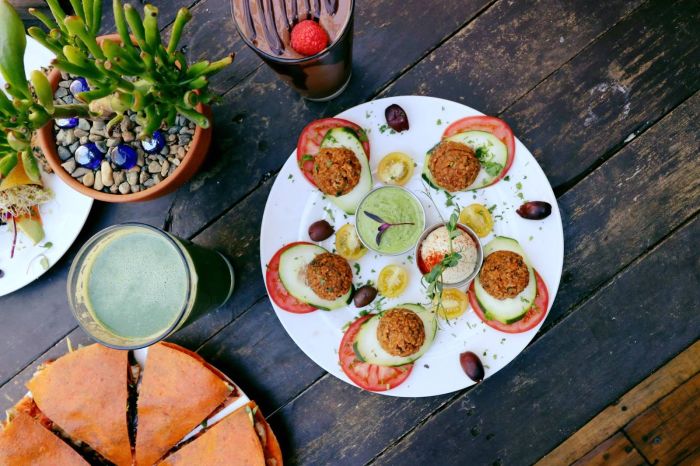 Mediterranean Sampler
Peace Pies is committed to providing raw, vegan, gluten-free and soy-free foods to all. Of the two locations in San Diego, ocean lovers may fancy visiting their Leucadia location as it is walking distance from the popular surf spot "Swamis." As you walk into the restaurant, you may find yourself pausing to admire the dangling passion fruits plants.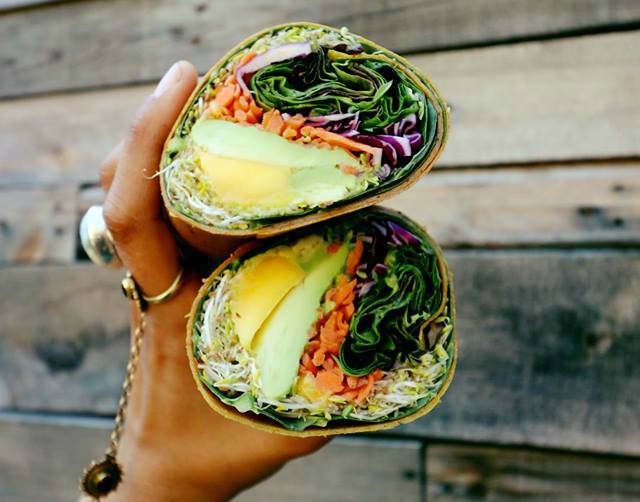 Magical Mango Curry Wrap
Peace Pies offers a full menu consisting of pies, pizzas, salads, wraps, entrees, dried goods, desserts, chocolates and accessories to aid in the live food lifestyle.
They've built strong relationships with numerous local farms who supply them with the freshest local ingredients. They are constantly creating new recipes to keep things innovative and exciting. Something that sets them apart is their practice of a strict zero waste policy, including a composting system for their food scraps and earth-friendly packaging.
Check out other dishes and reviews of Peace Pies.
Peace Pies, 4230 Voltaire St, San Diego, CA 92107, USA
Vegan + Yogi Sanctuary
#8 Trilogy Sanctuary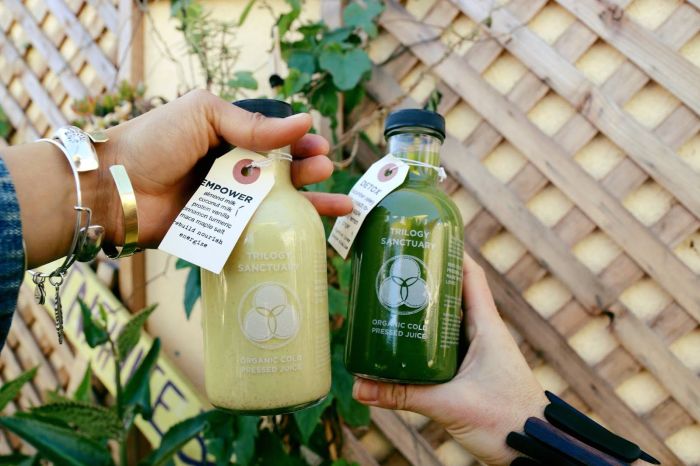 Golden Milk(left), Green Juice(right)
Craving some delish vegan food but don't have time to stop before your yoga class? Fear not, Trilogy Sanctuary offers them both. A vibrant wellness center in La Jolla serving locals and the greater community, Trilogy offers an indoor and outdoor yoga studio, aerial yoga, vegan and organic cafe with catering, spiritual counseling, juice cleanses via cold-pressed juice, the cutest boho boutique and an event venue! Wowzers, all of that? Really? Yes. Really, really. Oh, and this sanctuary is on a rooftop that overlooks the ocean, making it the perfect spot for a romantic night on the town.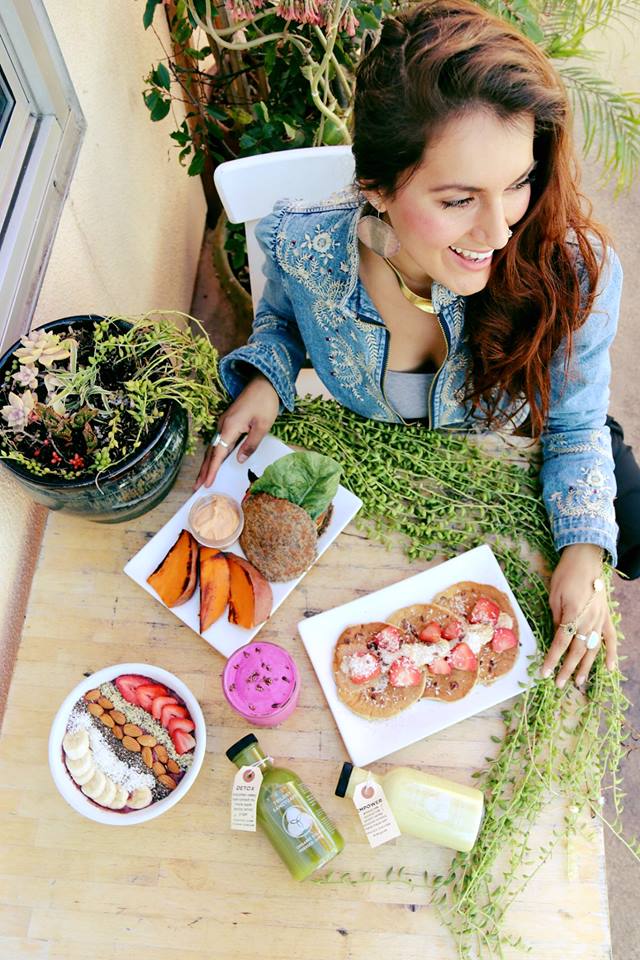 Trilogy Sanctuary truly lives up to its name. Their commitment to nourishing the mind, body and spirit is not something you come across often. Bookmark this place as a place to visit when and if you visit San Diego. Trust me.
Check out other dishes and reviews of Trilogy Sanctuary.
Trilogy Sanctuary, 7650 Girard Ave #400, La Jolla, CA 92037, USA
For the Flower Child in All of Us...
#9 Flower Child
Flower Child's fundamental promise is to serve healthy food for a happy world. Although they are not 100% vegan, they offer several vegan options on their menu such as vegan poke, avocado toast, and Indian spiced cauliflower. Their menu highlights a fusion of cultures thus garners a variety of flavors, including influences from the Asian, Indian and American diets.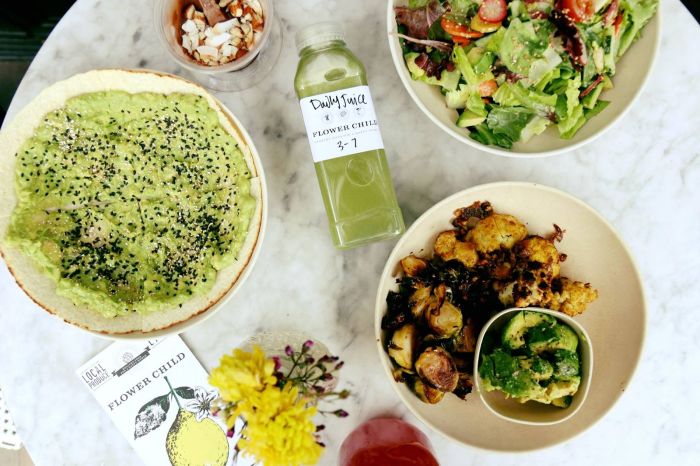 Flower Child works with ranchers who respect, protect and love their animals - and our food supply. In edition, their organic produce is guided by the wisdom of the Environmental Working Group.
If you are dining in their Del Mar location, be sure to snatch some photos of you and your friends at one of the many colorful walls they have!
Check out other dishes and reviews of Flower Child.
Flower Child, 2690 Via De La Valle, Del Mar, CA 92014, USA
Beachside Brunch
#10 GOODONYA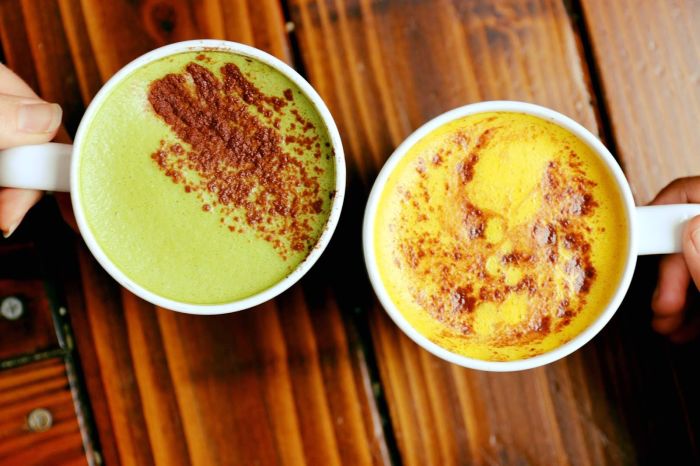 Matcha Protein Tea Latte(left), Golden Milk(right)
As a certified B Corporation, GOODONYA cafe takes conscious dining to the next level. Between their glowing menu with vegan options left and right, their very own homemade organic nut cheeses, nut milks and sauces, and their authentic and personable customer service, the dining experience here is incomparable to most eateries in San Diego.
GOODONYA understands ingredients, allergies and the way food is processed. In fact, they are obsessed with it. Everything on the menu is 100% non-GMO, 99% organic and as local as possible.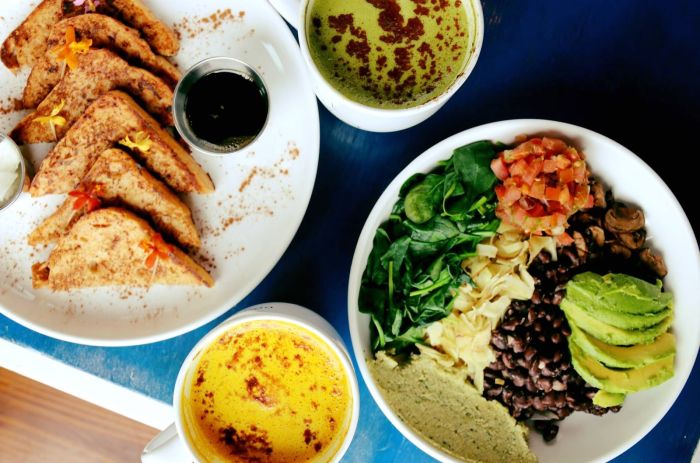 Vegan French Toast(left), Veggie Bowl(right)
GOODONYA consists of a bunch of casual, caring and kind people who are super into organic everything. They surf when we can, put out good vibes to the community on the daily and wholeheartedly believe they live in best town in the world.
Check out other dishes and reviews of GOODONYA.
GOODONYA, 1051 S Coast Hwy 101, Encinitas, CA 92024, USA
Eco Fabulous Dining with a Side of Smiles
#11 O.B. Garden Café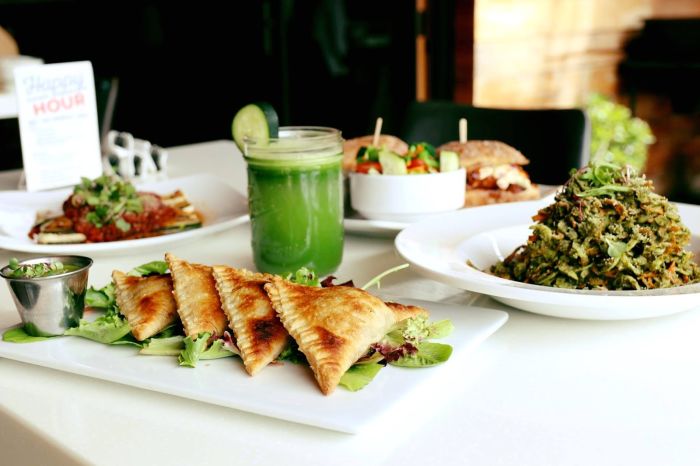 There are no words to describe this cafe, but one can try. Darling. Divine. Dope. Elevating. Inspiring. The customer service at this cafe is noteworthy- a cherry on top to the exquisite food options.
Opened as an expansion project of Ocean Beach People's Organic Food Market in the fall of 2017, O.B. Garden Café proudly serves organic, vegetarian and vegan food and beverages. They are committed to serving the community by striving to find the best local and regional, organic and sustainable ingredients.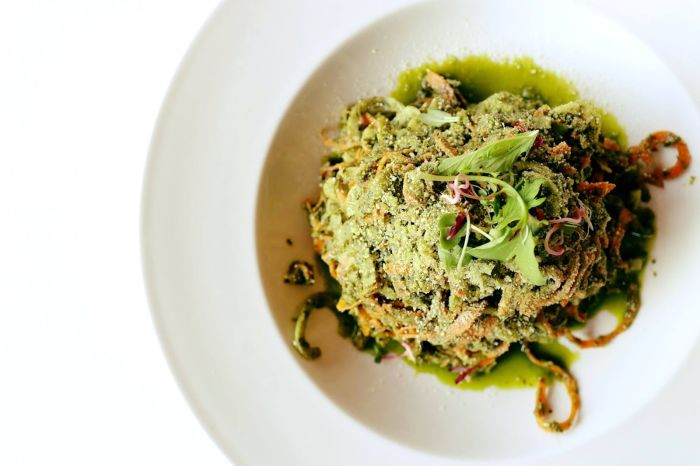 Pesto Spoodles
The café menu brings exciting, fresh and delicious options to vegans, vegetarians and veggie dabblers alike. From handmade soups and sauces to delicious and nutritious salads, sandwiches and creative entrees, O.B. Garden Café has something for everyone!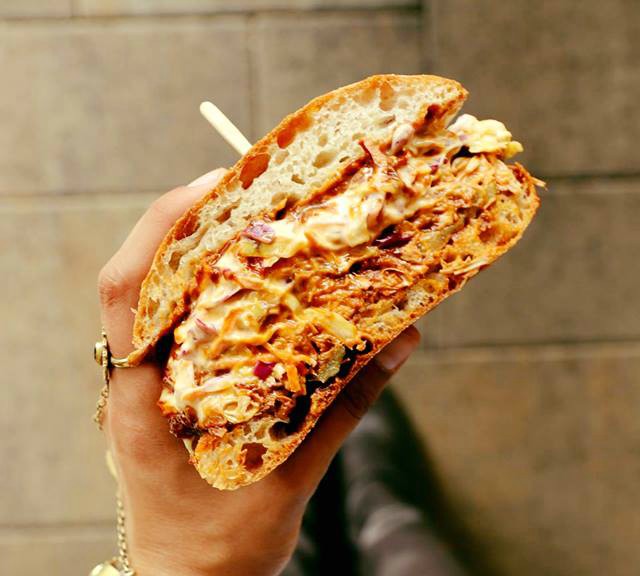 Bbq Pulled Jackfruit
Their support for local is evident in the way they conduct business, as they feature organic bread and pastries from Prager Bros Artisan Breads, fresh produce sourced through O.B. People's Organic Food Market, kombucha on tap from Living Tea, and coffee and tea from Café Virtuoso all local business in San Diego.
Check out other dishes and reviews of O.B. Garden Café.
O.B. Garden Café, 4741 Voltaire St, San Diego, CA 92107, USA
Elegance & Charm Dining
#12 True Food Kitchen
True Food Kitchen is a health-driven, seasonal restaurant merging nutrient-rich ingredients with a flavor-forward menu that rotates regularly to let visitors experience divine-tasting ingredients at the peak of their freshness.
One thing that sets them apart is their open kitchen, which brings guests closer to their culinary craft while showcasing that there's no secrets about the way they prepare their dishes. Those who enjoy spirits will fancy their scratch bar, which is brimming with a selection of wine, local beers and seasonal cocktails made using fresh-pressed fruit and vegetable juices paired with organic spirits.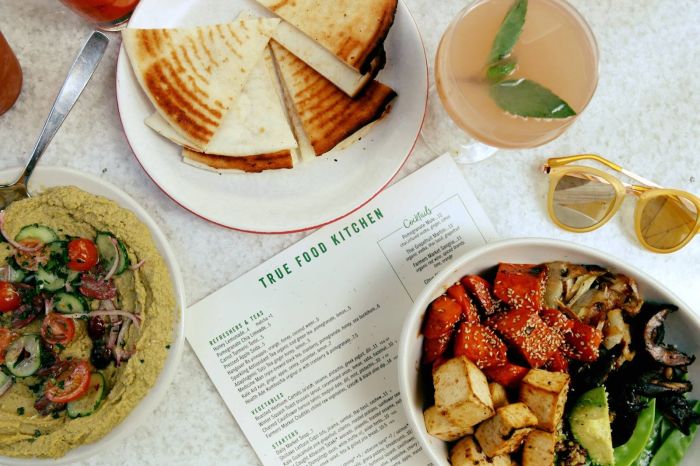 They take great pride in a menu that caters to nearly every food preference with a variety of gluten-free, naturally organic, vegetarian and (drum roll please) VEGAN offerings.
Their commitment to quality and creativity ensures a menu that encourages exploration year round. They believe every meal they serve is opportunity to further your journey toward healthy living, which is something admirable whether you are a foodie or not.
Check out other dishes and reviews of True Food Kitchen.
True Food Kitchen, 7007 Friars Road, Suite D394, San Diego, CA 92108, USA
OH! How Revitalized I Feel
#13 OH! Juice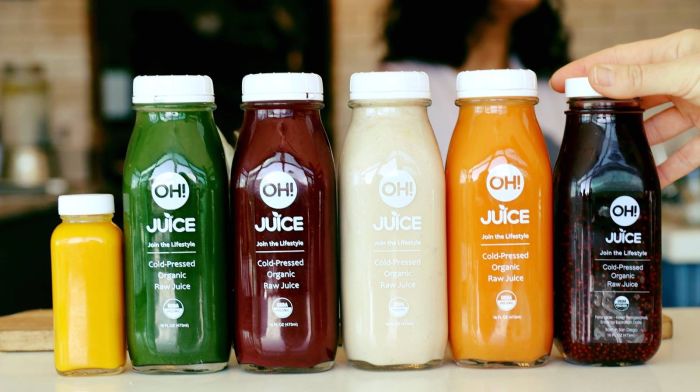 Cold pressed organic raw juice
The O: They are Organic, not sometimes, but ALL the time. They won't use it if they can't get it, meaning their customers won't drink it. OH!'s Promise.
The H: Health & Nutrition are their goals. Customers will drink it because they like it, but they'll come back because they feel the difference.
The !: Get EXCITED about adopting healthier living and eating because your body, mind and spirit will reward you.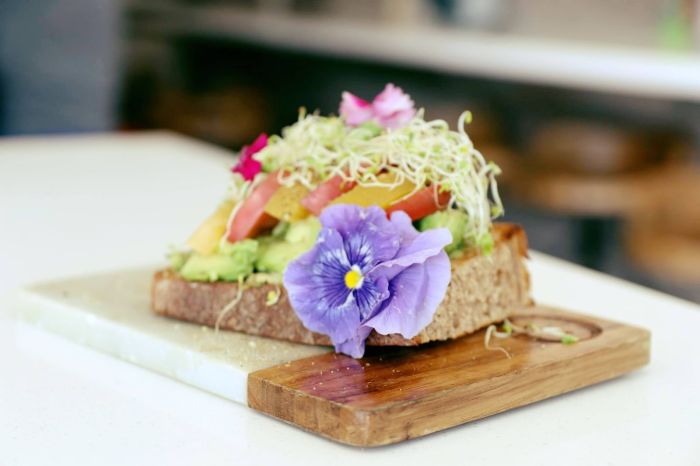 Garden Stack
OH! is set up like a bar, with great lighting, energy and sounds from the surrounding town of Encinitas. OH! was born from the idea that nutrition should meet flavor and neither should be compromised for the other. OH! believes every sip should taste as good as it is good for you, that's why their chef, Hanna Gregor is also the company nutritionist.
Cleanses that improved people's health, jumpstarted their lifestyles and weren't based upon cheap sugary fruits; but instead from strong alkalizing veggies, exotic spices, and rare superfoods.
Check out other dishes and reviews of OH! Juice.
OH! Juice, 90 N Coast Hwy 101 suite 212, Encinitas, CA 92024, USA
A Truly Eccentric Vegan Destination… Dare I Say Hip?
#14 KINDRED
Whimsical, eccentric space for contemporary vegan fare & drinks complemented by death-metal tunes, Bar Kindred is truly one of a kind.
Their vegan eats are as extraordinary and unique as is the splendor of the restaurant. Dishes such as seared cauliflower steak, ranch drizzled beer battered dill slices and buffalo pickled cauliflower, pistachio-crusted tofu and cookie-dough truffles are served in style by the rather dapper looking staff.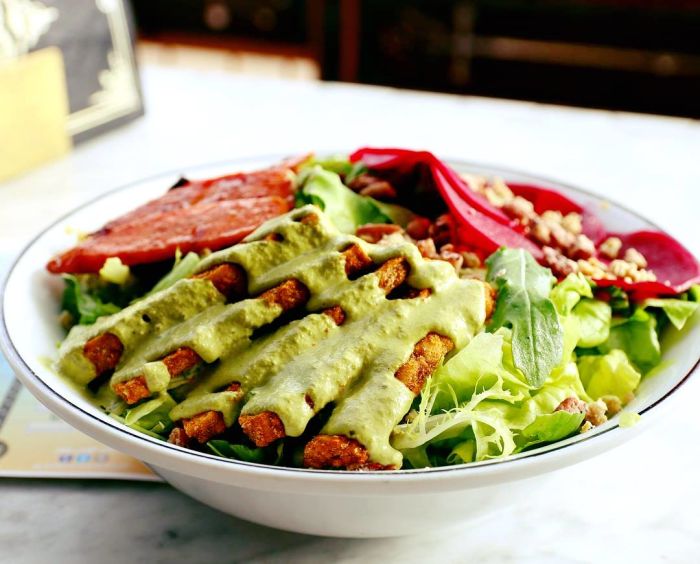 Wizard Bowl
Off-the-wall decor that blends vintage design with modern pieces including a memorable giant sculpture of a mythical wolf-beast will leave customers feeling like they went to a different world and back.
Check out other dishes and reviews of KINDRED.
KINDRED, 1503 30th St, San Diego, CA 92102, USA
Elevate Your State with Gratitude
#15 Cafe Gratitude
Café Gratitude is a pure dose of medicine. A collection of plant-based restaurants specializing in gourmet cuisines, this restaurant strives to create a menu and atmosphere that supports health and sustainability for both the community and the planet. They practice business through a term they call "Sacred Commerce", where they provide inspired service, honest and transparent communication, and express gratitude for the richness of their lives. An honorable way of conducting business, no?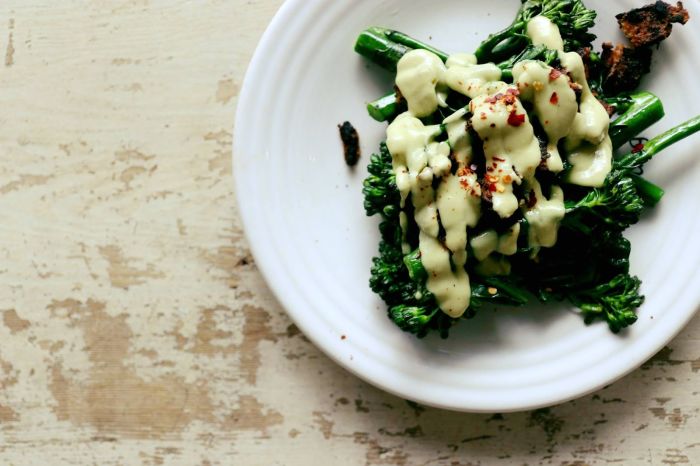 Grilled Broccolini
Café Gratitude is their expression of a world of plenty. They select the finest organic ingredients to honor the earth and themselves, as they believe we are one and the same. They make efforts to support local farmers, sustainable agriculture and environmentally friendly products.
Something the customers surely can't overlook is the pure fact that their food is prepared with love. They invite customers to step inside and enjoy being someone that chooses: loving their life, adoring themself by ordering in a positive affirmation, accepting the world, being generous and grateful every day, and experiencing being provided for.
Check out other dishes and reviews of Cafe Gratitude.
Cafe Gratitude, 1980 Kettner Blvd, San Diego, CA 92101, USA
Italian Food Meets Vegan
#16 Civico 1845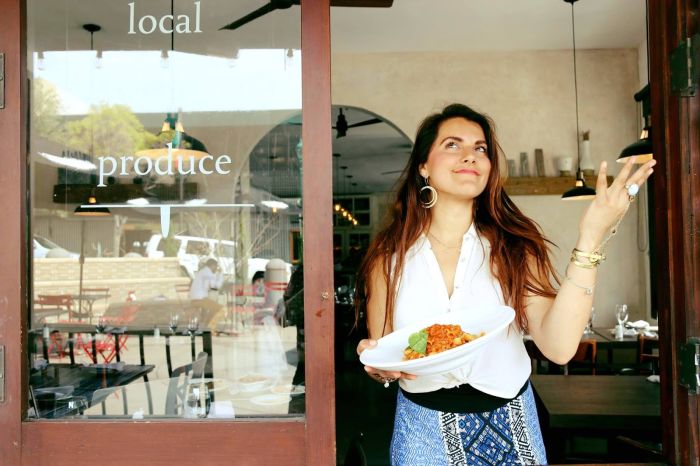 Civico 1845
Well isn't this the most delightful Italian restaurant in Little Italy, San Diego you ever did see?
Born and raised in Cosenza, Italy brothers Dario and Pietro Gallo moved to San Diego in 2013 to open an authentic, yet contemporary Italian restaurant that features fresh flavors and a health-conscious menu. After collaborating with long-time Little Italy restauranteur Flavio Piromallo in 2015, the concept for Civico 1845 was born.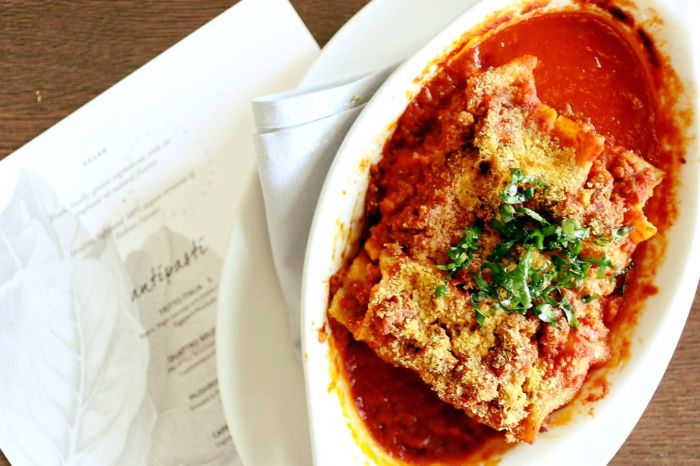 Lasagna Romagnola
It's a bold move to take on an Italian restaurant as a vegan, given the culture endorses many animal products into their diet. However, vegans should not fear; rather they should be jumping for joy at the fact that Civico offers a fully vegan menu. Items such as caprese mozzarella, lasagna romagnola, gnocchi alla caponata are shockingly similar to the 'real' versions. The most unique item on the vegan menu arguable is the vegan calamari, made with breaded and fried oyster mushrooms, and served with arrabbiata sauce.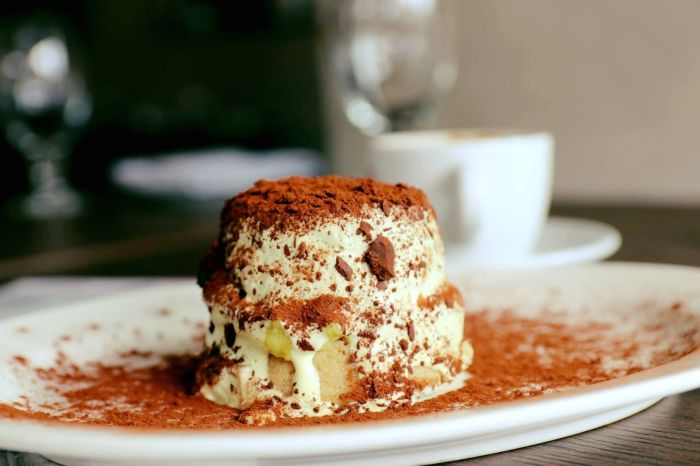 Tiramisu Italiano
A new generation of Italian cuisine – fresh, light, veganized and authentic. By using proper cooking techniques, their flavors are natural and pure. Their menu is a homage to their southern Italian roots and reflects what's being served in Italy today.
Check out other dishes and reviews of Civico 1845.
Civico 1845, 1845 India St, San Diego, CA 92101, USA
Local Neighbourhood Cafe
#17 Donna Jean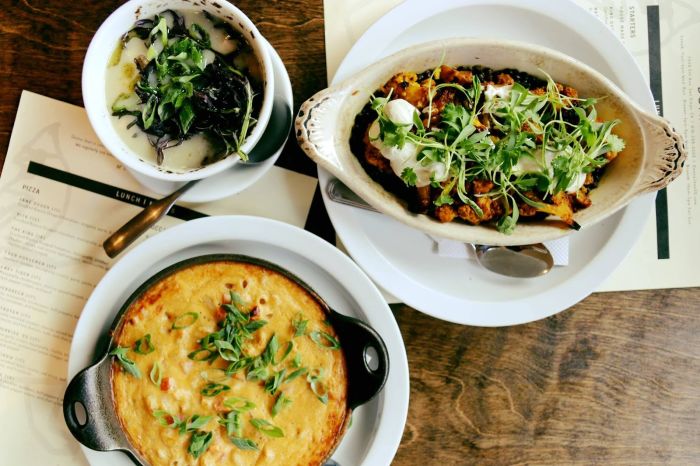 King Oyster Chowder, Cauliflower, Cast Iron Mac & Cheese (clockwise from top)
Donna Jean's concept is simple: to make great food from the best ingredients while creating a conversation about what plant based cuisine can be.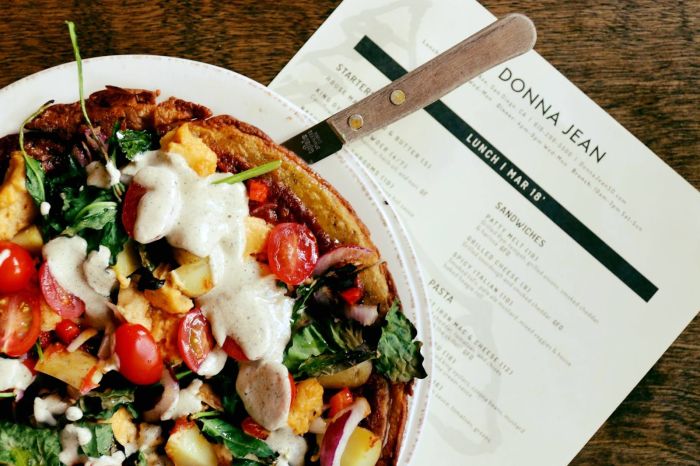 Pie On Fire
Donna Jean was the name of chef Roy's mom. She died at the young age of 55 from aggressive breast cancer and he believes it absolutely could have been prevented if she would have been given the knowledge and resources to seek out a plant based diet earlier in life. This gave him a passion to create something that would not only have made her proud but to introduce a form of plant based cuisine that even the most stubborn meat eaters can appreciate.
That being said, Donna Jean is not a health food restaurant. Rather, their goal is to start a conversation about what plant based cuisine can be in the hopes of setting the wheels in motion for a larger movement. Another movement is on the horizon, and that is the waste-free living movement. To honor this movement and take part in it, they offer reusable metal straws to all customers and provide ecofriendly to-go packaging options.
Donna Jean is a place in the neighborhood that is inviting and feels like home every time someone walks through the door.
Check out other dishes and reviews of Donna Jean.
Donna Jean, 2949 Fifth Ave, San Diego, CA 92103, USA