Note from @vikasgarg: like a lot of us we've eaten at restaurants associated with the founders of PLANTLAB and had wonderful experiences. What we didn't know when this article was written was some of the past history with this brand and its founders, including numerous financial and legal problems. As of Sep. 2018, it looks like history repeats itself, and while we still think the article and recipes are inspiring, we advise anyone considering attending or working alongside PLANTLAB to do their research first. We'd love to hear your thoughts so please post your comments at the end of the article.
Planting a Seed
The future generations are stepping into a world that is becoming increasingly aware of the need for healthy and sustainable food choices. One person making a tremendous breakthrough in this field is none other than Matthew Kenney. He is a reputable chef at the forefront of a global, fast-growing vegan movement. If you ask me, the idea of raw foods was never quite as fashionable until he surfaced and began to revolutionize it.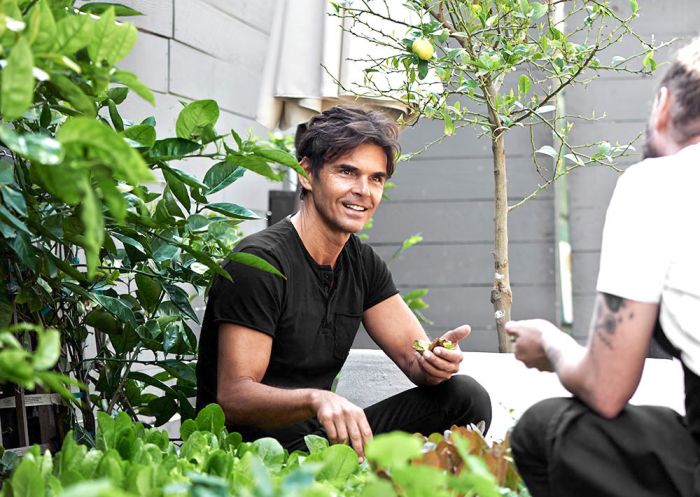 Source: Matthew Kenney Cuisine
After his initial training at the classic French Culinary Institute (which is very heavy on animal-derived products), Matthew Kenney's vision to "craft the future of food" eventually blossomed and took root in the plant-based space. As he recently expressed, "This kind of eating will become the norm rather than the exception. I see indicators wherever I turn." The pervasiveness of 'clean' and cruelty-free foods has become a reality that nobody can ignore!
In addition to the multiple restaurants he has opened up across the globe, he has also founded the world's leading vegan culinary education platform PLANTLAB, with a style that is truly original and unmatched. PLANTLAB Culinary offers courses ranging from simple weekend classes and pop ups to complex and sophisticated classes for experts in the field. Having a culinary school exclusively for healthy, plant-based foods is positively a remarkable leap in the vegan movement! It's educating a whole new generation of tastemakers who will build on this foundation to push the movement forward in their own unique ways.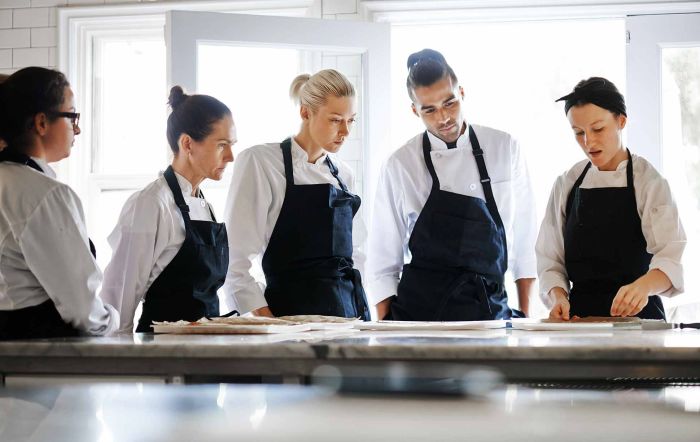 Source: PLANTLAB Culinary
PLANTLAB presents an exciting range of onsite course locations, but their online course structure is also special in that its flexibility enables people (from various professional backgrounds) around the globe to access the best of what they have to offer. One gets to learn in the comfort of home without having to adhere to a strict schedule. Aside from my growing interest in raw foods, this flexibility was definitely something that initially made me consider PLANTLAB – and before I knew it, I was enrolled in "Level 1: Fundamentals of Raw Cuisine".
Why Raw Foods
Raw foods are 'living foods' that are closest to their natural state, preserving life-force, fiber, water content and essential phytonutrients that help the body function at its best. Simply put, a raw food diet means eating only uncooked, unprocessed foods. Staples include raw fruits, vegetables, nuts, seeds, and sprouted grains.
I know – you're probably picturing wimpy lettuce and carrots as you're reading this, but that's exactly the image that PLANTLAB seeks to challenge. Once you start playing around with this cuisine, you come to realize that with the correct ingredient combinations, basic skills, and the flavor balancing in check, the possibilities are limitless! There's barely any reason why one shouldn't explore a cuisine that's not only vast in terms of its creative scope, but also thoroughly delightful and nourishing!
Course Structure
This intensive 20-day course is totally hands-on, with multiple daily assignments. Once you sign up, you get access to the online student platform for three months – enough time to finish the course at a comfortable pace. It includes pre-recorded video lectures by Matthew Kenney himself, a student guide with detailed recipes and instructions, and an assigned instructor who acts as a mentor-critic at every step of the way.
Personally, I absorbed an incredible amount of knowledge from this course, which has propelled me to a far higher level in my culinary journey. Follow me as I take you through my review some of the highlights of my experience!
Highlight Reel
Here are some of the dishes we were taught – they also happen to be my favorites from the course: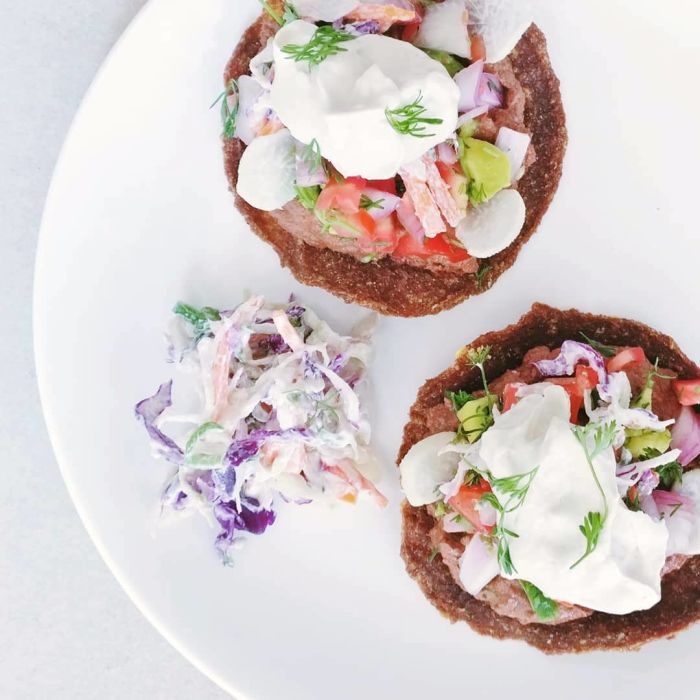 Raw tostadas with cacao-mole, guacamole, sour cream, coleslaw, and pico de gallo.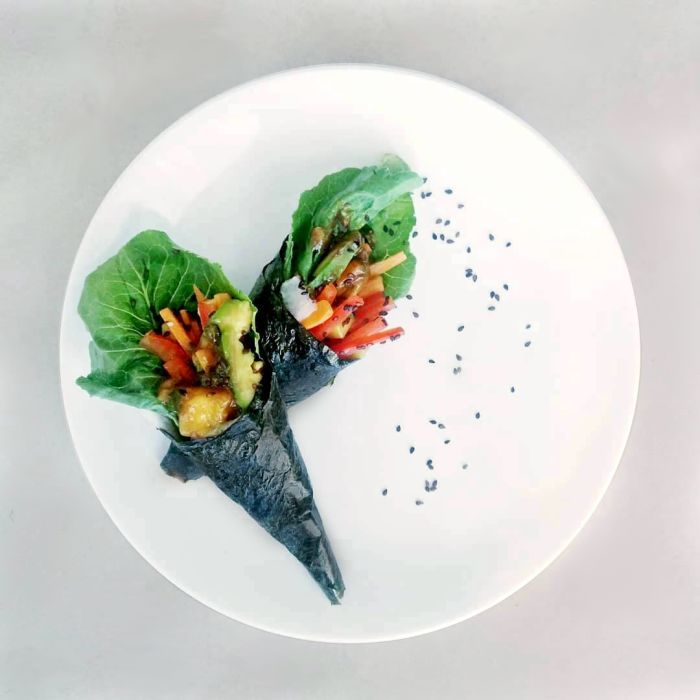 Daikon hand-roll with a tangy tamarind mango chutney and black sesame.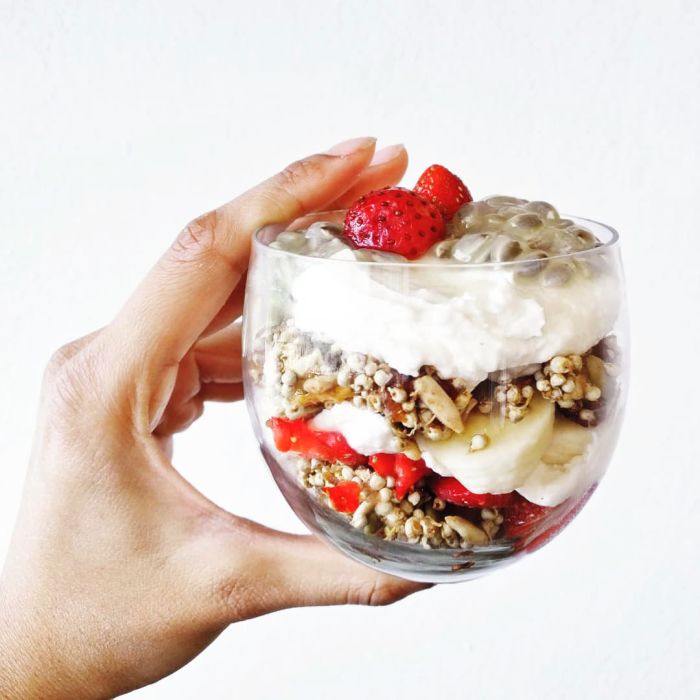 Coconut yogurt parfait with sprouted millet granola, strawberry, banana, and passionfruit.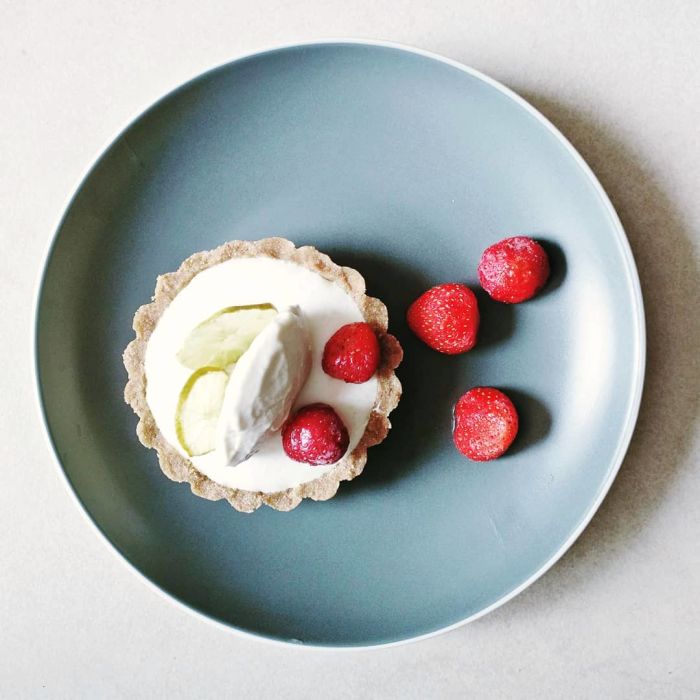 Lemon chamomile tart with a macaroon crust, lemon custard, chamomile meringue, dried citrus, strawberry.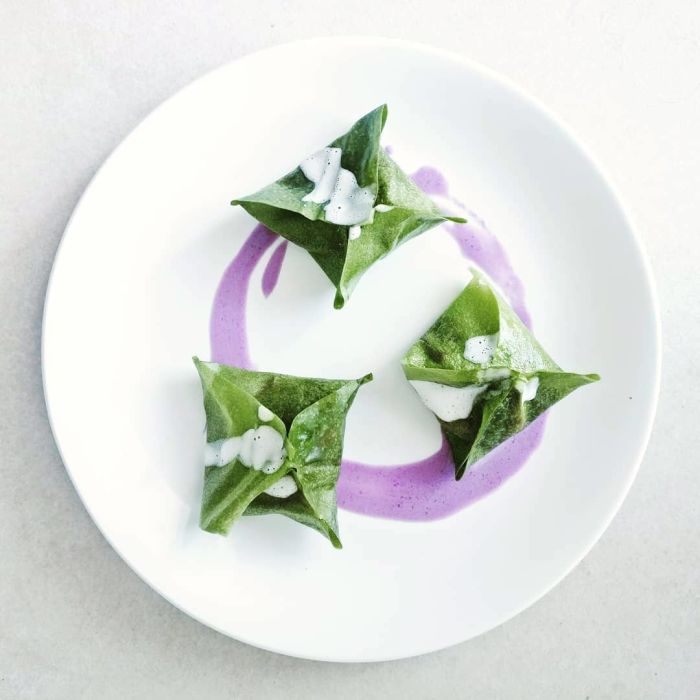 Kimchi dumplings with a tamari cashew filling, purple cabbage purée, and sesame ginger foam.
We were introduced to various new techniques and skills including fermentation, dehydration, sprouting, pickling, professional knife skills, and flavor balancing. As the course progressed, we got more comfortable with different techniques and were made to test the limits of our creativity by creating recipes of our own! For example, here is the recipe for a vegan Shrikhand that I created for one of the projects. For my final assignment, I spent over two weeks writing and testing recipes that I developed from scratch. This was by far the most challenging, yet exciting part of the course. I'm going to share with you all two of my best recipes for Raw Momos and Surprise Truffles!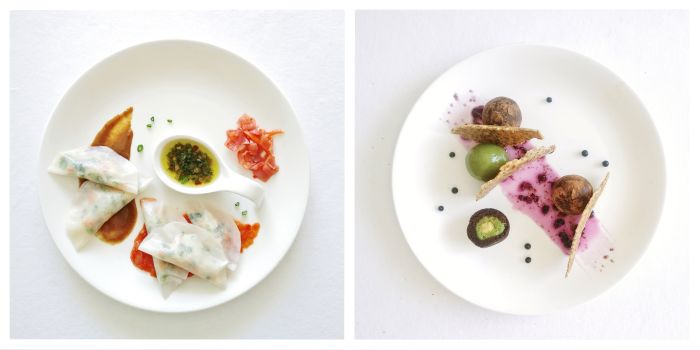 What changed after the course?
My perception of raw cuisine completely transformed over the two months and my understanding of nutrition also evolved significantly in the process. My plating skills drastically improved and I was suddenly able to weave meaningful stories into the food that I created. I feel these were some of the biggest takeaways for me – I'd never have imagined how much one could create and express with just a handful of raw ingredients.
Before you enroll yourself in this program…
Remember that it's a heavy investment. Spend some time thinking about what you're going to do with this after. If you're simply looking at it as a hobby, there are many other courses available online, which are less expensive and still very good. If you're serious about building a career path around food, then I'd say go for PLANTLAB. It's worth investing in the best! For anyone else considering courses, but have yet to make up your mind, I've weighed out some pros and cons for you to consider.
PROS:
The recipes taught are truly fantastic. PLANTLAB has a very simple yet sophisticated approach to recipe development and you'd be amazed at the variety of dishes you'll be able to make!

The extent of creative freedom makes a huge difference to what you're able to produce. For example, if the recipe requires a certain ingredient that's not locally available, you may substitute it with an alternative that has a similar flavor profile or textural property. In fact, they'll even provide you with a list of alternate recipes and a thorough substitution list at the beginning of the course.

The weekly shopping guide that is sent prior to the course is very comprehensive. It covers almost all the relevant details and FAQs, so you can be well prepared with equipment and ingredients before you begin. What I particularly like is that the recipes are measured out for very small quantities. This way, nothing ends up getting wasted, and you also limit your expenses as far as possible.

One of the most exciting things about this course is that it absorbs you into a whole network of like-minded people from around the world, who are actively developing the same skillset as you. It's great fun to bounce fresh ideas off one another, inspire, and get inspired!

Personally, this course strengthened my attention to detail and tested my patience on many levels! It's incredibly rewarding, not just when you see what you're capable of creating, but also when you get to eat it! :)
CONS:
It's not just the fee that's expensive, but also the ingredients. The recipes call for lots of nuts and seeds; almost every recipe involves nuts. One more factor to note is that raw cuisine involves several hours of dehydration for many different components. Therefore, not all of these are recipes that you'd be able to incorporate into your daily life, because they can also be rather time-consuming.

Nearly every recipe requires some amount of agave syrup. This can be inconvenient in parts of the world where agave is either too expensive or difficult to find. I struggled a bit with this – it's difficult to find a substitute that's also a neutral sweetener in terms of color and taste like agave. I did manage to find agave, but it is still definitely too expensive (and unhealthy) for everyday use. I guess I'd have preferred a few more recipes which didn't need sweeteners at all.

Last but not least – and this one's more of a heads up than a con – many of the assignments build on the previous day's. For example, an assignment that involves dehydrating raw crackers may be followed by one which requires creating a new dish using the dehydrated crackers the next day. It's difficult to keep up unless you build a somewhat disciplined regime for yourself over the three months without taking it too easy, otherwise there may be a risk of spoilage or wastage. I comfortably completed my course in two months.
The Journey Forward
It's never been a more exciting time to be working in this field. Veganism is no longer seen as a fad or a passing trend – people all around the world are finally starting to become aware of their innate compassion for living beings and realizing that all the dots between environmental sustainability, social justice, health, wellness, and animal welfare are inextricably connected.
Having dabbled in other fields of work that never truly meant anything to me, I am now on a beautiful culinary path which I see not only as my contribution to this cause, but also as a form of expressing myself and what I stand for. PLANTLAB has given me the tools to help craft the future of food. I've completed "Level 1: Fundamentals of Raw Cuisine", but the journey has just begun! I'll be spending the next few months on 'Level 2: Advanced Raw Cuisine', 'Chocolate', and 'Cheese'.
Watch this space for the next review!
To learn more about PLANTLAB Culinary, click here.