Note from @vikasgarg: like a lot of us we've eaten at restaurants associated with the founders of PLANTLAB and had wonderful experiences. What we didn't know when this article was written was some of the past history with this brand and its founders, including numerous financial and legal problems. As of Sep. 2018, it looks like history repeats itself, and while we still think the article and recipes are inspiring, we advise anyone considering attending or working alongside PLANTLAB to do their research first. We'd love to hear your thoughts so please post your comments at the end of the article.
Momos are South Asian dumplings, native to Bhutan, Tibet, Nepal, and surrounding regions. They're similar to Chinese baozi and jiaozi, Mongolian buuz, Japanese gyoza and Korean mandu. Over the years, they've made their way across India and are now widely available as a popular street food.
Vegetarian momos are already vegan and are usually served either steamed or fried. Since nobody has ever attempted to make a raw version of this dish, I jumped at the opportunity to take this up for my final assignment at PLANTLAB.
The raw vegan momo wrappers are made using coconut meat – a technique I learnt during the course. It's fascinating that something like a momo wrapper can be made out of such a simple ingredient! Stuffed with finely chopped raw vegetables that give them their classic flavor and crunch, these momos are absolutely delightful. The first sauce is a spicy kimchi sauce made with homemade kimchi. It's very similar to the spicy chili sauce that's typically served with regular momos, except my kimchi version makes it much healthier. The almond tamarind chutney is a milder sauce that provides sweetness to balance the spiciness of the kimchi sauce. And finally, there's a savory chili oil made of dried red chili, green onion and coriander.
I spent weeks testing out this recipe until I was happy with it. Hope you enjoy this one!
Raw Momos
Makes: 1 plate of 6 pcs
Active Time: 2 hrs
Making the Wrappers
Ingredient:
1 ½ cups young coconut meat, chopped
Pinch of sea salt
Water, as needed
Directions
Blend until completely smooth
Use an offset spatula to spread a thin and even layer on a non-stick sheet and dehydrate for 12 hours, or until dry but still pliable
Cut into 3 – 3 ½ inch circles (should make a total of 6)
Making the Filling
Ingredients
1 tbsp cashews finely chopped
¼ cup carrot, brunoise
½ cup cabbage, brunoise
¼ cup green onion
½ tsp ginger, minced
½ tsp garlic, minced
1 tbsp coriander minced
½ tsp fine sea salt
Directions:
Mix all the ingredients with a fork and keep aside
Making the Kimchi Sauce (Spicy)
Ingredients
¼ cup kimchi, roughly minced
¼ cup red bell pepper, diced
1 tsp dried red chili
1 tsp tamari
½ tsp agave
1 tsp sea salt
1 tsp lime juice
Directions:
Chop up the kimchi into very small chunks
Blend all the remaining ingredients in a food processor
Transfer to a bowl and add in the kimchi so it forms a thick and chunky sauce. If required, pulse for one or two seconds until incorporated, but making sure it remains chunky.
Making the Almond Tamarind Chutney (Sweet)
Ingredients
2 tbsp almond butter
1 tbsp tamari
½ tsp ginger, minced
½ tsp garlic, minced
1 tsp jaggery
1 tsp fresh tamarind paste
Pinch of sea salt
Warm water (to thin)
Directions:
Whisk all the ingredients in a bowl until smooth
Making the Green Onion Chili Oil (Savory)
Ingredients
2 tbsp green onion finely chopped
¼ tsp green chili, minced
¼ tsp red chili flakes
1 tbsp olive oil
½ tbsp tamari
2 tsp rice vinegar
1 tsp lime juice
1 tsp coriander minced
Pinch of sea salt
Directions:
Using a mortar and pestle, crush the coriander and mix into a small bowl of olive oil
Add the remaining ingredients, and whisk until combined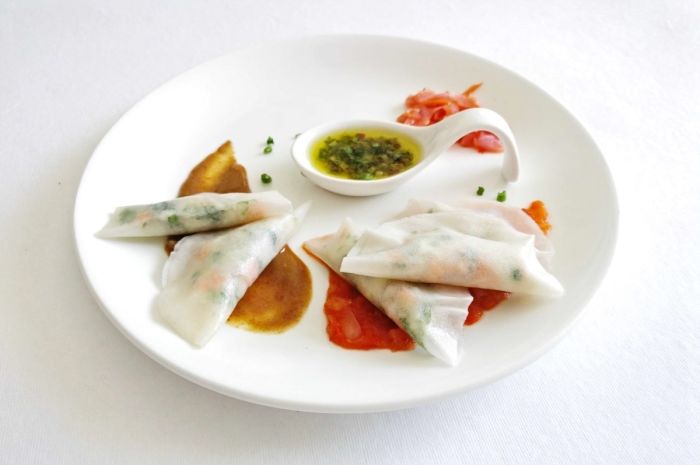 Assemble
Place a small portion of the filling in the center of each wrapper.
Carefully fold the wrapper over into a semi-circle or crescent shape and press the ends with a touch of water to seal the momo.
To plate, spread small portions of the kimchi sauce and the almond tamarind chutney side-by-side, along the edge of a round plate, and place the momos on top of the sauces.
Serve the green onion chilli oil in a small dipping bowl placed just off the center of the plate.
Serve a small portion of kimchi on the side, and garnish with finely chopped green onion.