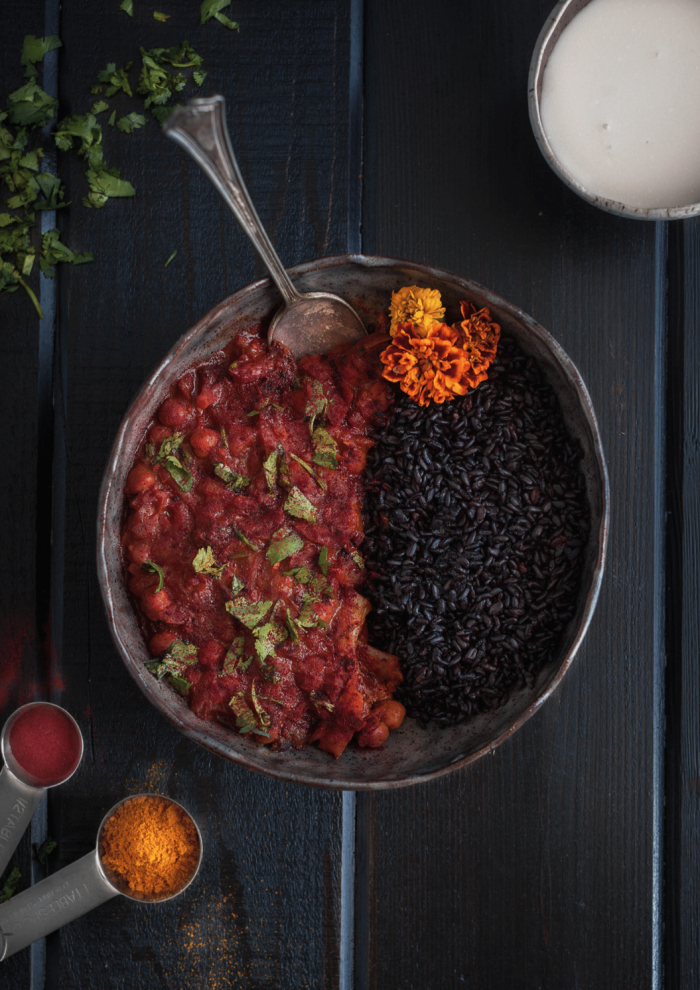 I am not going to say much about this recipe this time around because it's the greatest vegan curry you're ever going to have. I've actually lost track of how many times I've made this for people. This is not a spicy hot curry, so if you're expecting heat, you're going to have to bring your own into this recipe. I am personally not a big fan of spicy foods so this recipe fairs very well for me. It's full of flavor, with added sweetness and creaminess from the coconut milk. Also make sure you pair this with some rice or whatever sort of grain you prefer. This will last you for 5 meals, unless you're like me, then maybe 2 if you're lucky.
Red Curry and Black Rice
Serves: 5
Active time: 1hr
Ingredients:
1lbs/450g Yukon gold potatoes cubed or chopped into small pieces
4 carrots, chopped
4 cloves garlic or 1 tbsp pre-minced garlic
A handful of cilantro, chopped
2 cups vegetable broth
1 cup coconut milk from a can (do not use light coconut milk)
1 full head of cauliflower, chopped
1 yellow onion, chopped
1 can chickpeas, drained
2 tbsp curry powder
2 tbsp Bragg liquid aminos (any soy sauce or tamari will do)
2 tbsp pure maple syrup
2 tbsp tomato paste
1 tbsp unrefined coconut oil
1 tbsp or thumb of minced ginger
1 tbsp beet powder for color (optional)
Chilli flakes (optional)
Directions:
Melt coconut oil into a pan and throw in onions and sauté for a few minutes.
Add minced ginger & garlic. Cook for a few more minutes.
Add curry powder, soy sauce, maple syrup, tomato paste, and bring together to form a rue.
Now add the vegetable broth. Stir to incorporate the mixture and then add potatoes and carrots. Cover the pot and bring to a boil.
Reduce the heat and pull the lid back a little to let steam out. Cook for 7 minutes.
Add chopped cauliflower, chickpeas, and coconut milk, cook for another 7 minutes.
Fold in cilantro and enjoy (don't forget to make some rice for this)!