Sweet and savory – my favorite combination. There's something great about a combination where you get the best of both worlds. I've been making this tahini salad for a few years now, and it's that good for me to be making it up to this day.
The dressing I've used here is my go-to for all my salads. A few years ago, it started off as a 3-ingredient dressing, but has been further improved since then. I'm sure you'll like it too! Don't worry about having fruits in your salad, I promise you'll enjoy it. In fact, the raisins and honey crisp apple are the only items you cannot skip. Besides those, you can pick any type of greens and veggies to fill your bowl up with. For the leafy greens, there are no guidelines – choose according to the number of people you're feeding. I'll show you how I make mine, but you can add your own twist to it. That's the fun in cooking after all!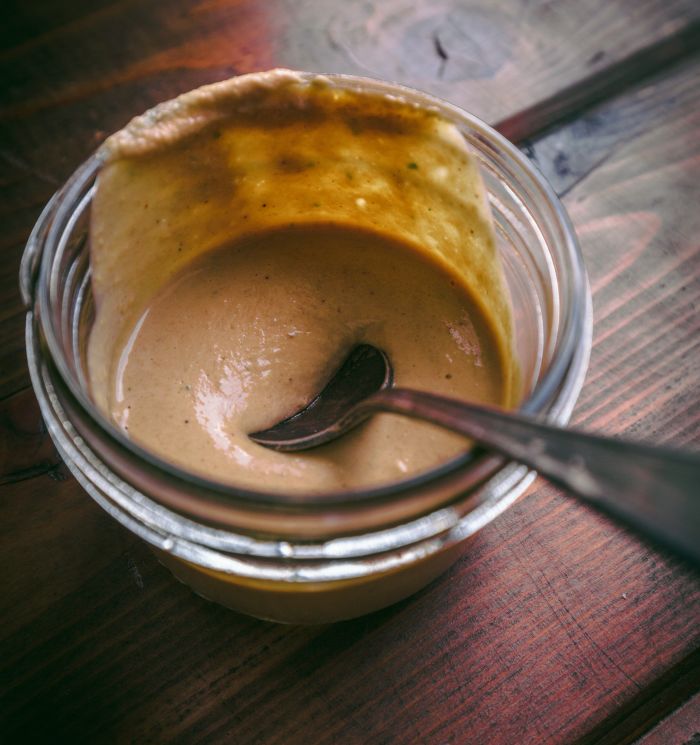 Sweet & Savory Tahini Salad
Serves: 5 servings
Active time: 15min
Ingredients:
Salad
Romaine
Spinach
1 can of chickpeas
2 cup lentil or chickpea pasta (optional)
1 cucumber
1/2 onion or 1 bunch of green onion (scallions)
1 bell pepper
1 bunch of radish
1-2 handfuls of raisins
1 honey crisp apple
1 bunch cilantro
For the dressing
Ingredients:
2 heaping tbsp tahini
1 lemon, juiced
2 tbsp Bragg's liquid aminos (soy/tamari)
2 tbsp nutritional yeast
1 tbsp dijon mustard
1/2 tbsp minced garlic
Water to your preference of creaminess
Directions:
If you're using the pasta, boil your water and cook your pasta accordingly.
While waiting, prep your veg. To save time, throw cucumber, apple, onion, reddish, and bell pepper into a food processor and blend LIGHTLY. Do not overdo this, or the veggies will become too wet. Otherwise, chop everything by hand.
Use a large bowl and toss your chopped veggies first, then mix in a can of chickpeas.
Chop cilantro, romaine and spinach by hand, toss in the bowl.
Once your pasta is finished, drain and add to your salad mix. The pasta will be hot, so I suggest chilling your salad in the fridge for at least 30 minutes before serving.
Throw all your dressing ingredients into a NutriBullet or blender. Add small amounts of water until it's not too thick. I prefer it to be the consistency of peanut butter. I like my dressing thick, rather than watered down. If this is too bitter for you, add a dash of agave to sweeten it up, although you won't need since the salad will be sweet with the apple and raisins!
Once your dressing is ready and salad chilled, you know what to do. Enjoy!