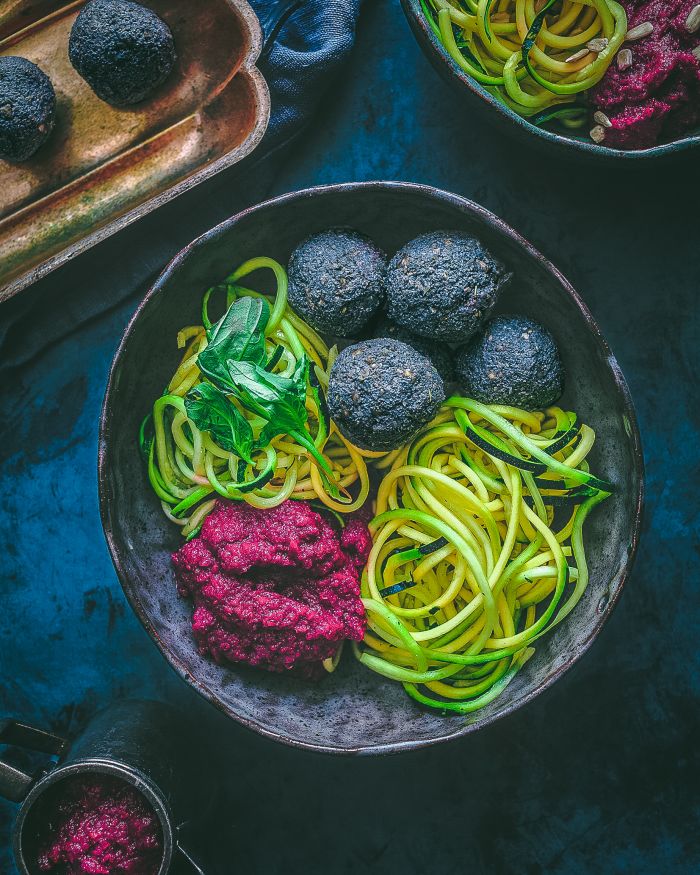 Raw Italian food anybody? This is my play on some vegan, raw Italian spaghetti & meatballs. Walnut meatballs and zucchini to replace the noodles. Everything tastes so fresh, you'll be quite surprised by the flavors!
Zuchetti and Black Walnut Meatballs
Serves: 2
Active Time: 1 hr
Ingredients
For the beet sauce
3 small tomatoes
1/2 cup sundried tomatoes
2 dates or 1 tbsp pure maple syrup
1 tsp oregano
1 tsp basil
1 leaf of fresh basil
3 green onion stems chopped
1 tbsp garlic
Sea salt and pepper to taste
1 sliver of beet
For the meatballs
1 cup walnuts
1 cup sunflower seeds
1/2 white onion
1 tbsp garlic
1 tbsp lemon or lime juice
1 tsp cumin
1 tsp oregano
1/2 tsp rosemary
1/4 tsp sea salt
1 leaf of fresh basil
1 tsp charcoal powder (optional)
Method
You need a veggie spiralizer for this. Start with the beet sauce first
Add sauce ingredients into your blender and mix, bottle it up and throw in fridge while you make the meatballs.
Add meatball ingredients into the food processor and mix.
Roll into little balls and stick them into the fridge while you sprizalize the zucchini.
Now spiralize your zucchini and add to whatever container you like.
Assemble all the goodies and finish off with sunflower or pine nut seeds for crunch.