Plant-Based in Peru in 8 Steps
Going into my month long trip to Peru, I didn't know what to expect in terms of vegan options. I knew Peru was famous for a few things— ceviche, cow hearts, guinea pig, potatoes, various other forms of sauteed beef and chicken, and more potatoes— but I had not heard anything about the vegan/vegetarian scene, other than the wide availability of foods like avocado, quinoa, chia seeds, and lots and lots of fruits.
Well, what I found was no less than shocking. Throughout nearly the entire trip, I was up to my ears in vegan food. But this was not just any vegan food— more often than not, I was surrounded by a fusion of flavors I had never before seen or tasted. Peruvian vegan food, as it turns out, is absolutely incredible. And throughout my trip, between the local produce markets, the vegan/vegetarian restaurants, the wide availability of superfoods in any and all grocery stores, and the all around jaw-dropping-ly low prices, I was completely blown away by Peru.
But that being said, it wasn't always easy to keep up a plant-based diet. As the towns got smaller and less touristy, the vegan options dwindled, and asking for rice, potatoes, corn, possibly lentils or a side salad became the only two real possibilities. There were even a few days when my entire meal consisted of a very carb-heavy and unsatisfying array of potatoes, rice, corn, and bread.
This guide is my attempt to help plant-based travellers to more easily understand and maneuver the vegan/vegetarian food scene in Peru. It can (and should be) absolutely delicious!
1. Look for nearby vegan and vegetarian restaurants!
First things first— if you're in a major city like Lima or Cusco, check out the vegan/vegetarian restaurant scene! I was really pleasantly surprised with the amount of vegan restaurants I was able to find in Lima, Cusco, and other major towns. Now, that being said, I also would specifically recommend trying out PERUVIAN vegan/vegetarian restaurants. While there were plenty of little vegan cafes and pizza places, I think it's much more worth it to experience the fusion of Peruvian and plant-based cuisine in particular, versus getting more generic vegan food that you could find all around the world. Here were 5 of my favorite Peruvian-veggie restaurants: El Jardín de Jazmín (Miraflores, Lima)], Germinando Vida (Barranco, Lima), Green Point Restaurant (Cusco), Vida Vegan Bistro (Cusco), and Chia Vegan Restaurant (Cusco).

Two examples of a vegan spin on a typical Peruvian dish called 'Lomo Saltado,' usually consisting of sauteed beef, onions, tomatoes, potatoes, and served with rice. The dish on the left uses mushrooms in place of meat, while the other uses seitan.

Left: A vegetable tortilla— it was really doughy and one of my favorite dishes I had. The dish on the right involves a typical Peruvian preparation of quinoa that is served with rice and a side salad (I chose to combine it all).

Left: Best mushrooms I've ever had in my life — they were incredibly well marinated and cooked to absolute perfection. The green sauce was also to die for. The dessert on the right was my second favorite I had in Peru — a delicious and beautiful preparation of avocado mousse.

Left: Vegan spin on a typical Peruvian-Chinese fusion food known as "Arroz Chaufa" (Chinese fried rice) using tofu instead of meat. Right: Sauteed mushrooms in a very delicious and common Peruvian sauce known as "Huancaina" which is made with the ají amarillo pepper.

Left: A veganized "nikkei" (Peruvian-Japanese fusion) dish of sushi with avocado and other vegetables. On the right is a veganized version of "la causa" using avocado and quinoa (more to come on this dish later).
2. Veganize and adapt.
If you're feeling somewhat confident in your Spanish skills and/or your server speaks English well in a non-veggie restaurant, consider ordering a salad/vegetables with avocado (this exists at almost all restaurants as either an appetizer, side, or main course) or asking for rice with lentils (which often are served as a side with meat). * In Spanish this would be either 'ensalada/verduras con palta' or 'arroz con lentejas'.

Two examples of vegan dishes you can almost always count on in Peru: salad with avocado and rice with lentils.
3. GO TO THE MARKETS!
Whether you have access to a kitchen or not — the markets in Peru are absolutely incredible and deserve a visit. If you do have the luxury of a kitchen, you can VERY easily purchase a huge variety of grains, legumes, potatoes, beans, fruits, and vegetables for a price so low you likely won't believe it. If you don't have a kitchen (or are like me, and didn't feel like cooking on vacation), markets are perfect for stocking up on healthy snacks like fruits, veggies, seeds, nuts, and bars. I had the best granola bar I've ever had in my life in the San Pedro Market in Cusco (see photo in step 4) as well as some of the best avocado toast (featuring freshly made bread and perfectly ripe avocado from the market for 2 soles or 61 cents total!). Most importantly, though, a visit to the market enables you to get a sense for the local life, food culture, and exotic flavors you won't have at home! They are my personal favorite part of travelling :)

A collection of photos demonstrating the wide variety of fresh fruits, vegetables, legumes, bread, corn, potatoes, and quinoa available in the markets.
4. Snacks snacks snacks.
Speaking of stocking up on snacks from the market, this is my key recommendation for being a plant-based eater in Peru. As there may be situations when being vegan/vegetarian and getting a somewhat healthy meal is not possible (eating rice/potatoes/corn alone is always doable but lacks much nutritional value), having some nuts, nut butters, seeds, or dried fruit on hand is a must. Often when I was travelling to places off the beaten path, avoiding meat was next to impossible, and I ended up just asking for rice, corn, or potatoes and mixing in my own supply of avocado and almonds (as shown in the photo to the left). If you're sticking to more touristy places, this will rarely be an issue for you, but it's always best to be prepared!
* A more personal, specific suggestion is to bring peanut butter! Breakfast in Peru is often just bread with jam/butter, fruit, and eggs, so I brought 2.5 lbs of peanut butter with me in my checked luggage (otherwise it is considered a liquid and only 3 oz. total is acceptable) and ate it throughout the trip at breakfast with bread and a banana (both of which were provided by the hostels I stayed in). Peanut butter is a food I usually eat every morning at home so it was also a perfect remedy to any homesickness I had :)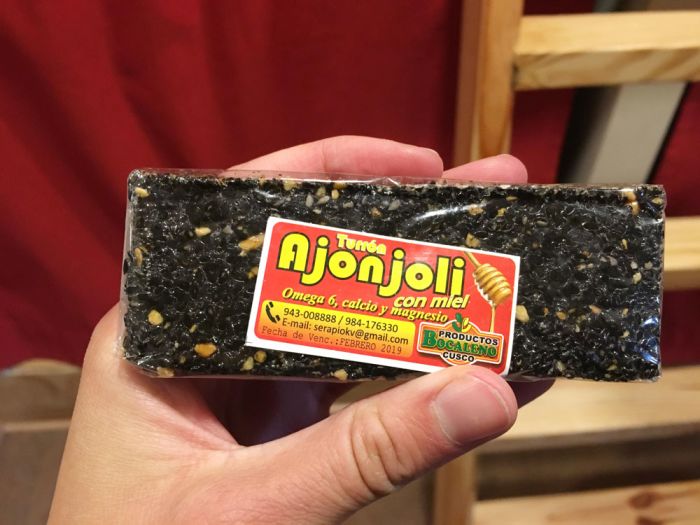 Best bar I've ever eaten, consisting only of black sesame and honey.

Left: The many types of dried fruits and nuts that you can stock up on for snacks in the markets! Right: Typical breakfast provided in hostels in Peru– to which I'd add my freshly ground peanut butter from home.
5. Try the sweet drinks!
Be on the lookout for the sweetened juices and teas like emoliente and chicha morada. Hot quinoa beverages made with apples, pears, maca (a type of root), and other spices were also very popular! All of these drinks are vegan and delicious and can help satisfy your sweet tooth without indulging in other, heavier desserts (which I only found in larger, more touristy places anyway).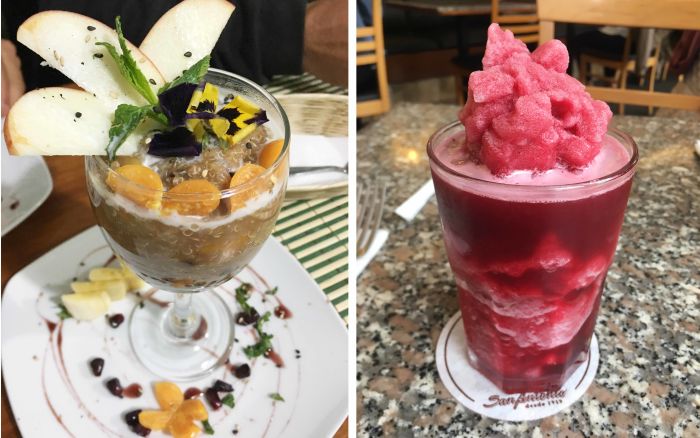 Right: The typical hot quinoa drink often prepared with apples, spices, and maca. You might get this as a dessert in a restaurant. Right: chicha morada— a typical drink made with purple corn and other spices.
6. Sign up for a (veganized) cooking class!
While this won't necessarily help you much with being vegan IN Peru, doing a veganized cooking class (such as the one I did at Sky Kitchen in Lima) introduced me to several Peruvian dishes I can recreate in my own home (see photos). While I can't speak for everyone, I can confidently say that Peruvian flavors are INCREDIBLY lacking in my kitchen, and taking a veggie-friendly cooking class was an awesome eye-opener to dishes I could easily prepare once I returned home. So seriously, if you're reading this article and are thinking of travelling to Peru, definitely try to squeeze in some cooking class. On the other hand, if you know it's unlikely that you'll ever get to Peru, definitely check out veganized recipes for dishes such as la causa, ceviche, and lomo saltado, so you can live vicariously through the Peruvian flavors in your own home!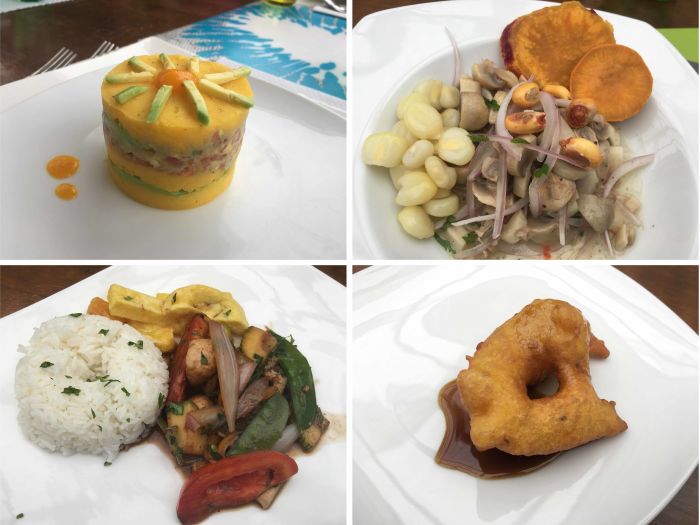 Four veganized dishes I learned how to prepare in the cooking class. Top left: "La causa" which is usually prepared with cold mashed potatoes and an ají amarillo pepper along with chicken and mayonnaise (we replaced this with avocados and tomatoes). To the right is mushroom ceviche in place of normal ceviche which usually has fish. The bottom left is a plant-based spin on lomo saltado, using fresh snap peas and other vegetables to replace the beef. Finally, the bottom right is an image of a typical deep-fried street dessert called "Picarones." This dessert is naturally vegan and is prepared with a type of squash in the dough!
7. Don't forget about the markets!
I just really want to emphasize again how important I think it is to explore the markets. You can buy a dinner for 5 soles or $1.50 of lentils, rice, and salad (see photo from step 2). You are completely exposed to the local life and the huge array of produce that is native to the varying climates of Peru. Additionally, if you're a big fruit lover like I am— or a fruitarian— Peruvian markets are truly a paradise. I essentially had a never ending supply of Peruvian peaches and blueberries throughout my entire trip. The cooking class I did at Sky Kitchen even included a fruit tasting of 39 exotic Peruvian fruits (see below)! Here are the fruits I think all travellers should try: granadilla, pacay (these were my two favorites), chirimoya, lucuma, aguaymanto, tuna (cactus fruit), and pepino.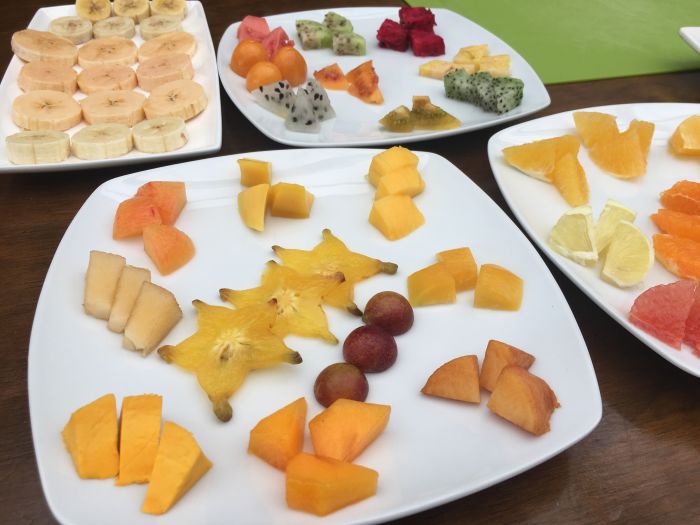 From the fruit tasting I went to as a part of the cooking class. I tried 6 different types of bananas alone!
8. Explore and let loose.
Most important of all these tips, in my opinion, is to try to let loose as much as you can in terms of eating— this is NOT to say forget all your morals and go on some meat eating frenzy or anything like that— but rather to encourage you to have an open mind when it comes to exploring the Peruvian food culture. It just so happens that many of their delicacies involve meat and fish, and if you feel comfortable (totally ok not to!), don't feel afraid to ask for a small bite of your friend's guinea pig. I'll admit to the fact that I did this a few times with the truly classic Peruvian dishes (not ordering an entire dish myself but simply asking for a taste of a friend's meal) just to say hey— been there, done that, now pass me the lentils! :)
Final Roundup: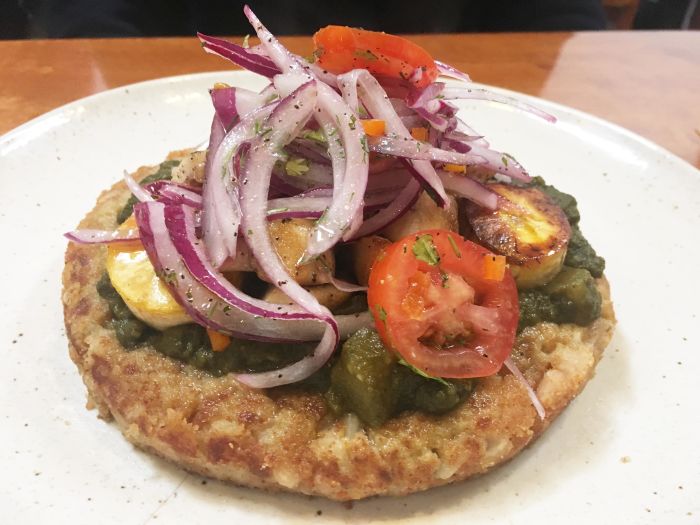 My favorite overall dish: Tacu Tacu at Germinando Vida in Lima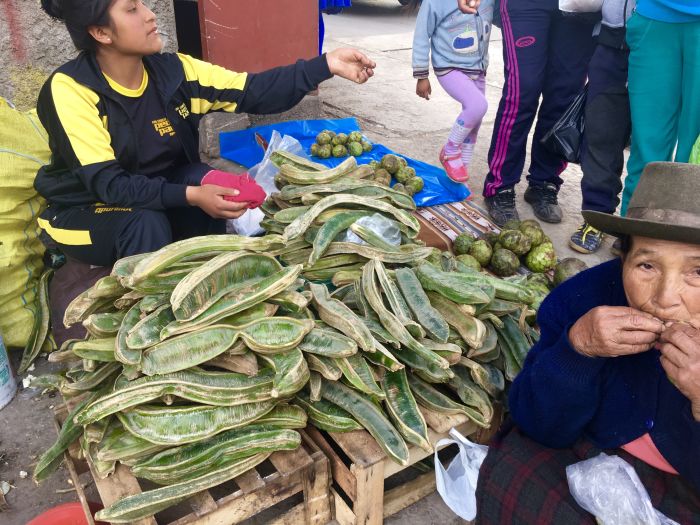 My favorite fruit: Pacay (otherwise known as the ice cream bean!)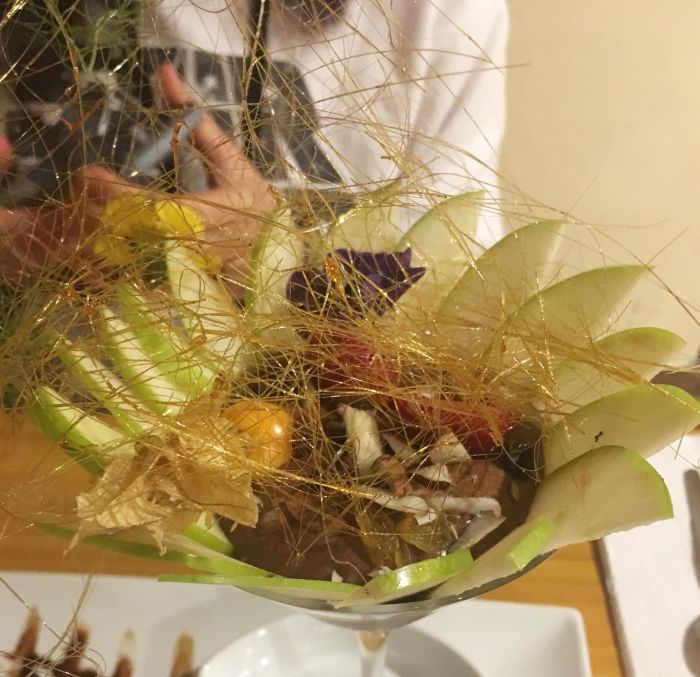 My favorite dessert: Cacao Ice Cream
Other (shorter) pro tips:
1.Buy lots of Peruvian dark chocolate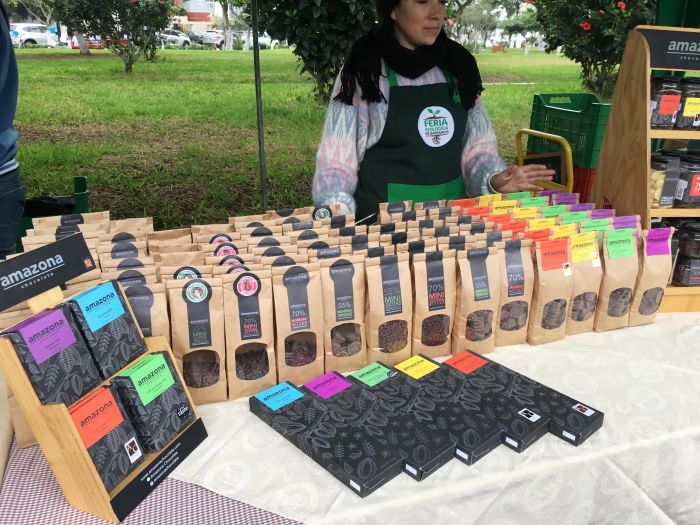 2. If in Lima: go to the Feria Ecologica (Ecological Fair) in Barranco on Sundays from 9 AM - 3 PM or the Bioferia in Miraflores on Saturdays from 8 AM - 3 PM both of which have many vegan vendors selling things like falafel, empanadas, tamales, ice creams, breads, cakes, nut butters, etc!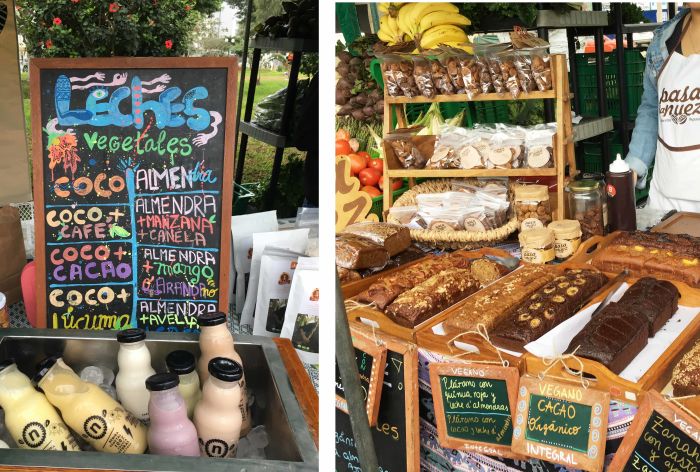 Different vendors in the Ecological Fair in Barranco! Absolutely incredible place for plant-based eaters.
List of the Veggie Restaurants I went to:
* Restaurants with a fusion of plant-based and Peruvian cuisine.
List of the Restaurants I went to with Veggie options: