Introduction:
Bangkok, the capital of Thailand, is a beautiful and bustling city with so much to offer. It boasts gorgeous views, a rich culture and history, jaw droppingly-beautiful temples, never ending markets, and of course… exquisite food! Bangkok is truly a gem of a city!
Welcome to "Plant Based and the City: Vegan Guide to Bangkok." This guide that details our lives for 5 months living in this wonderful city. Most importantly, this is a guide that tells you all about the foods you MUST eat here! From classic Thai dishes, to health- conscious meals, to drool-worthy desserts - this guide has everything you need to know.
Before arriving in Bangkok, many people questioned how we could continue our vegan lifestyle in Thailand, so much so, that we were a bit nervous at the outset. I had been told that all of Thai food included fish sauce, eggs, and meat, and that it would be very difficult to find vegan options. Nothing could be farther from the truth!
Not only is every street corner in Bangkok filled with fruit stands with the freshest and most vibrant, tropical fruits, smoothie stands galore, and grilled veggie stands, there are many vegan and vegetarian restaurants close to Bangkok's most popular tourist attractions!
So here it goes, the Vegan Guide to Bangkok:
1. A MUST GO: Mango Vegetarian & Vegan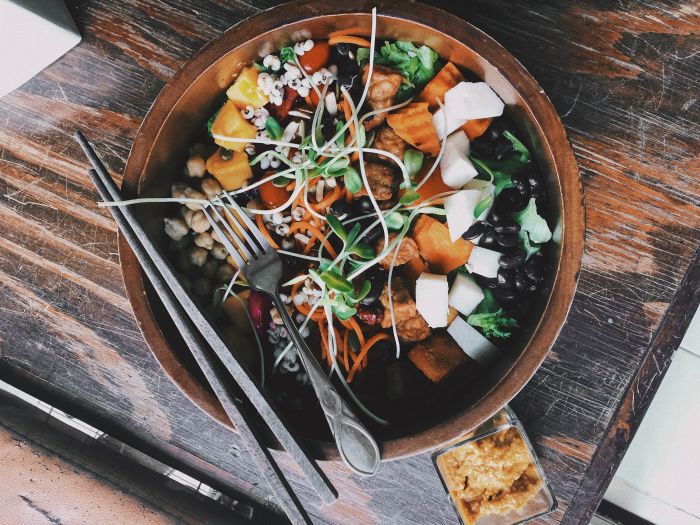 Vegan Tempeh Cobb Salad
If there is one restaurant you must go to in Bangkok, it is Mango Vegetarian and Vegan! We went to Mango almost every week in Bangkok…and if we are being really honest, we went here almost every single day! We don't just highly recommend this restaurant because of its food (although we really do think the food is great), we are you telling you to go here because this place is the very embodiment of the vegan lifestyle. The warm and inviting owners of Mango are not only dedicated to creating healthy and delicious meals, but on the side of their business, they rescue stray cats in Bangkok, vaccinate them, and provide them with a loving home. In fact, you can even play with some of these cats while you sit in the restaurant… a serious bonus!
Mango Vegetarian and Vegan is located right off of Khao San Road, a very popular tourist attraction known for its crazy parties, live music, drinks, and affordable markets. The environment in Mango is cozy and conducive to beautiful conversations with friends or even better, meeting new friends hanging out in the restaurant. You can sit at a table or you can sit on the floor on top of one of the cushions scattered throughout the place. The owners at Mango even goes to the Flower Market in Bangkok every week to adorn the place with the most gorgeous floral arrangements which makes the environment feel extra special.
Mango has everything from Vegan Tom Yum, a classic Thai soup, and Pad Thai, to nourishing salad bowls and smoothies. The menu is never ending, and you will want to (... and should!) try everything. We suggest you travel there with an empty stomach, and we promise you will leave very happy and satisfied.
One of our favorite dishes is the Tempe Cobb Salad- a salad bowl, no joke, bigger than the size of your head! Get this salad with the Chickpea Curry Dressing, and it will be the most delicious bowl of fruits and veggies you have ever had. Next, we recommend you try one of Mangos refreshing smoothie combinations. We love getting passion fruit, mango, and coconut milk smoothies. You really cannot go wrong with this menu- we tried basically everything and ALWAYS loved it.
Favorite Appetizers: All of the smoothies, Vegetable Gyoza, Rainbow Salad Rolls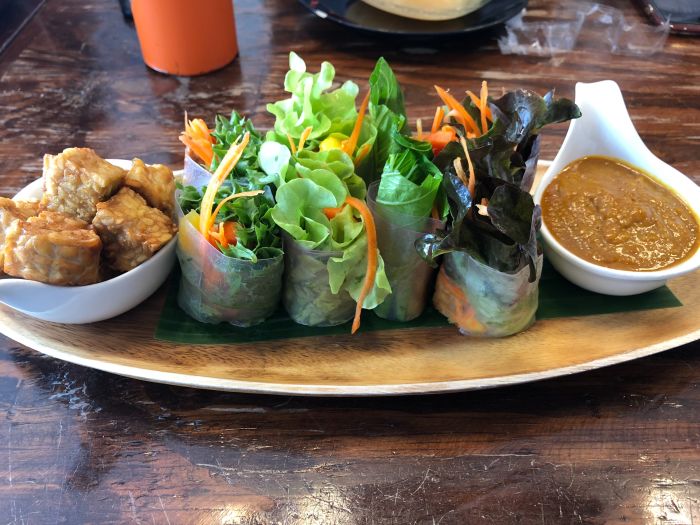 Rainbow Salad Rolls
Main Dish: Tempe Cobb Salad, Falafel and Pita Wrap, Pad See Ew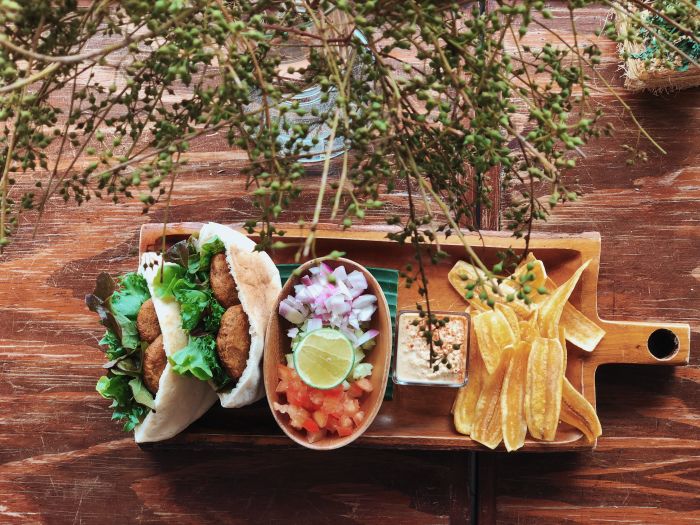 Falafel and Pita Wrap
Dessert: Chocolate Lava Cake & Coconut Milk Ice Cream, Banana Pancakes with Mangos & Nutella (or eat this for breakfast !!)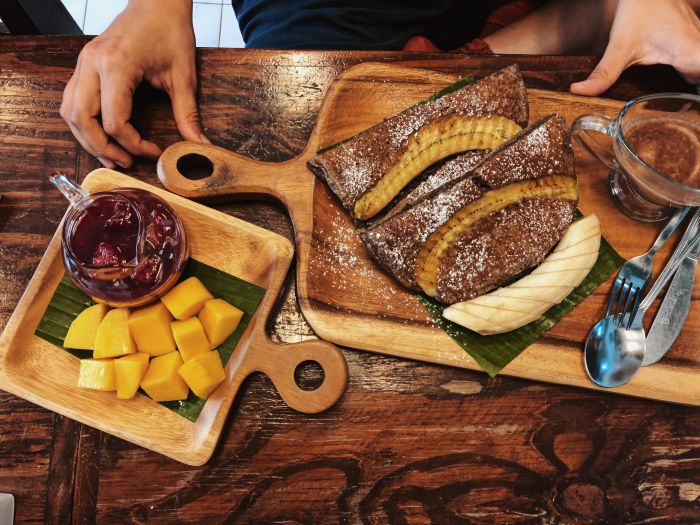 Banana Pancakes with Mango & Nutella
Location: เลขที่ 13 Thanon Tanao, บวรนิเวศ Khet Phra Nakhon, Krung Thep Maha Nakhon 10200
2. Try a Vegan Thai Cooking Class: May Kaidee: Thai Vegetarian and Vegan Experience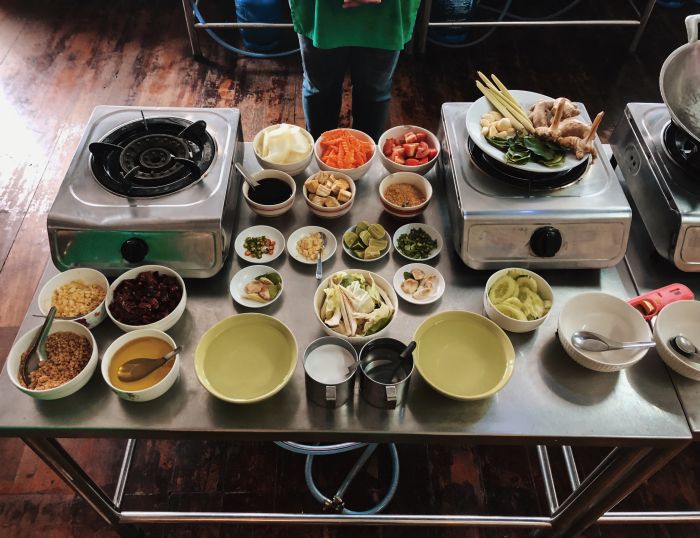 Food Preparation for Thai Cooking Class!
One of our very favorite days in Bangkok by far was the day we attended a Vegan Thai cooking class. We took this class at May Kaidee's Veggie Home, also off of Khao San Road. May Kaidee has two locations in Bangkok and one location in Chiang Mai, Thailand. The location off of Khao San Road is not only a cooking school, but also has a restaurant with an inviting atmosphere. In addition to being very affordable, May Kaidee's menu includes all of the classic Thai dishes and veganizes them.
Every guide about Bangkok will tell you to take a cooking class because there is something so unique about Thai flavors and spices. So, vegans and vegetarians do not stress: May Kaidee's Cooking School is the place for you! We attended the Express Thai Cooking Class that lasted two hours, and we learned how to make our own Chili Paste and Peanut Sauce, Tom Yum Soup, Pad Thai, and Massaman Curry. And yes, you get to eat and enjoy everything you make- so go hungry! The instructors we had were absolutely incredible. They made us laugh and taught us how to say all of the ingredients in Thai. We walked away from the cooking class with full bellies and our own May Kaidee Cookbook.
Watch our Bangkok Video to see us attempt to be real Thai chefs! Key word: attempt!
Our Suggestions: When you eat at May Kaidee, try their spring rolls with their classic peanut sauce, Pad Thai (of course!), Tom Yum, and their Veggie Sushi Rolls (not Thai food, but delicious!).

Spring Rolls & Mixed Curry Rice

Pad Thai
Locations:
Khao San: 59 Tanao Road, Bang-lam-phu Bangkok other location: Wat Mahan, Bang-lam-phu
3. THOSE 100% VEGAN VIBES: Veganerie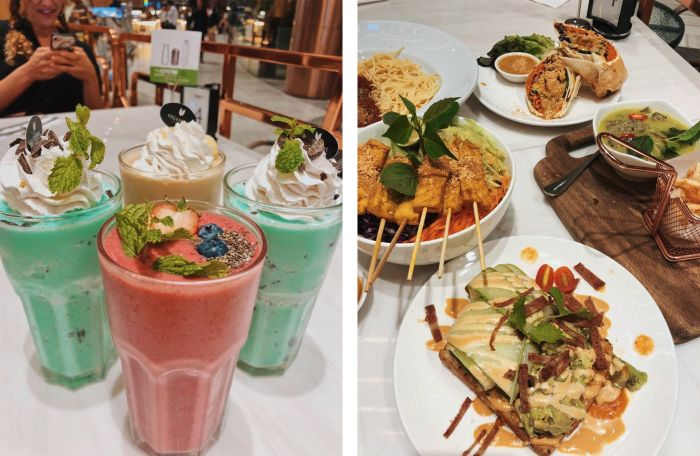 Milkshakes, Tofu Satay Wrap, Salads, Pasta and more... It's Vegan Heaven!
Your go to spot for all the vegan yums. Think vegan desserts- milkshakes, cakes, ice cream, waffles, and every kind of meal you can think of- healthy salads, wraps, pasta dishes, and way more. Veganerie is the place to go to when you want a break from Thai food (although the menu does put a great twist on many classic Thai dishes, too.) There are three locations located in Bangkok. The biggest one is called VEGANERIE Concept and here you will enjoy eating underneath a giant mural that reads "Keep Calm & Go Vegan" … heck yes! The location we would always eat at is located in Siam Paragon, which is another great Bangkok tourist attraction and next to many different public transportation lines. Siam Paragon is considered one of the biggest shopping centers in South East Asia, and it is a fun place to walk and shop and enjoy the air conditioning, which is always a special treat in Bangkok.
Eat all of the desserts at Veganerie! We love the mint chocolate chip "smoothie" (really a decadent milkshake), waffles, and chocolate brownie ice cream. For your main meal try their Tofu Satay Wrap with the most flavorful peanut sauce and their Christmas Tacos… did someone say guacamole?! You will be in vegan food heaven at Veganerie.
Locations:
Siam Paragon: 991 อาคารสยามพารากอน 10330 Mercury Ville, 535 Phloen Chit Rd, Lumphini, Pathum Wan, Bangkok 10330 35/2 Soi Methi Niwet, Sukhumvit 24 Road, Klongton, Klongtoey, Bangkok, Thailand
4. THE PAD THAI DISH FOR THE WIN: Thip Samai
The Thip Samai crew whipping up their famous Pad Thai
If there is one thing everyone thinks about when it comes to Thailand, it is pad thai. Everyone will agree, and so will every guide book, that Thip Samai is the place to go for the best Pad Thai in Bangkok. Thip Samai is close to the most famous tourist attraction in Bangkok: The Grand Palace, so make sure to add this to your itinerary when you are scheduling your trip. Thip Samai has the feel of most Thai eateries. The chefs cook your pad thai up outside while on the street and that is where you get to enjoy your food. Thip Samai already has a vegetarian dish, so just request that your dish be made without egg and double check that they will not use fish sauce. This is a fun way to practice your new Thai phrases and order your food, which you will find near the end of this guide. Not only are you getting a wonderful and yummy pad thai dish, but you get to eat like a local here and people watch as you sit outside on a nice street corner in Bangkok.
Location: 313 315 Maha Chai Rd, Khwaeng Samran Rat, Khet Phra Nakhon, Krung Thep Maha Nakhon 10200
5. EAT YO VEGGIES: Broccoli Revolution
Charcoal Burger & Smoothie
If you are looking for a place to have a relaxing meal in an inspired space, look no further and go to Broccoli Revolution! A restaurant in Bangkok committed to serving nutritious but tasty meals with nothing but the freshest of ingredients and locally sourced and organic produce. The space even invites in this energy with greenery everywhere and comfortable places to lounge and get work done. They also have a variety of vegan treats, pastries, and freshly pressed juices. We recommend you get yourself a charcoal burger and a smoothie, and you will not be dissapointed.
Location: 899 Sukhumvit Rd, Khwaeng Khlong Tan Nuea, Khet Watthana, Krung Thep Maha Nakhon 10110
6. Our All Time Favorite Affordable and on the Go Smoothie & Juice Stop: Plant at Thammasat University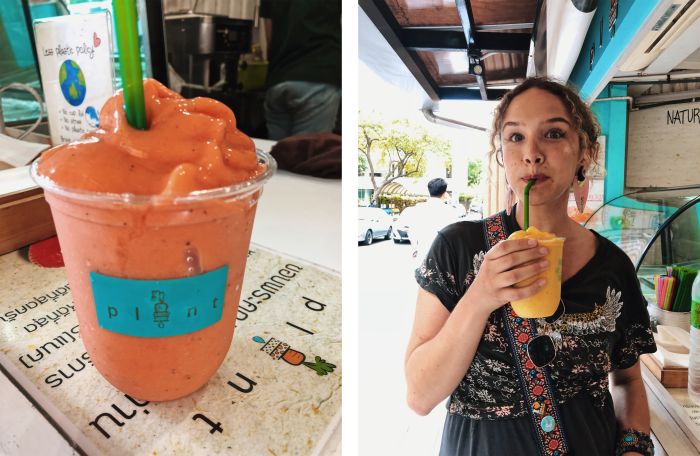 Delicious and Nourishing Smoothies
Next to the Grand Palace is one of Thailand's best universities, Thammasat University: Tha Prachan Campus. This is a great place to grab a snack and take advantage of student prices when you are touring Bangkok's great temples. Our favorite stop here is the "Plant" stand on the Tha Prachan Campus. Here, you can find smoothies and juices galore. Just request that your smoothie be made without yogurt to veganize it. Some of our go to combinations were mango, passionfruit, and banana, and mango, banana, and blackberry. The smoothies are delish and so nourishing!
Other Locations:
Ethos Vegetarian and Vegan Restaurant: 85/2 Thanon Tanao, Khwaeng Wat Bowon Niwet, Khet Phra Nakhon, Krung Thep Maha Nakhon 10200
Joy Luck Club Bangkok (some vegetarian & vegan options): 18 Phra Sumen Rd, Chana Songkhram, Phra Nakhon, Bangkok 10200
Barefood Bangkok Vegan Nut Cheese: 26 Soi Sukhumvit 61, Khwaeng Khlong Tan Nuea, Khet Watthana, Krung Thep Maha Nakhon 10110
Govinda Italian Restaurant & Pizzeria: 6/5-6 Sukhumvit Soi 22,Sukhumvit Rd Opposite Holiday Inn Hotel Klongton Khlong Toei, Bangkok 10110
Our Tips and Tricks for Living that Bad Ass Vegan Life in Bangkok:
7/11- Your Vegan Snack Food Destination:
Frozen Edamame- you can ask them to warm it up when you purchase!
Oreos & Pringles- It ain't healthy, but sometimes you have to treat yourself!
Bananas- They are packaged though, so if you want to avoid plastic waste best to buy your bananas from street food vendors.
Nuts Galore!
Almond Milk
Street Food:
Mango Sticky Rice, nuff said.
Nuts & Chestnuts!
Tropical Fruit Galore! Watermelon, Pineapple, Papaya, Dragon Fruit
Japanese Sweet Potatoes
Grilled Vegetables- request without butter
Fried Rice- request only vegetables & no egg or fish sauce
Grocery Stores:
Tops Market- These are located all over Bangkok. You will find salad bars, fruits and vegetables, juices, granola and cereals, nuts, chocolate bars (vegan ones of course!), nut milks
Gourmet Market (located near Veganerie at Siam Paragon)- a great salad bar, fruits and vegetables, nut milks, snack foods, juice (green juices !!)
Learn Some Thai!
Generally speaking, Thai people are very kind and love when foreigners try to speak Thai! So, take this opportunity to practice a new language and order your meals in Thai. That being said, if you are unsure if someone understands you or not and want to guarantee that your meal is going to be vegan, Google Translate will become your best friend!
"Kin Jay"- I am vegan.
"Mai sai nam bplaa ka"- No fish sauce
"Mai sai Kai ka"- No egg
"Mai sai nuea sud ka"- No meat
Check out our Bangkok Vegan Guide Video to see some mouth wateringly good food, beautiful scenes from this amazing city, and enjoy watching two vegan girls dance, laugh, and play as they take on all that this city has to offer!