I had the chance to visit Vietnam over Lunar New Year (Tet, in Vietnamese).
The best experience was when I decided to team up with Karma Waters. I had met Grace Nguyen, the founder of Karma Waters in Hong Kong at an animal activism event. She had told me how her two restaurants, one in Da Nang and one in Hoi An, did charity work and fed the needy in Vietnam with healthy vegan food. So I signed up for a vegan cooking class with her twin sister, Annie, in Da Nang.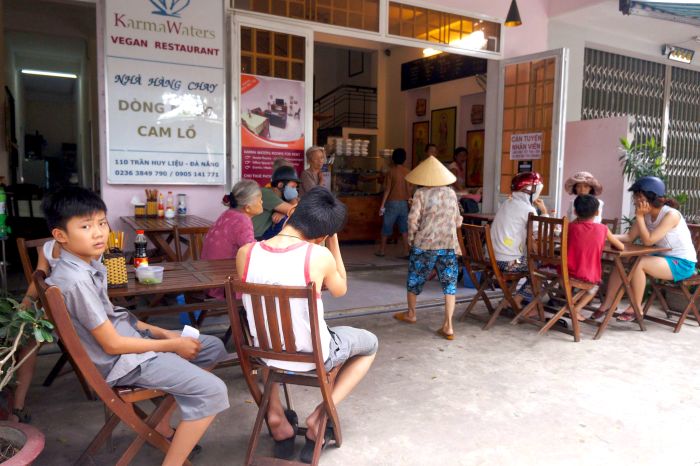 Although the restaurant was closed for the holiday, Annie and her mother opened it just for me! They gave the option of choosing any dishes from their extensive menu, comprised of Vietnamese, Western, and Indian food. Since I wanted an authentic Vietnamese experience, I chose the following:
1. Banana Flower Salad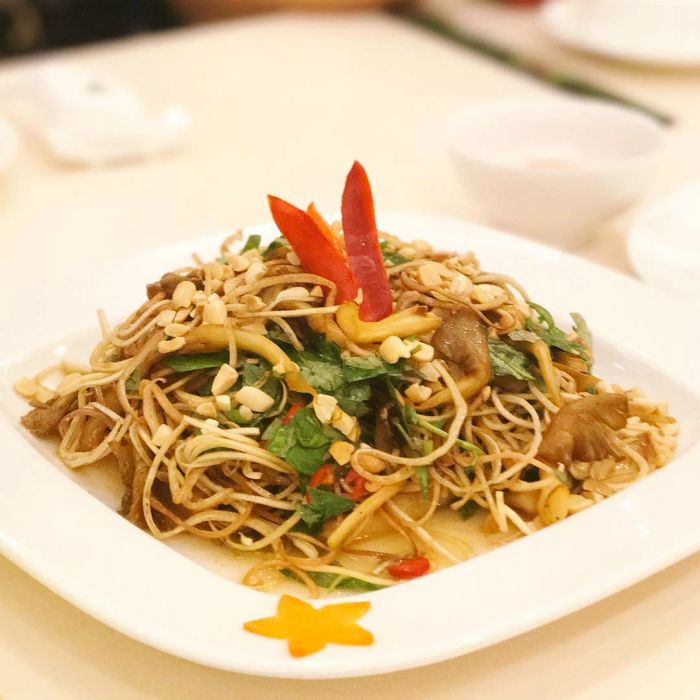 In case you've never tried banana flower, it tastes nothing like bananas! This dish was fresh, healthy, and flavorful with tons of fresh veggies.
2. Summer Rolls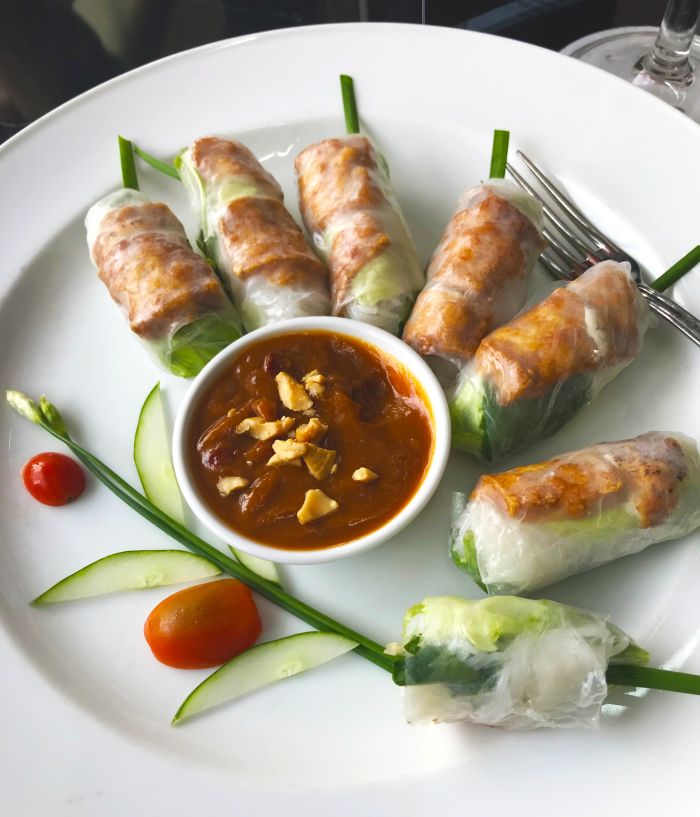 Credit: User @pal
I've always failed terribly at wrapping these when I make these. Annie made it look effortless, and the dipping sauce we made contained an in-house vegan fish sauce. We filled ours with two different kinds of lettuce, vegan gluten ham, grated carrots, and wood-ear mushrooms. Yummy!
3. Banana Pancakes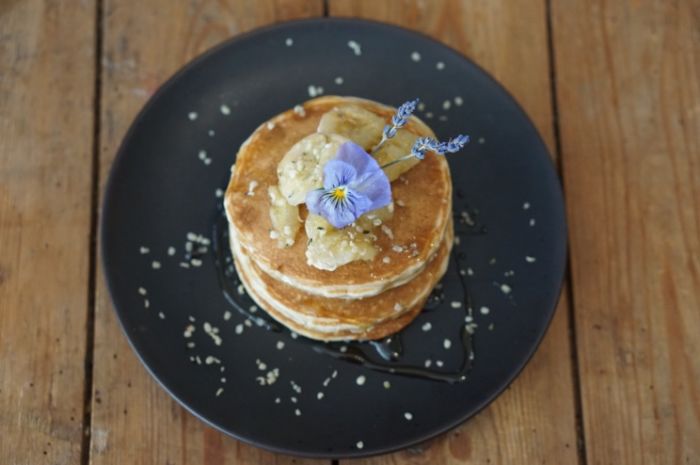 Who would have known you could make a delicious breakfast (or dessert) in a blender in under five minutes? These 4 ingredient pancakes were served with homemade ginger syrup. Perfection!
4. Pho (Vietnamese Traditional Thin Flat Noodles)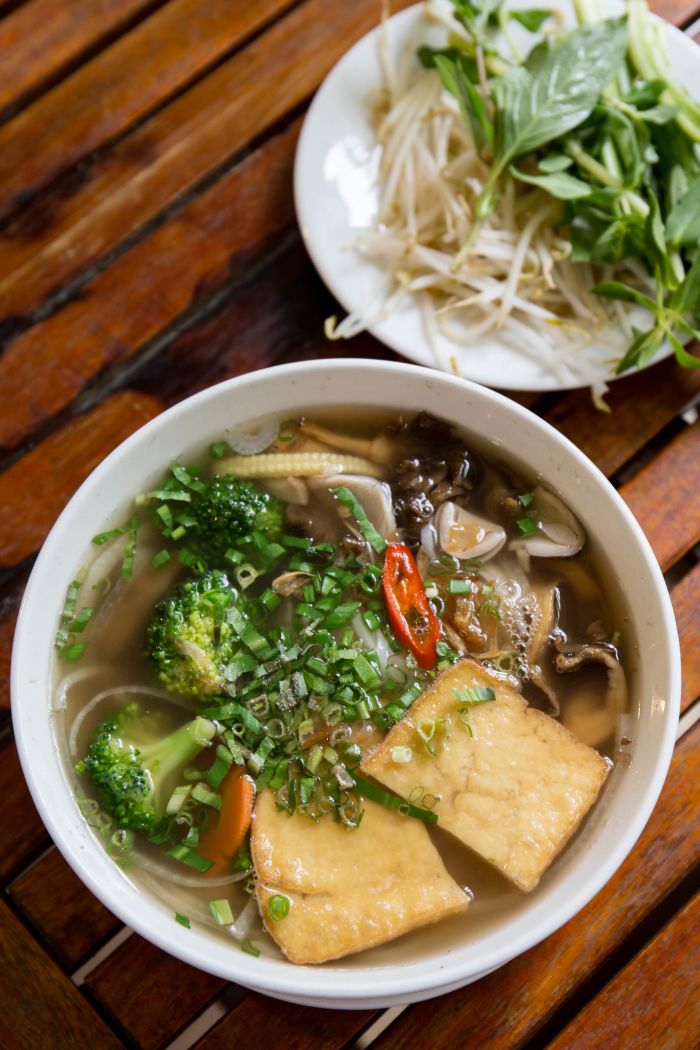 And finally, you can't forget the most iconic vegan dish, Pho! (pronounced "fuh?") Pho restaurants have popped up all over the world, but pho is traditionally made with a beef broth, which makes it almost impossible to order a vegan version. I learned how to make Karma Waters' amazing version, and have included the recipe at the end of this article!
The cooking class itself was so great! Annie, her mother, and her dog, were very patient with me. I love vegan food, but I'm not a wizard in the kitchen. Although I couldn't grate the carrots long enough at first, or chop the vegan ham the right shape, Annie was very considerate and guided me through the whole process – even when the electricity on the entire street turned off twice! We cooked with lanterns in the dark for a good 20 minutes, which only made the whole experience more memorable.
After the cooking class, I was keen to learn more about the work Karma Waters does. In the restaurant, there was a large donation box that customers were encouraged to put money into. But what exactly does this money go towards? It turns out that Karma Waters has many charity programs, in addition to its tours and homestays.
Grace arranged for me to visit Da Nang Social Protection Centre to cook vegan curry soup and baguettes for 180 needy people living there, and give the residents red packets with 50,000 VND (~2.19 USD) each for the Tet holiday. Although they usually serve meals to the needy on the 1st and 15th days of the Buddhist lunar calendar, they arranged to do it a few days earlier so that I could join!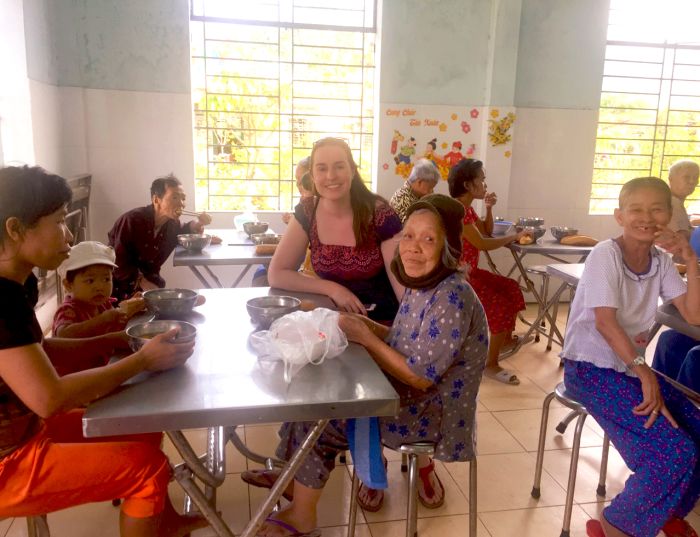 One thing's for sure – they were all happy to see us! Many wouldn't stop waving or shouting "hello!" at me. I took some fun selfies with a few residents, which made them extremely excited. When we visited some of the bedridden, one lady refused to let go of my hand. Annie explained that most of the residents here are very lonely and have no family. She and some other volunteers from Karma Waters come twice a month, and the residents light up when they see her.
We spent a few hours preparing and cooking the meal, with the help of the some of the centre staff and a few of its residents.
Let me tell you, their "kitchen" wasn't glamorous! We peeled carrots and potatoes in the hot sun, chopped onions and mushrooms with giant dull knives, and rinsed huge amounts of assorted veggies in humungous bowls whilst sitting on the ground. It was all worth it, however, when the curry soup was finished. Annie cooked everything in a giant cauldron-like pot and added curry spices, coconut, and seasoning. Like a true chef, she tasted everything as she went whilst stoking a hot fire and wearing high heels!
Annie explained that it's important for her to share healthy, organic vegan food with people who are desperately in need of nourishment. The food prepared in this centre daily is very animal-based and the only time they get a vegan meal is when Annie comes to visit. Since Grace introduced her to veganism over five years ago, Annie says she just wants to help any person in need that she sees, without harming animals. Although plant-based eating isn't widespread in Da Nang, you can see that Grace, Annie, and their mother love what they do. On my last visit to the restaurant, Annie's mother was even giving out free desserts to the neighbours and passersby!
Karma Waters organizes tours as well! If you're following a plant-based lifestyle, or simply want to support an excellent organization that helps thousands of needy people each year, you definitely should donate some time to them.
Although I came to Vietnam looking for some luxury, pampering, and relaxation, I left with so much more. Thanks Karma Waters for giving me such a memorable experience!
You may find out more about Karma Waters Charitable Works below:
The Nutritional Lunch Program – Every day, Karma Waters feeds up to 25 people in each of its restaurants using donations – in other words, the "pay it forward" program where customers can essentially "buy" a meal for someone in need. The restaurant only charges the needy customers 0.25 USD per meal at the restaurant, the rest being subsidized through donations.
Vegan Food Program – Twice a month, Karma Waters serves 1400 free meals to sick people in hospitals in Da Nang or Quang Nam Province.
Pending Meal Program – Twice a month, Karma Waters delivers 300 vegan meals to low income people in Da Nang, who cannot afford to purchase food.
Ethnic Support Program – Karma Waters helps ethic minority groups in the Quang Nam Province with not only food, but also stationery, toys, books, and clothes, in addition to friendly support visits.
Medical Support Program – Donations are collected to provide medicines, pay hospital bills, and provide post-emergency care.
Vegan Pho
Serves: 1
Active Time: 20 minutes
Ingredients
100g rice noodles (dry thin flat style)
1 slice tofu
500 ml sterilized water
5 pieces straw mushroom
5 pieces shitake mushroom
3 pieces wood ear mushroom
2 tbsp vegetables/ olive oil
1⁄4 lime
1⁄4 onion
3 cloves garlic
1⁄2 thumb ginger
1 vegan sausage
1 handful beans sprout
1⁄2 handful coriander
1 handful basil
Spices
1 tsp salt
2 tsp vegetables stock
1⁄2 tsp black pepper powder
1 tsp Indian spices
Directions
Preparation
Cut onion, tofu, and mushrooms into small pieces (2cm x 2cm.)
Slice vegan sausage in rectangle shape.
Mash garlic and ginger.
Soak rice noodles in hot water until they are half soft, then drain and wash with tap water. Dry noodles and set aside while doing the cooking.
Cooking Method
Heat the wok with oil. Stir-fry garlic and ginger then add Indian spices and stir-fry until they turn into a golden brown colour. Put in mushrooms, onion and tofu. Add all spices and keep stir-frying for 5 minutes until all the ingredients are well absorbed. Add sterilized water and allow to boil.
Boil rice noodles in another pot until soft then drain it. Use that hot drained water to soak the beans sprout until soft. Place them in a bowl. Add Pho' soup on top.
Place vegan sausage slices on top of the soup. Add coriander and black pepper powder.
Serve hot with basil, hot chili sauce and soya sauce.