Vegans aren't always about the beans and the greens. For those of us who love the occasional (or daily) indulgence, this guide will bring you to the best vegan pizza and dessert spots across the city!
The $1 slice of pizza is a staple of a New Yorker's diet. Unfortunately, most pizza joints load it up with cheese and meat – not so vegan-friendly. Good vegan dessert is even harder to come by! While New York City is home to some of the best restaurants in the world, there are few places that stand out to satisfy your sweet tooth if you're looking for a vegan dessert. Good news though, the wave of veganism in NYC has reached the world of pizza and more and more shops now offer some of the best vegan ice creams, cakes and pastries.
Follow me as I review the best options from the Upper East Side to Williamsburg!
Candle Cafe (Upper East Side)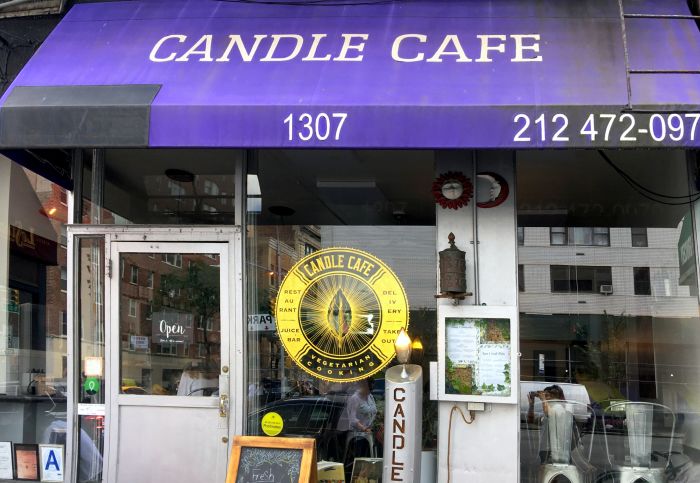 Candle Cafe is a vegan restaurant located in the Upper East Side. It's the sister restaurant of the higher-end Candle 79, which is just a few blocks uptown. Like any other restaurant, they have a dessert menu. The regulars on the menu include a Brownie Sundae, Chocolate Peanut Butter Mousse Pie, Carrot Cake, Key Lime Parfait, and a daily sorbet or ice cream.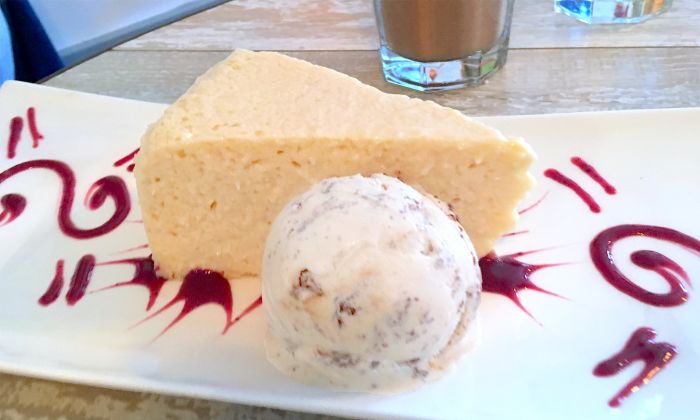 Coconut cheesecake with salted caramel ice cream
The daily specials menu also includes desserts, such as the coconut cheesecake with salted caramel ice cream flavor and berry crumb pie made from strawberries and apples. The desserts are just as good as any other Upper East Side cafe except this one's completely vegan!
Check out other dishes and reviews of Candle Cafe.
Candle Cafe, 1307 3rd Ave, NYC, NY 10021, USA
Cinnamon Snail (Midtown, FiDi)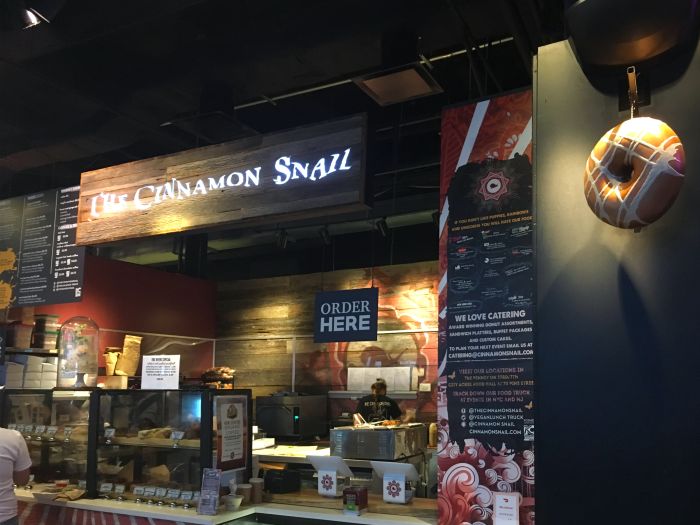 This vegan vendor is located in Pennsy NYC, a food hall above Penn Station. It's a great spot for commuters who want a vegan bite on the road. Cinnamon Snail serves a selection of vegan meals and they even have a special display for their pastries! This Raspberry Blackout Donut has a nice chocolate crumble with a drizzle of raspberry icing. The flavors of the tart raspberry and sweet chocolate balance nicely. The Coconut Thai Basil Glazed has a fluffy donut base with toasted coconut and glaze on top. The Pistachio Cake is moist with the perfect texture of crumbliness.
From left: Pistachio Cake; Raspberry Donut; Coconut Thai Basil Glazed
Come here for a quick treat if you're ever in the Penn Station area!
Check out other dishes and reviews of Cinnamon Snail.
Cinnamon Snail, 2 Pennsylvania Plaza, NYC, NY 10121, USA
Chloe's Fruit (Union Square)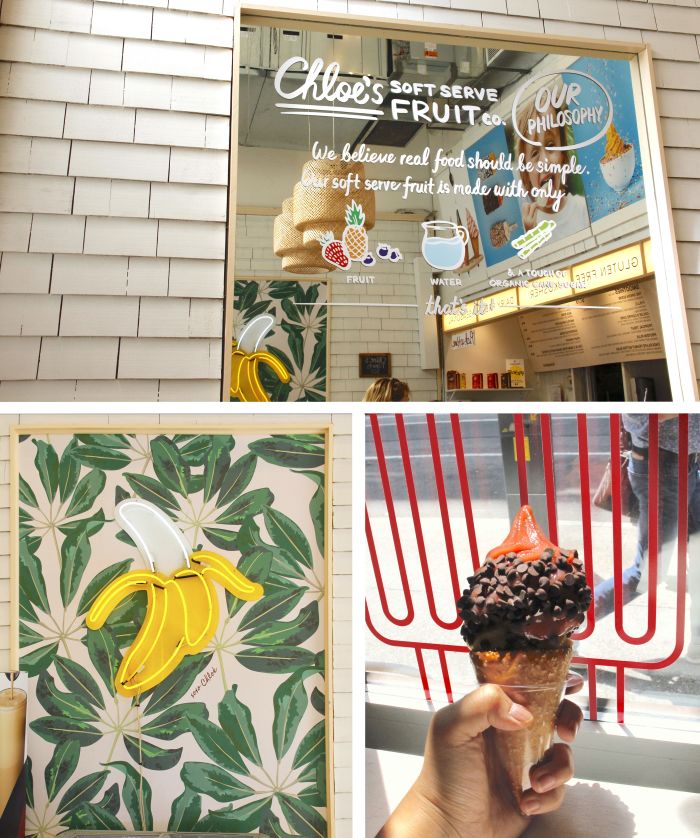 This soft serve fruit is a healthy alternative to your regular sugary ice cream. The strawberry soft serve that I got comes with vegan dark chocolate chips on a pretzel cone to fulfill both sweet and salty cravings. They offer sundaes, waffles, smoothies, and most importantly, their very popular popsicles. You can definitely beat the NYC summer heat with a cup of Chloe's Soft Serve Fruit. The ingredients are mind-blowingly simple: fruit, water, and organic sugar cane. You know exactly what's going into you, plus they taste great too!
Check out other dishes and reviews of Chloe's Fruit.
Chloe's Fruit, 25 East 17th Street, NYC, NY 10003, USA
John's on 12th Street (East Village)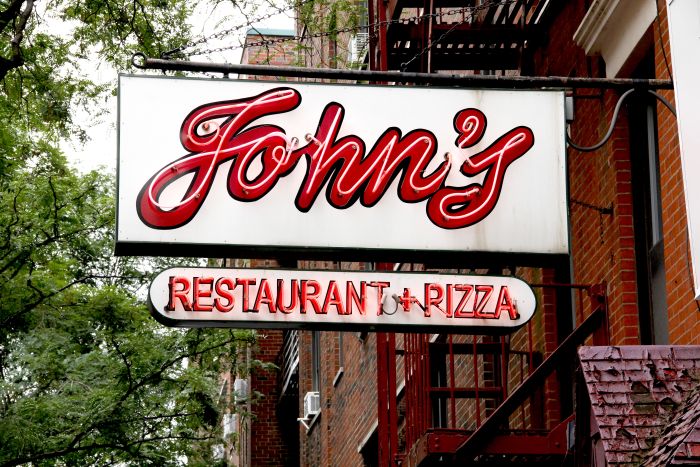 John's on 12th Street is considered one of the best traditional Italian restaurants in the East Village. Open since 1908, it's almost an attraction in itself. Did I mention they also have a full vegan section on the menu? Vegan garlic bread, pasta, dessert, and most importantly, pizza!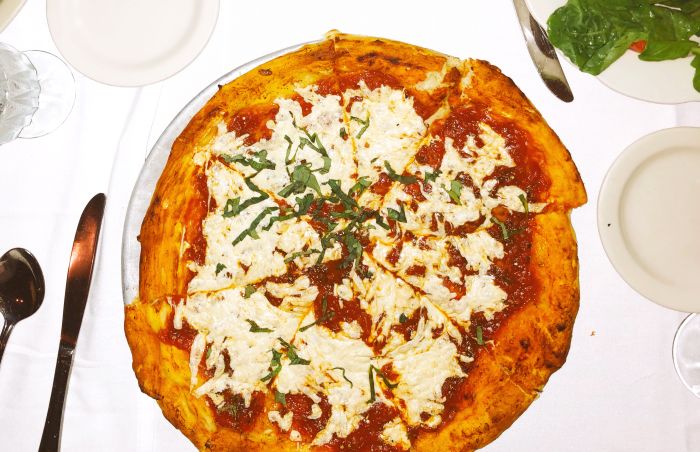 Margherita pizza
My go-to is the vegan Margherita pizza with tomato sauce, basil, garlic, and vegan cheese. Of course, the vegan alternatives are more Italian-style than New York-style. I would say John's is a great Italian place for everyone, vegan or not.
Check out other dishes and reviews of John's on 12th Street.
John's on 12th Street, 302 East 12th Street, NYC, NY 10003, USA
Double Zero (East Village)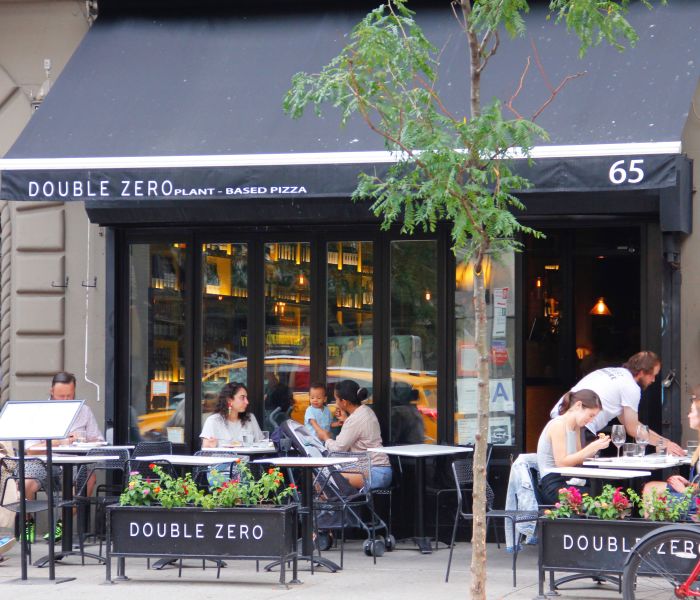 Double Zero is on the higher end of vegan pizza restaurants. It is one of the five restaurants in NYC by famous plant-based chef, Matthew Kenney. They make their own tree-nut cheeses for the gourmet pizza, instead of using Diaya or Teese cheeses like many other vegan pizza spots in the city. The restaurant is only open for dinner, plus brunch on weekends. The indoor communal seating and outdoor tables give it a casual ambiance. Double Zero is definitely not about convenience, but rather the appreciation of plant-based food, specifically pizza.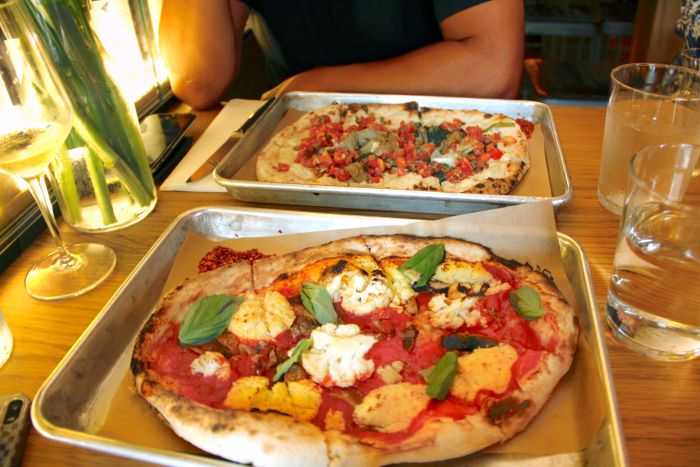 From top to bottom: Creamy Artichoke; Spicy Marinara Arrabiata pizza
The Spicy Marinara Arrabiata pizza has shiitake bacon, cauliflower, macadamia ricotta, and basil. On the other had, the Creamy Artichoke is topped with garlic cashew cheese, spinach, and tomato basil crudo. Their pizzas are delicious with a unique mixture of flavors on a chewy crust!
Check out other dishes and reviews of Double Zero.
Double Zero, 65 2nd Ave, NYC, NY 10003, USA
Confectionary NYC (East Village)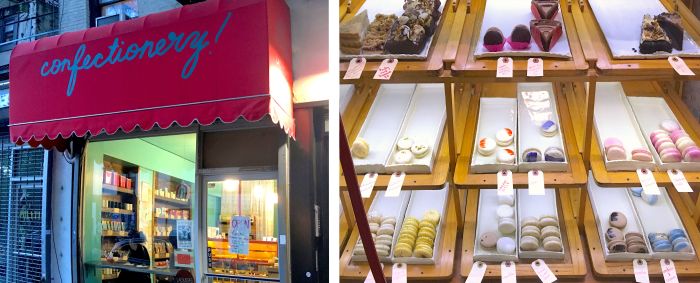 Confectionery NYC is a small shop in the East Village known for its vegan macarons. It's a rarity to find an eggless macaron, but this store has managed to perfect its recipe. With a melt-in-your-mouth texture and unique flavors, the macarons would make a great gift for any vegan with a sweet tooth.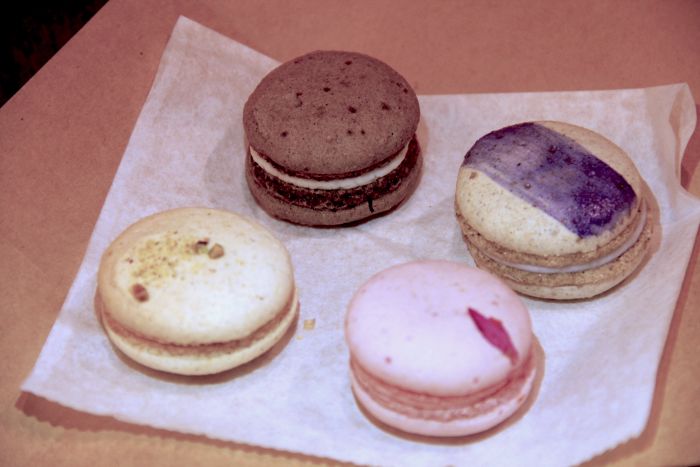 Flavors from left: Pistachio Cardamom; Oreo; Rose; Chai
The intricately painted shells really make them a work of art. Here we have Oreo, Rose, Pistachio Cardamom, and Chai. Although some of these flavors don't seem like typical dessert flavors, the added sugar makes them a great sweet treat!
Check out other dishes and reviews of Confectionery NYC.
Confectionery NYC,440 East 9th St, NYC, NY, USA
Screamer's Pizzeria (Greenpoint)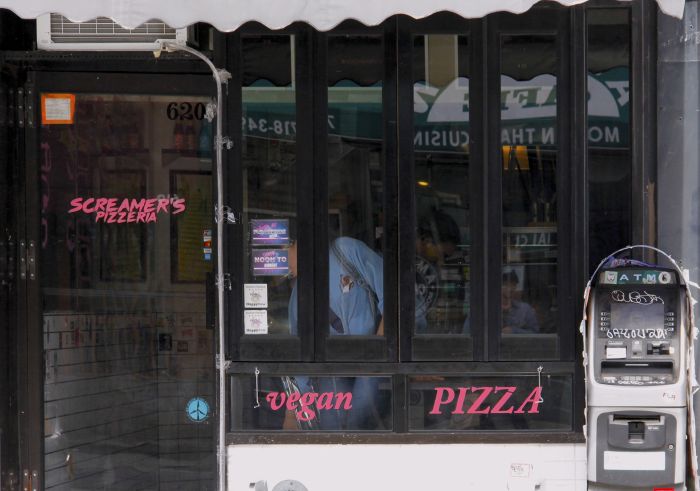 Crossing the bridge down to Brooklyn, Screamer's is the first all-vegan pizzeria in the city. The bright walls are covered in vegan and animal rights-focused stickers with the menu sprawled out on the mirrored section of the wall. This trendy spot serves both the classic and creative pizzas. Come for their plain cheese pizza as well as their specialties!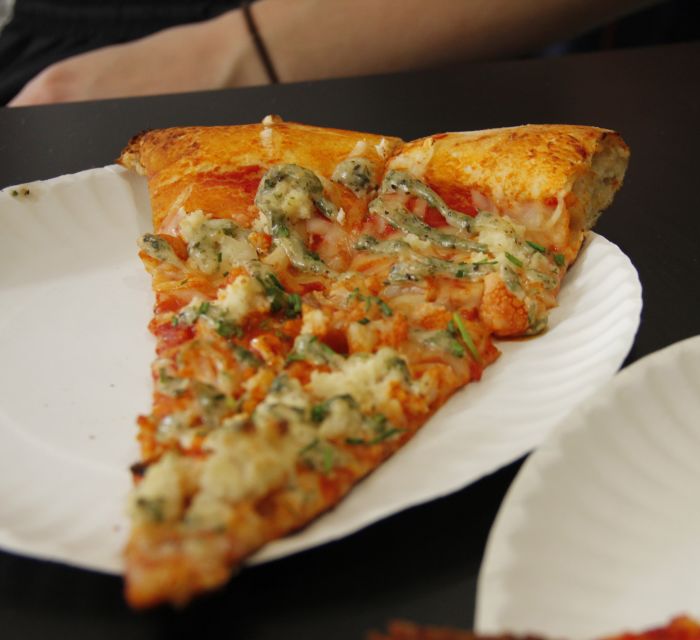 Buffalo pizza
Pictured here is their Buffalo Pizza. The Buffalo pizza is topped with tomato sauce, vegan cheese, Buffalo style cauliflower, almond ricotta, a drizzle of ranch, and chives. Another one that I got is the Pepperoni pizza, topped with tomato sauce, Upton's seitan pepperoni, and vegan cheese. Both have a nice crunchy crust and tasted amazing!
Check out other dishes and reviews of Screamer's Pizzeria.
Screamer's Pizzeria, 620 Manhattan Ave, Brooklyn, NY 11222, USA
Vinnie's Pizzeria (Williamsburg and Greenpoint)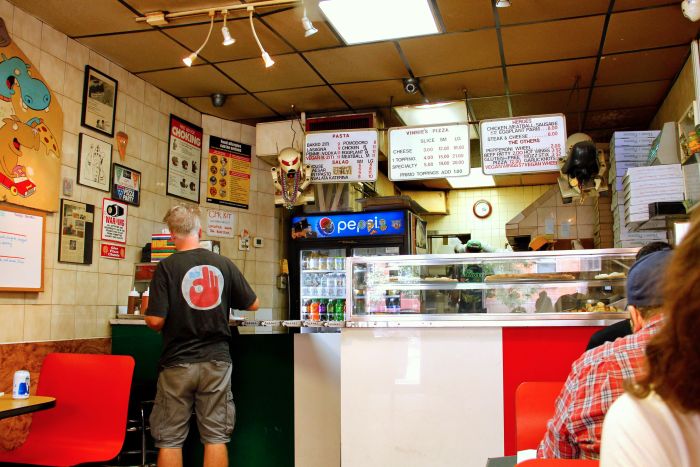 Vinnie's Pizzeria has the NYC classic pizzeria feel to it. This cash-only pizza joint is decked out with Italian-American-inspired posters and retro art. The pizzeria has a few booths for people to sit down and eat a quick slice. In the pizza display case, they have a section for the vegan pizza of the day. Their pizza is not just the basic vegan cheese pizza either – they have unique toppings and different daily specials.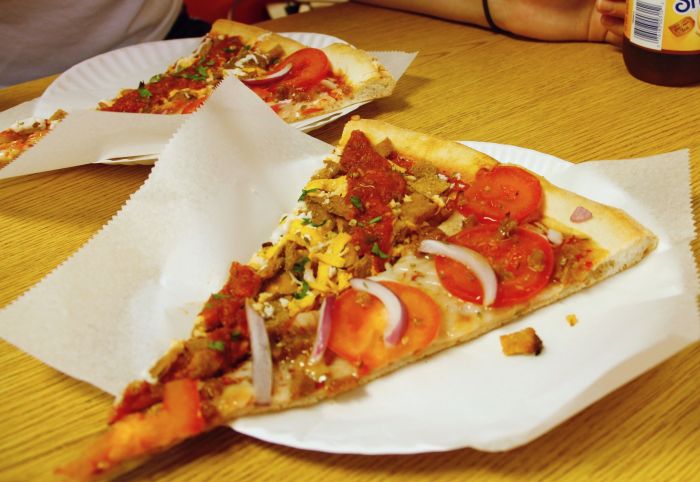 Parma Initiative & Vegan VcRib
The Parma Initiative that I got has baked, breaded eggplant, marinara sauce, vegan mozzarella and cheddar cheese. The special of the day was Vegan VcRib: veggie spare rib, chopped tomato, red onion, Daiya cheese, and sweet-chili dressing. They're both delicious and can satisfy any pizza craving. By the way, Vinnie's also has vegan appetizers like garlic knots and vegan chicken drumsticks.
Check out other dishes and reviews of Vinnie's Pizzeria.
Vinnie's Pizzeria, 148 Bedford Ave, Brooklyn, NY 11211, USA
Van Leeuwen Artisan Ice Cream (Greenpoint, Williamsburg, Boerum Hill, East Village, LES, Seaport, West Village, Nolita, UWS, UES)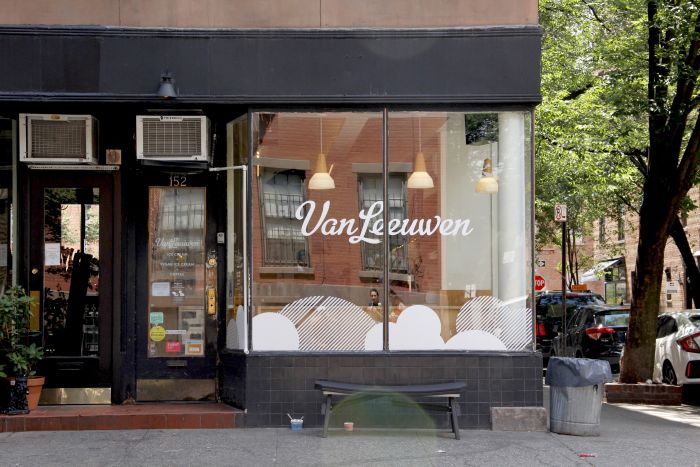 If you don't live in the neighbourhoods listed above, you can still find amazing chains that have opened in locations all over NYC. This artisan ice cream shop is known for its unique Brooklyn-made luxe ice cream flavors. Each location serves a good variety of vegan flavors. Although dairy-free, the ice cream is still creamy and rich, great for a summer day snack. They are made from coconut cream, cashew milk, and cocoa butter. Some flavors, like Planet Earth and Mint Chip, have a distinct coconut flavor due to the ingredients used.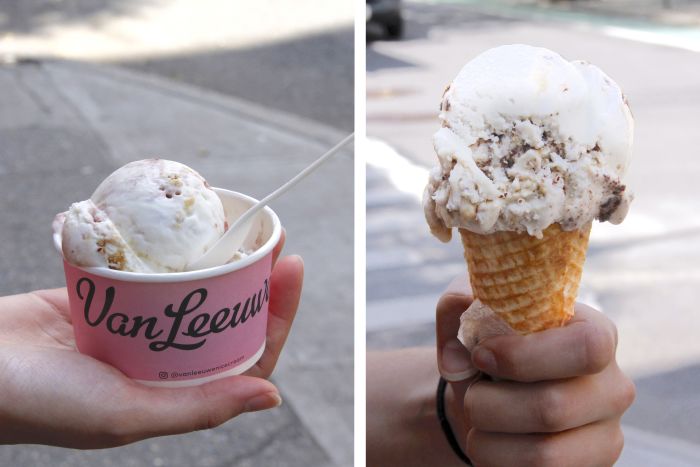 Flavors from left: Cookie Crumble Strawberry Jam; Cookies & Cream Caramel Swirl
The Cookie Crumble Strawberry Jam has swirls of sweet jam and bits of crunchy cookie base. The Cookies & Cream Caramel Swirl in a sugar cone has a sweet caramel flavor and chucks of cookies. The special flavors will give you a unique ice cream experience whether you're vegan or not.
Check out other dishes and reviews of Van Leeuwen Artisan Ice Cream.
Van Leeuwen Artisan Ice Cream, 152 West 10th St, NYC, NY 10014, USA
Two Boots (UWS, UES, FiDi, Midtown East, East Village, West Village, Hell's Kitchen, Williamsburg, and Park Slope)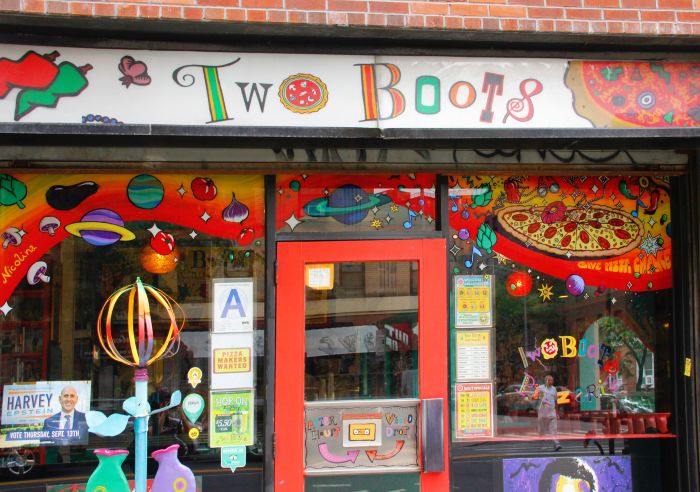 Two Boots is known for their Italian style thin crust, which adds a nice crunch to the pizza. They have vegan options at every location in New York City. Now you can find great vegan pizza no matter which part of the city you're at. The nine locations differ in what vegan pizzas they serve, but they're all good. The one I went to features indie art and film decor, and has booth seating facing a big TV screen. The artsy vibe is complete with mosaics and sculptures by local artists.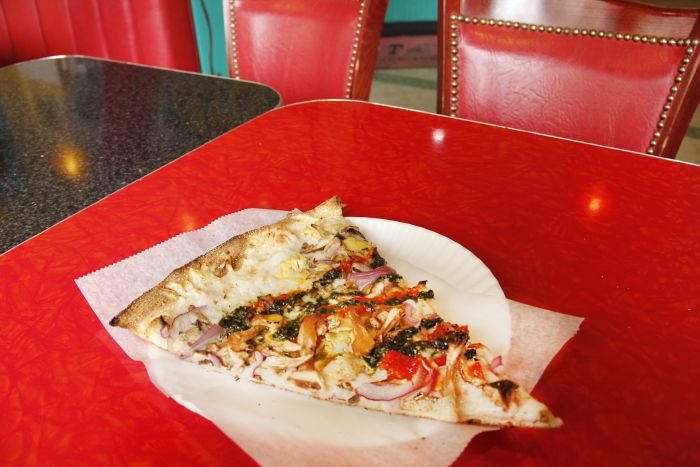 V for Vegan
The V for Vegan Pizza that I had is a large slice of pizza with artichokes, red onions, shiitake mushrooms, sweet red pepper pesto, basil pesto, and Daiya cheese.
Check out other dishes and reviews of Two Boots.
Two Boots, 42 Ave A & East 3rd St, NYC, NY 10009, USA
Next time you visit New York City, don't waste time fretting over what to eat. Just choose from the recommendations here and other top rated dishes on abillionveg!